The growing interest in Bitcoin (BTC) continues to draw attention from the market, as El Salvador takes the helm of Google searches. 
Economist Jan Wustenfeld confirmed:
"El Salvador is number one in the world when it comes to Bitcoin searches on Google. Followed by Nigeria. Pretty amazing to see Nigeria waving the flag of bitcoin in Africa and El Salvador in Latin America."

Source: Google Trends
Since Bitcoin became legal tender in El Salvador in September 2021, the Central American nation has shown its unwavering support for the crypto space despite calls to hold its horses by organizations like the International Monetary Fund (IMF).
For instance, earlier this year, El Salvador announced plans to send approximately twenty bills to Congress to cover investment in securities and financial markets to provide a legal framework for issuing Bitcoin bonds.
The Central American nation has also been accumulating Bitcoin by buying the dip, with at least 1,800 BTC in its books.
On the other hand, Nigeria has stamped its authority as one of the leading nations to adopt cryptocurrencies like Bitcoin on on African soil. Africa recorded the largest BTC peer-to-peer volume growth in July last year. 
Meanwhile, Bitcoin continues to showcase itself as an ideal settlement network. For example, in the last two weeks of January, the leading cryptocurrency settled a value of $496.4 billion for $5.8 million in fees, as revealed by market analyst Dylan LeClair.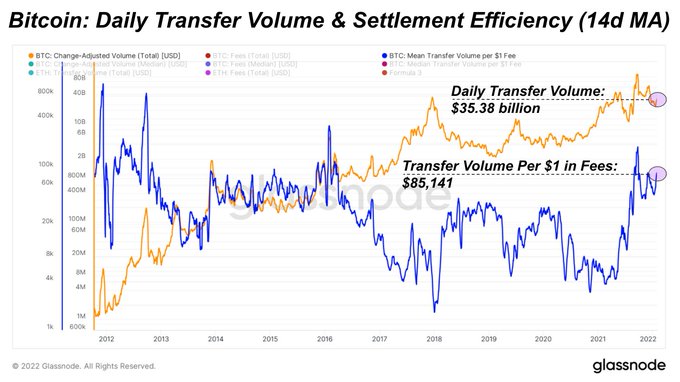 Source: Glassnode
This translated to an average of $85,141 being transferred and settled for $1 in fees.
Meanwhile, "Bitcoin's selling spree is overextended, as is our BTC Risk Signal. It's not a matter of if, but when will the third leg up occur. First, we need to see a decoupling from the SPY and understand this price correction," according to Glassnode co-founders Yann & Jan.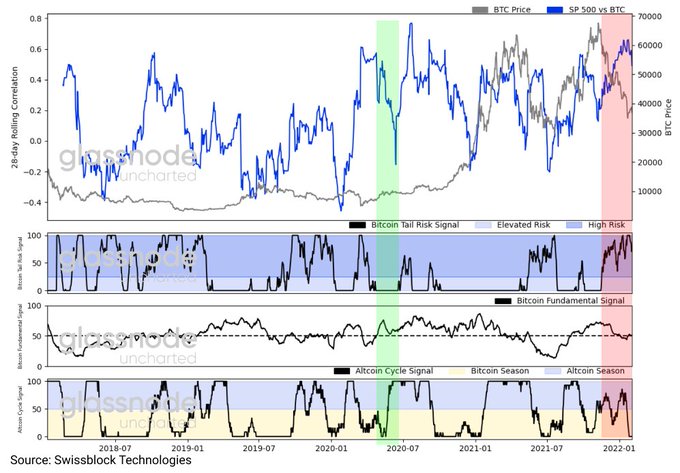 Source: Glassnode
With Bitcoin soaring to the $42,000 level, it remains to be seen whether the much-needed breakout will continue. 
Image source: Shuttstock