Nike has filed a lawsuit against online sneaker reseller StockX at a New York federal court today, alleging the Detroit-based vendor has been selling images of Nike sneakers as non-fungible tokens (NFTs) without authorization. 
Since January, StockX has sold a wide variety of sneaker-themed NFTs as part of its "Vault" collection. 
The NFTs are openly modeled on real sneakers, and Nike complains that StockX has told buyers the unapproved NFTs will be redeemable for physical goods "In the near future."
The complaint says that StockX has sold over 500 Nike-branded NFTs since launching its blockchain "Vault" venture on January 18, sometimes banking more than triple the value of the NFTs' official physical counterparts. 
Nike's filing argues that this is a clear case of copyright violation: "Those unsanctioned products are likely to confuse consumers, create a false association between those products and Nike, and dilute Nike's famous trademarks."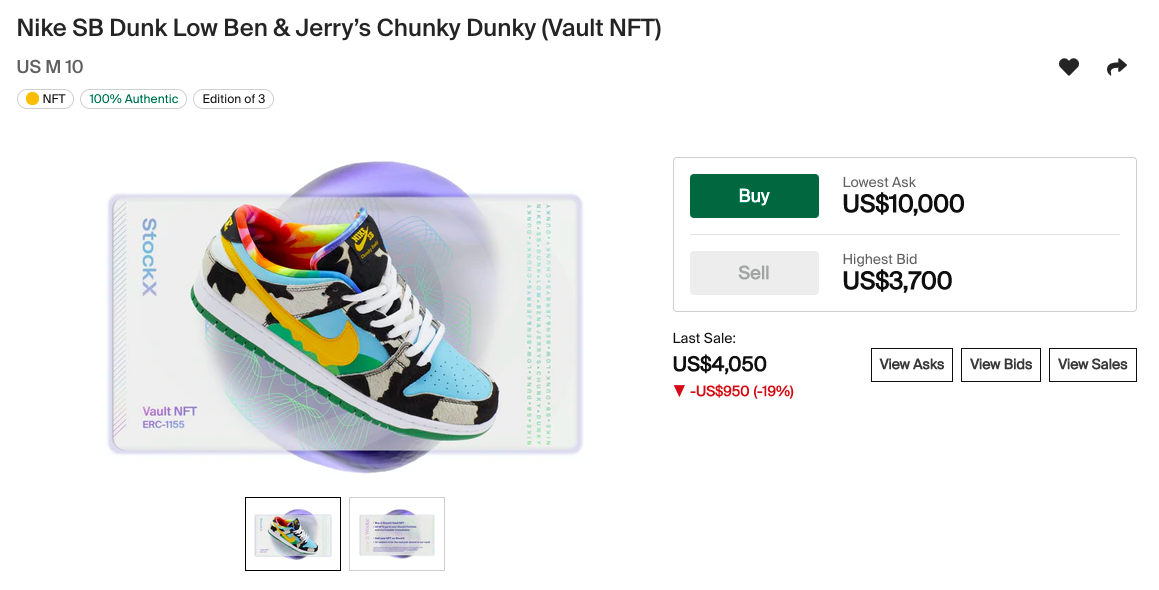 With a market valuation of $3.8 billion as of last April, the resale platform deals in everything from electronics, streetwear, and collectibles, to watches, handbags, and even Bored Ape Yacht Club (BAYC) physical collectibles.
Nike, Adidas and the metaverse
Companies like Nike and Meta, formerly Facebook, are betting big on the emergent metaverse and the rise of NFTs. 
In November last year,  the sports apparel firm submitted four filing requests to trademark virtual goods with the U.S. Patent and Trademark Office. Later that month, it built a virtual headquarters in Roblox, an immersive 3D (though not blockchain-based) online multiplayer game. 
In December, Nike announced that it acquired RTFKT Studios in its pivot towards creating sneaker-themed digital collectibles. 
Business rivals Adidas are moving in a similar direction. In November, news broke of two high-profile announcements related to Adidas' Metaverse push: The company partnered with crypto exchange Coinbase and bought a plot in blockchain metaverse game The Sandbox. 
The big metaverse moves are certainly nothing to balk at, and Nike's latest legal action is yet more evidence that these companies are taking the digital world very seriously.