Key Takeaways
The OHM token price fell from $186.61 to $104.60 Monday morning, but has since recovered slightly.

The token is now trading roughly 90% below its all-time high price of $1,415.26 recorded in April of last year.

Several other protocol's that use a similar tokenomic structure to OlympusDAO have also been hit hard.
The value of OHM, the algorithmic token launched by OlympusDAO, has dropped 30% today. Protocols that follow a similar tokenomic model to OlympusDAO have also registered similar losses.
OlympusDAO Token Drops
The OHM token has suffered one of its most intense price hits in a single day.
Around 01:55 am UTC today, an unknown user sold 82,526 OHM tokens worth $11.3 million. That single transaction is believed to have caused a snowball effect on the OHM token's price, causing it to fall over 35% in less than an hour.
According to data from CoinGecko, the OHM token's price fell from $186.61 to $104.60 Monday morning. The dump from an "OHM whale" triggered a series of liquidations on lending platforms including, Rari Capital's Fuse, that further exacerbated the price crash.
The self-stated goal of OlympusDAO is to create a stable store of value that is not pegged to the dollar, as is the case with stablecoins. However, the price action of the protocol's OHM token paints a different picture. Currently, OHM sits at $127.70 per token, down 30% on the day. Furthermore, the token is trading roughly 90% below its all-time high price of $1,415.26 recorded in April of last year.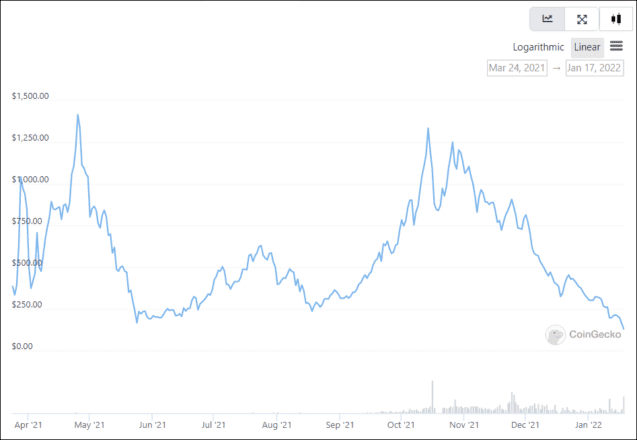 OlympusDAO was started by an anonymous developer, Zeus, to reduce DeFi's dependence on fiat-pegged stablecoins like USDC and USDT. The project uses bonding and staking to back the minting and intrinsic value of its OHM tokens. The protocol has popularized the (3, 3) meme, a reference to the project's purported game theory model where the most beneficial outcome is achieved if all holders stake their OHM tokens.
Users are incentivized with stratospheric staking yields paid in OHM tokens to contribute to the protocol's liquidity reserves. Over the last ten months, OlympusDAO has generated a huge treasury value from assets such as FRAX and ETH, as well as from stablecoins DAI and LUSD. Currently, the market value of OlympusDAO's treasury assets totals $559 million. Meanwhile, the market cap of OHM tokens is almost double that, sitting at $1.099 billion.
Per data provided by OlympusDAO, OHM's price of $127.7 is backed by $74.50  in treasury assets owned by the protocol. The substantial difference in these two prices shows that OHM is trading at a premium over its fair value, primarily due to the staking incentives and game theory structure of the protocol.
OlympusDAO currently pays a 3,666% annual percentage yield for staking OHM tokens. While the high APYs have worked in OlympusDAO's favor in bullish markets, the dilutive effect of issuing so many tokens appears to be hitting hard since markets turned bearish in mid-November.
Many of OlympusDAO's copycat projects have also registered similar losses. Wonderland, an Avalanche-based fork of OHM, is currently trading at $1,527, down 23.5% over the last 24 hours. Meanwhile, other protocols with similar tokenomic structures–KlimaDAO and Redacted Cartel–have also lost 26% and 29% of their value on the day respectively.
Disclosure: At the time of writing, the author of this piece owned ETH and other cryptocurrencies.
OlympusDAO Plummets 25% Amid Market Decline
OlympusDAO has been hit hard by the recent market selloff and is quickly approaching its all-time low of $163 set over the summer.  OlympusDAO Enters Freefall Investors are fleeing OlympusDAO….
OlympusDAO Posts Rally, Aiming for New All-Time Highs 
OlympusDAO has bounced off its summer lows and is rapidly approaching a new all-time high. The project's clever tokenomics, strong community, and meme culture are all driving adoption.  OlympusDAO Climbs…
OlympusDAO Fork Snowdog Hit By 90% Crash
Snowdog, a self-styled decentralized reserve meme coin, has been accused of pulling the rug on its community after crashing over 90%. Snowdog Plummets 90% SnowdogDAO has sent investors reeling this…
Investing Survey: Win A $360 Subscription To Pro BTC Trader
We're doing this because we want to be better at picking advertisers for Cryptobriefing.com and explaining to them, "Who are our visitors? What do they care about?" Answer our questions…