Chainlink, which securely brings real-world data to the world of smart contracts, has come a long way since October 2018, when Decrypt first came across the decentralized oracle network provider at Berlin's annual Web Summit.  
With smart contracts being a foundation of DeFi (decentralized finance), oracles that enable them to securely execute based on verifiable real-world events—such as a cryptocurrency reaching a certain value, or a measured lack of rainfall affecting an insurance payout—are crucial.
Chainlink started out by providing cryptocurrency price data, from a handful of sources, to DeFi protocols like lending platform Aave. But these days, it consists of a lot more. 
The ecosystem now boasts over 1,000 project integrations, with 700 oracle networks securing over $75 billion in value—up tenfold from 2020—and accessing over one billion data points. Chainlink also saw a threefold increase in hackathon participants, and a doubling in public usage of Chainlink Github software repositories—often cited as a metric of adoption. 
All that growth has helped LINK rise 52% over the past 12 months. During that time, AccuWeather and the Associated Press both partnered with Chainlink for data verification, and ex-Google CEO Eric Schmidt joined as an advisor, just the latest signs of big tech and media taking note of Chainlink's growing applications.
In an exclusive interview with Decrypt, Chainlink CEO Sergey Nazarov shared what's coming next. Most notable for DeFi degens: staking is coming, something Chainlink had not confirmed elsewhere beyond a mention in its January 1 roadmap video.
Staking LINK
Chainlink will launch staking in the first half of 2022, allowing LINK holders to secure the network by locking up some of their LINK into the protocol, and earning rewards. 
It's a feature the "LINK marines," as Chainlink fans are called, have clamored for: "'Just give us staking man, like, just fork it like the other people do,'" says Nazarov in imitation. But oracle networks, he explains, "are a new type of consensus, so it's not as simple as just copying somebody else's staking and launching it. The real challenge is coming up with a staking system for a completely new type of consensus."
Unlike Bitcoin or Ethereum, oracle networks are a unique form of decentralized computing. An oracle network is not a blockchain. "We don't make blocks," Nazarov says. "We make consensus on hundreds of oracle networks about price data, weather data, and computations."
Chainlink has been working on a staking solution for years, and it's April 2021 white paper laid out how it would work. Nazarov says the team is now finally satisfied with the security and scalability of the system they've designed, which has been audited and is currently in test mode. But he declines to specify when in 2022 it might launch. 
Branching out beyond data
While Chainlink's data capabilities formed the focus of its scaling efforts in 2021, the past year has also seen the oracle provider launch additional capabilities for its networks—most notably random number generation (in cryptography, virtual randomness function or VRF) and its smart contract service Keepers, which enables the automation of increasingly complex instructions.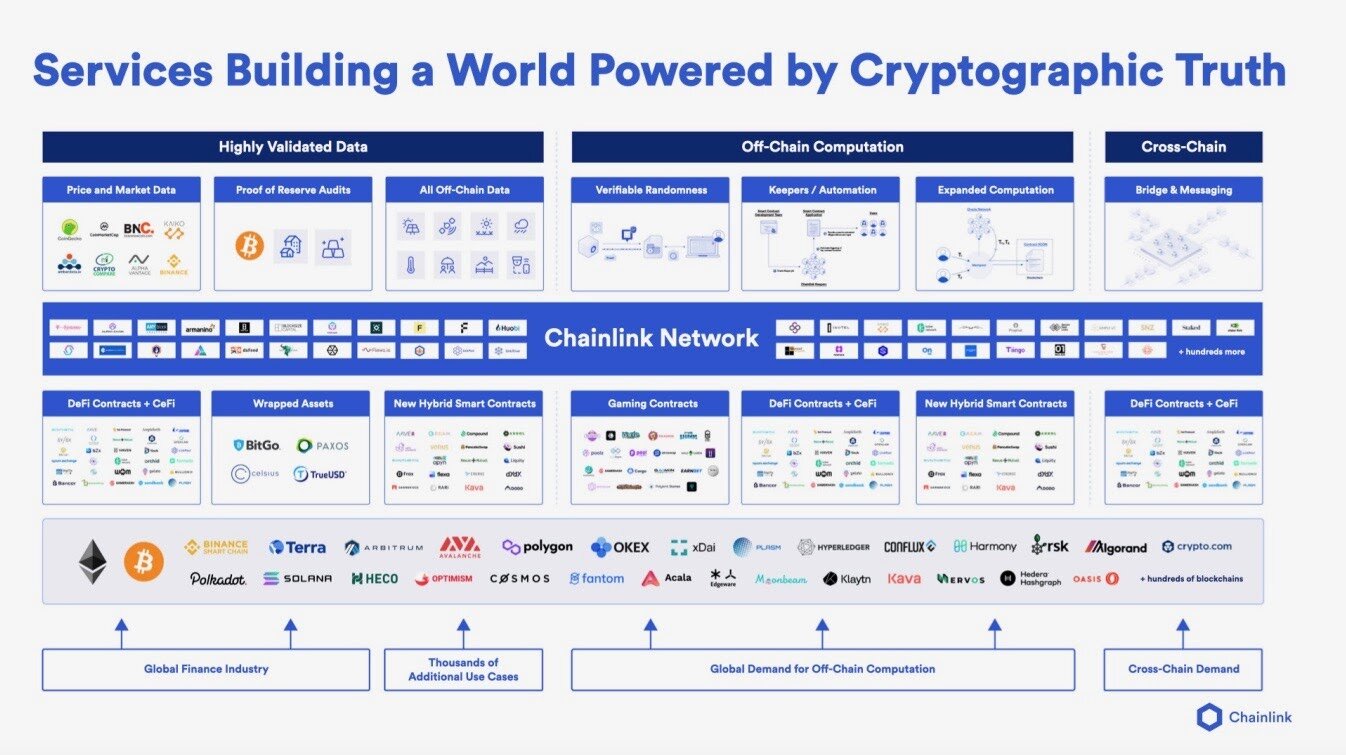 VRF has already received over 2.5 million randomness requests. Throughout 2021, oracle networks have been adopted not only in DeFi, but in centralized finance, gaming, insurance, and NFTs. Hot NFT projects like Bored Ape Yacht Club and Axie Infinity use VRF; DeFi staking service Pooltogether employs both Keepers and VRF—both are part of the startup's burgeoning network computation abilities, which the team plans to build out in the coming year.
Chainlink is also set to launch CCIP, its global standard for messaging and communication between blockchains. CCIP seeks to do what TCP/IP did for the internet: connect all the blockchains into one "internet of blockchains," Nazarov says, via cross-chain smart contracts. 
"There are no secure systems and secure ways that people have so far done that at scale," Nazarov says. The project has collaborators including Celsius, and tens of billions of dollars have already been pledged, according to Chainlink. But although CCIP will launch in 2022, it will take another year to fully build out—a strategy that's becoming a pattern for Chainlink.
Chainlink and Google, and growth in 2022
Chainlink is no stranger to integrating with big-name projects, beginning with FedEx, FlightStats, and Swift in 2018.
But industry insiders view securing Eric Schmidt as an advisor as its biggest coup yet. The relationship with Chainlink came about when Nazarov heard through mutual friends that Schmidt, who served as chairman and CEO of Google for 10 years, was interested in oracles, and viewed them as a potential "truth machine"— a way to provide definitive guarantees about an event.
Schmidt is acting as a technical advisor and helping to build the startup out in "a highly scalable way," said Nazarov, alongside other Chainlink advisors including DocuSign co-founder Tom Gonser and former LinkedIn CEO Jeff Weiner.
Chainlink's plan in the next year is to "continue to scale at this kind of insane vertical rate that we've had," Nazarov says. In 2021, the Chainlink team grew from 70 to 350. Next year will see that total more than double.
In 2022, Nazarov predicts many more banks, insurance providers, and other institutions will embrace DeFi, but also build out their own systems to launch their own smart contracts. Chainlink can offer those enterprises an on-ramp into DeFi without them having to integrate with protocols.
"Enterprises don't want to make tokens," Nazarov declares. "They want to make derivatives contracts, insurance contracts, supply chain contracts—and without oracles, you can't do that." 
If he's right, then Chainlink is on course for another growth spurt in 2022, even if its future as Schmidt's ambitious "truth machine" remains a work in progress.