In brief
Video game publishers have been trying to incorporate NFTs into their titles.

Some gamers are unhappy.
S.T.A.L.K.E.R. 2: Heart of Chernobyl, sequel to first-person shooter game S.T.A.L.K.E.R., has cancelled its in-game NFT plans after receiving negative criticism on social media, largely from the gaming community. 
It's the latest example of gamers rising up against NFTs—blockchain-based tokens representing ownership of a digital item. Last week, game maker Ubisoft met vocal backlash from gamers upon announcing its first three in-game NFTs for Tom Clancy's Ghost Recon: Breakpoint. And in November, chat app Discord came under immediate fire from its core users after it teased a possible Metamask Ethereum wallet integration that has since been scrapped.
On December 15, S.T.A.L.K.E.R. 2 developer GSC Game World announced it was including NFTs in its sequel. It started by revealing its most ambitious NFTs: three NPCs, or non-playable characters, dubbed "metahumans," would be purchasable using blockchain technology. Buyers would then have their name or alias tied to that in-game character, giving them a cameo as a "bartender, comrade or enemy," according to the announcement website. The NFTs were set to be sold through Dmarket, a third-party marketplace where players can buy and sell in-game items.
While some gamers supported the idea, others did not and expressed their frustration by creating memes. 
GSC's NFT pitch may have been bungled due to a lack of education for fans. GSC provided little explanation as to why it was making NFTs, leading many gamers to believe the company was jumping on to a fad. It also declined to name the blockchain it would use—which would have helped substantiate its claim that the project would be environmentally-conscious. Many blockchains use much less energy than electricity-intensive Bitcoin, but some of the most adamantly anti-NFT gamers have painted all digital tokens as environmentally destructive.
The Ukrainian company then tweeted out some clarifications: S.T.A.L.K.E.R. 2 is not a blockchain game, NFT metahumans would be optional buy-ins, and the NFTs would have no impact on gameplay. The small developer also revealed its rationale, citing a need to fund its game. If GSC sold NFTs for lots of money, the reasoning went, it would be able to continue funding game development to make the sequel better.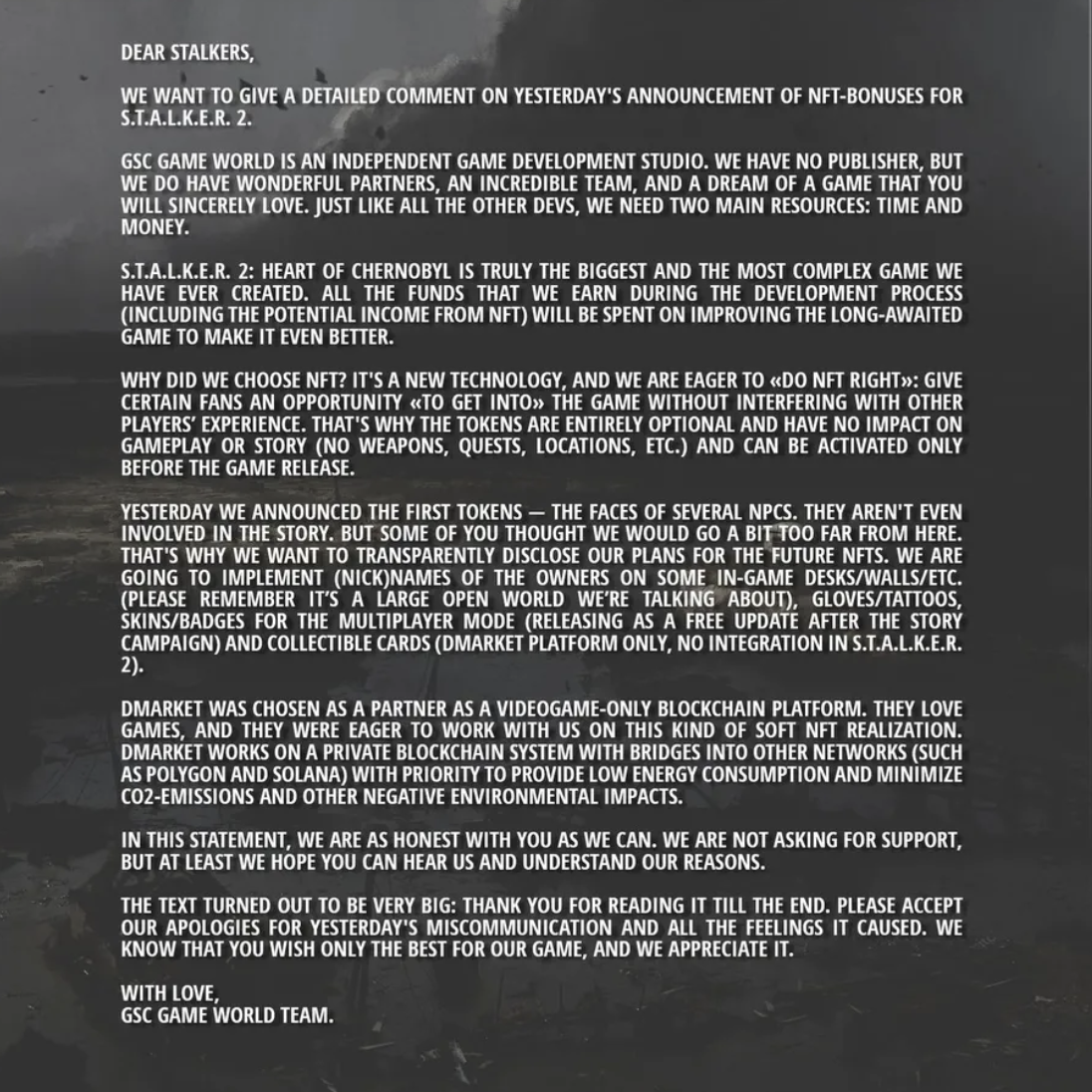 But GSC ultimately chose to kill the idea altogether. The S.T.A.L.K.E.R. 2 NFT site includes an update. "Based on the feedback we received, we've made a decision to cancel anything NFT-related in S.T.A.L.K.E.R. 2."
Unlike GSC, billion-dollar companies like Ubisoft can push forward on NFT projects with less concern. Ubisoft has invested in blockchain gaming company Animoca Brands and has doubled down on its NFTs, despite criticism from anti-NFT video game journalists and gamers threatening to cancel subscriptions and stop buying the company's games.
While S.T.A.L.K.E.R. 2's game devs must have taken all the angry replies on Twitter seriously, it's not yet clear if anti-NFT gamers represent the majority of gamers, or if they're just a small (but vocal and angry) minority. 
That said, there are plenty of gamers who are into cryptocurrency and NFTs. Some mine Ethereum for fun on their gaming PCs while others own NFTs themselves. As gaming companies each announce their stance on blockchain gaming and NFTs, it will be interesting to see whether the polarized gaming community's vitriol has any long-term effects on the industry.