In brief
Moonray is an NFT-driven metaverse game built on Stacks, a network that makes use of the Bitcoin blockchain.

The developer, Moonray PBC, raised a $3.5 million seed round led by Animoca Brands.
The metaverse is taking shape, and while Facebook's vision of it might still be years off, Ethereum-based game worlds like Decentraland and The Sandbox are already reaping the benefits. Bitcoin won't be left out of the metaverse either, thanks to an upcoming game that's launching on the Bitcoin-backed network, Stacks.
Moonray is the game, and the stylish PC action role-playing game will roll out early access to select players in March 2022. Today, developer Moonray PBC announced that it has raised a $3.5 million seed round led by Animoca Brands to continue developing the NFT-centric action game, which will eventually open up into a shared metaverse experience.
How can a crypto game be backed by the Bitcoin network? Bitcoin itself doesn't support smart contracts, which are the bits of code needed to run decentralized applications, such as games.
However, Stacks is a smart contract blockchain that rolls up its transactions and settles them to the Bitcoin network. Stacks is the reason that there are NFTs powered by Bitcoin, and how DeFi applications can tie into the Bitcoin blockchain. Stacks founder Muneeb Ali described it to Decrypt in October as a "layer 1.5" platform, unlike Ethereum's layer-2 scaling solutions.
Moonray PBC CEO Rodrigo Etcheto told Decrypt that his studio are "big believers in Bitcoin," however he insisted that they aren't maximalists. He praised Solana and Avalanche as "great blockchains," but ultimately Stacks appealed to them thanks to its ties to Bitcoin.
We're bringing #NFTs tradeable economy to an AAA Action RPG set in a far-future, surreal sci-fi world.

This is not a cinematic trailer, it's real gameplay live in Unreal Engine today! EA Q1 22

NFTs dropping soon & generate DeFi yield in #Bitcoin!

👇👇👇👇 pic.twitter.com/fMcUUpRsdh

— Moonray.btc (@moonraygame) September 16, 2021
"We're not maxis," he explained. "We think that there's going to be a lot of use cases, so a lot of blockchains are going to make it and do well. But I do like the security of Bitcoin. To me, that's still the most decentralized, secure blockchain, and I don't see that changing anytime soon."
Etcheto's team was part of the first cohort for the Stacks Accelerator, which helps fund and mentor teams building on the platform. In addition to Animoca Brands, the $3.5 million seed round includes participation from GBV Capital, Metavest Capital, LD Capital, and Lucid Blue Ventures, along with undisclosed angel investors.
The Bitcoin metaverse
Moonray will implement the Stacks network in a number of ways, including in-game collectibles, skins, and weapons that are sold as NFTs. Players will be able to buy the NFTs using Bitcoin at first and eventually credit cards, as well, and they can resell the collectibles via an in-game interface or external marketplaces.
An NFT is a blockchain token that serves as proof of ownership for a rare digital item, and just as it can apply to things like profile pictures and digital trading cards, it can also represent one-of-a-kind video game items.
Etcheto also proposed using NFTs for unique in-game events, such as a special boss battle that can only be accessed by buying an NFT. The upside, then, is players can unlock a rare and potentially valuable item that can then be resold.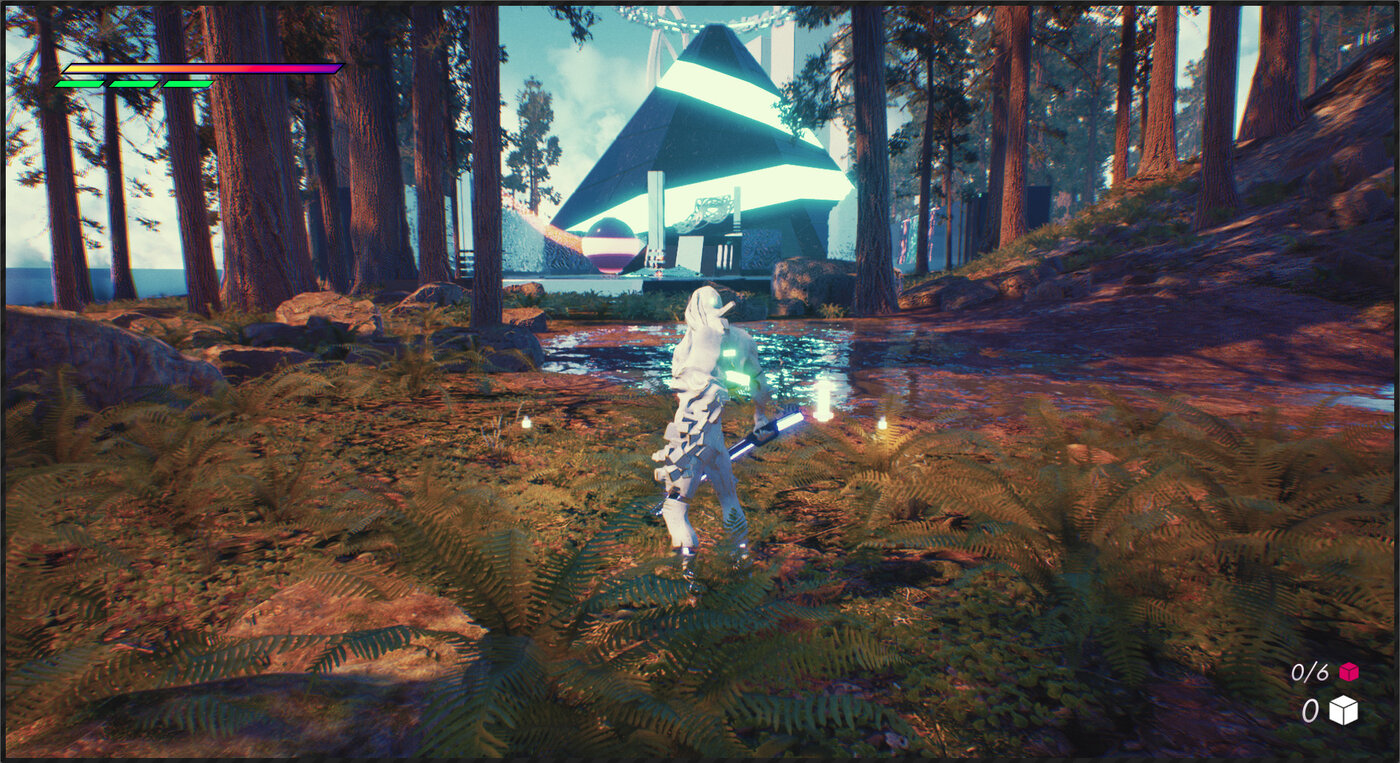 Moonray will debut with both single-player and online multiplayer content. At some point after launch, the game will expand to incorporate digital online cities in which players can purchase land sold as NFTs—much like in The Sandbox, Decentraland, and Axie Infinity. It will also feature different types of buildings, like a blacksmith's shop or guild headquarters, that play into the game's economy and potentially benefit players.
That's the metaverse aspect of the game. The metaverse refers to a future vision of the internet in which users interact in shared, 3D digital spaces using avatars. Facebook is betting big on the metaverse, while an array of crypto projects are building towards an open, interoperable metaverse that lets users use owned assets (NFTs) across various platforms and experiences.
Animoca Brands, which led Moonray PBC's seed round, is a major investor in metaverse startups. In October, Animoca Executive Chairman Yat Siu told Decrypt that his company is "kind of in a hurry" to help build the metaverse before tech giants like Facebook and Tencent can claim the space. He labeled both as a "threat" to an open metaverse.
Moonray PBC has an ambitious vision for a crypto-infused gaming future, but the game didn't begin life with blockchain in mind. Etcheto said that the team began developing Moonray as a traditional, premium video game, but saw the potential of blockchain in gaming early enough to pivot the game design and business model.
"When we saw what was happening with blockchain, it just became obvious to us that this is the future of gaming," he said. "This is a new economic model that I think is going to totally turn the industry upside down."
Bridging the gap
Built with the same Unreal Engine used by many of today's top video games (including Fortnite), Moonray is a flashy-looking battler that Etcheto believes will resonate with more mainstream players. It's part of the reason why he believes that Stacks is such an ideal fit for the game, because Bitcoin is already so widely known even outside of crypto circles.
"We're really trying to attract mainstream gamers that maybe don't know a whole lot about crypto, or are skeptical of it," he said. "[We'll] create an easy, gentle onboarding for traditional gamers to show them how a token economy and NFT economy should work."
Skepticism of cryptocurrency and NFTs runs high in the traditional video gaming space. When Discord CEO Jason Citron teased crypto wallet integration for the popular online chat app, the resulting backlash from gamers changed his mind. Last week, major game publisher Ubisoft likewise encountered significant pushback when it announced in-game NFT integration, although the company still went ahead with its plans.
Etcheto sees the reaction as similar to when game publishers began selling digital add-ons for games, called downloadable content (or DLC). Now it's the industry standard. He suggests that players will eventually warm to in-game items sold as NFTs when they realize that they truly own the assets and have the option to resell them or possibly bring them into other games.
"Once gamers understand that what they're getting is ownership of something that before they've really just been renting from companies," he said, "it's going to change a lot of minds."
Ultimately, Etcheto sees Ubisoft's increasing foray into blockchain gaming as a good thing for the industry, along with interest from major publishers like Electronic Arts and Square Enix.
In fact, he believes that the classic way of releasing games—already impacted by the normalization of DLC and the rise of free-to-play games—will rapidly fall by the wayside. And someday, he hopes to bring Moonray to consoles… should Sony, Microsoft, and Nintendo eventually figure out how to handle crypto gaming.
"In three or four years, some version of a play-to-earn or NFT economy is going to become so normal, the idea of paying 60 bucks to play games is going to be a little bit weird," he said. "It's going to happen much faster than the legacy studios realize."