The hashrate of Bitcoin mining reportedly has recovered and even hit an all-time-high, after massive crypto miners experienced an exodus out of China due to the suppression from the Chinese government.
In May, Bitcoin (BTC)  miners were pushed to the wall as authorities made it clear that crypto mining was unwelcome in Chinese soil.
BTC miners were forced to leave and shut down operations due to an intensified crackdown, making hashrate to nosedive by more than 50% in July. Meanwhile, more than 90% of  China's Bitcoin mining capacity was hampered.
However, BTC miners have been able to dust themselves off after relocating to other areas like the United States, Kazakhstan, and Iraq. The hashrate has recovered and being reached historic highs of 182.01 EH/s. On-chain analyst Dylan LeClair confirmed:
"BREAKING: Bitcoin hashrate has made a new all time high. A little over six months following the China mining ban, the Bitcoin network is stronger than ever before."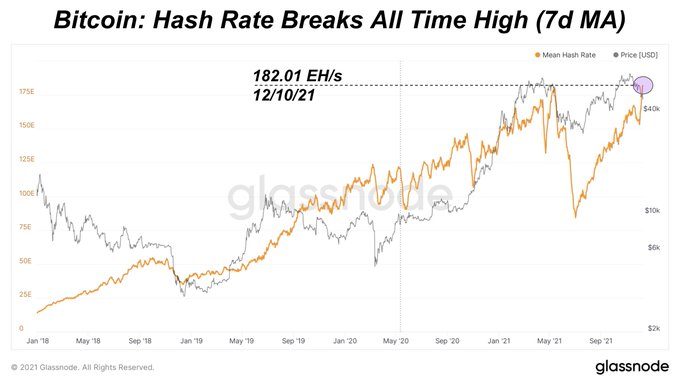 Crypto analyst Yassine Elmandjra echoed these sentiments and stated:
"We will look back at China's ban on BTC mining as one of the greatest things to ever happen to Bitcoin. With the hashrate fully recovered, the "China controls Bitcoin" narrative can finally be put to bed. China did not ban Bitcoin mining. China banned itself from mining Bitcoin."
The hashrate mainly measures the processing power of the BTC network. It allows computers to process and solve problems that enable transactions to be approved and confirmed across the network.
American BTC miners have been the largest beneficiaries
According to data analytic firm IntoTheBlock:
"American miners were among the largest beneficiaries from the Chinese mining ban, with the U.S-based pool Foundry currently generating the largest share of Bitcoin issued. Unknown, independent miners have also grown significantly."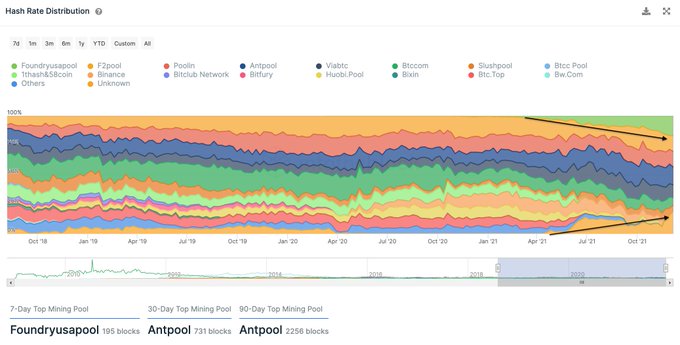 A previous Cambridge Centre for Alternative Finance (CCAF) study illustrated that the U.S. share of hashrate skyrocketed to 16.8% from just over 4% as the crackdown intensified in the second quarter of this year. 
Image source: Shutterstock