Key Takeaways
Avenged Sevenfold is releasing a collection of 10,000 NFTs called Deathbats.

The NFTs will form the basis of a fan club that gives exclusive benefits. The band is also planning to turn the club into a DAO.

The band's frontman says that the NFTs will provide true value to fans, but the challenge will be onboarding new entrants.
Avenged Sevenfold is entering the NFT space with a collection of 10,000 Deathbats. Holders will gain access to exclusive perks and unique experiences to connect with the band at shows and in the Metaverse. 
The Deathbats Club
Avenged Sevenfold is the latest band to jump into the Metaverse.
The Huntington Beach rockers are releasing a collection of 10,000 Deathbats NFTs, pioneering the concept of an NFT-based fan club.
While other bands have previously released NFTs, Deathbats are set to be more than just JPEGs on a blockchain. Holding one will grant access to an exclusive community that gives members unique experiences to connect with the band. Those lucky enough to mint one of the rarer Deathbats can look forward to perks such as meet-and-greets at shows, free tickets for life, merch airdrops, and even the chance to spend the day with their favorite band member. 
Crypto Briefing spoke to Avenged Sevenfold frontman Matt "M. Shadows" Sanders about the upcoming collection and his crypto journey from buying Bitcoin to becoming a seasoned NFT collector. 
Buying "Internet Money"
The driving force behind Avenged Sevenfold's foray into NFTs is the band's frontman, Matt Sanders. Although Sanders doesn't have a tech background, he jumped into crypto relatively early, buying his first Bitcoin in 2016. "I'd been hearing about "Internet money"—digital money, and it made sense to me because I was a gamer, and it made sense that eventually, we would have some kind of a digital currency," he said, adding that he got involved with Ethereum shortly after. 
Through Ethereum, Sanders started learning about all of the possibilities of smart contracts. He was particularly drawn to NFTs. "I saw CryptoPunks, and I was thinking, if this is the first iteration of what the smart contracts are going to be, these are going to be relics of our time," he explained. He took the plunge and bought his first CryptoPunk NFT for 29 ETH in early 2020. 
From then on, he was hooked. He went on to build an extension collection that included several more CryptoPunks and early generative art NFTs from collections like Fidenza and Ringers. However, the idea of launching an NFT collection for Avenged Sevenfold was not at the forefront of his mind at the time. While NFTs were all the rage with crypto nerds, they were still relatively niche—especially among rock music fans.
However, things were about to change. Sanders said that there was one moment where everything clicked. He explained: 
"The day that I figured out this was the future was when I was at a Lakers game with an investment guy, and he didn't really understand NFTs, but his kids were there, and they did. They were like, "oh my God, you have CryptoPunks," and were passing my phone around showing everyone. That's when I realized this is the culture coming up, they are going to dictate that this is important, and they understand what it is."
From then on, Sanders got more deeply involved in the NFT space, joining several communities and adding pieces from Bored Ape Yacht Club and Cryptoadz to his collection. Additionally, he led his band's lead guitarist, Brian "Synyster Gates" Haner, down the NFT rabbit hole, inspiring him to start collecting his own pieces. 
Seeing how projects like the Bored Ape Yacht Club had organically grown a dedicated group of holders, the pair realized the power of NFT communities. That was when they started to think about how the phenomenon could benefit Avenged Sevenfold fans.
Creating Deathbats
Before committing to a larger NFT collection, the band needed to see where their fans stood on the technology (many musicians have faced a backlash from their fans after experimenting with NFTs this year). To do this, Avenged Sevenfold released an early collection of 101 NFT paintings in collaboration with artist Cam Rackam. The art was accompanied by a short clip of the band's unreleased music. 
"We went out to everybody and said, "hey, if you send us your wallet, we're gonna send you a free NFT—101 of them,"" Sanders explained. The band received 5,000 wallet addresses in response, which showed that the interest was there, even if the vast majority of addresses hadn't interacted with NFTs before. 
For the upcoming Deathbats collection, the band wanted to ensure their fans understood what NFTs were and how to get them. To do this, Sanders started to promote NFTs on social media. He created a Discord server and conducted Reddit "AMA" sessions to educate fans.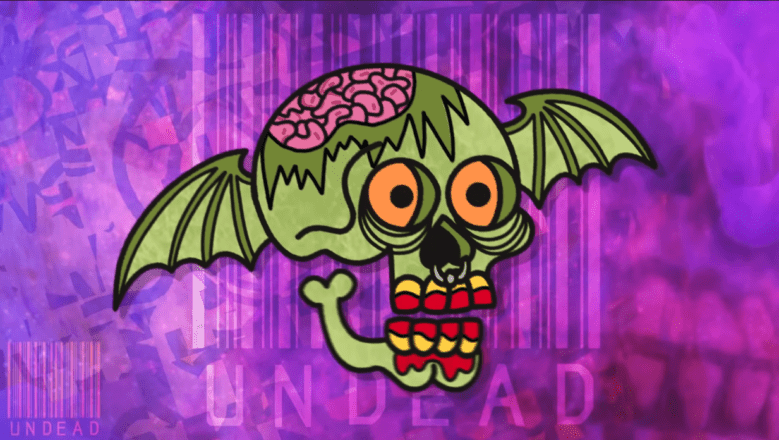 Sanders admitted that he had concerns with the speculative nature of the NFT market as this could prevent fans from getting access to the collection. As the space has exploded in 2021, many experienced collectors have rushed in to mint and "flip" pieces in sought-after collections. The best flippers can make the equivalent of thousands of dollars on one piece.
"The last thing I want is whales going in to buy, you know, as many as they can and then [start] flipping them to our fans. Once the fans catch on, you don't want to be too late," he explained. 
The Deathbats club will launch as a collection of 10,000 uniquely generated NFTs on Ethereum with two layers of rarity. Each NFT will have various attributes akin to CryptoPunks or Bored Apes, showing the NFT's generative rarity. There will also be four additional, perk-yielding rarities that will be attached to a small number of pieces in the collection. The additional perks are as follows: 
Guests: Free tickets and meet-and-greets for life.
Ghosts: Free tickets for life.
Undead: Meet-and-greets for life.
Shook: Exclusive merchandise sent to token holders.
While the rare Deathbats are likely to be the most sought after pieces, the band wants to ensure everyone can get value from the NFTs. All holders Deathbats holders will gain entry into exclusive giveaways, movie and poker nights on the band's Discord, as well as the ability to receive ticket stub NFTs for every Avenged Sevenfold show they attend. 
In addition to offering a wide range of perks for Deathbats holders, the band also wants to use the collection to build out its presence in the Metaverse. First on the agenda is creating games inside virtual worlds in The Sandbox, one of the most anticipated NFT games to date. As Sanders was early to NFTs, the band also acquired a large amount of land in The Sandbox months before the project grew popular. 
"We have enough land to build three or four games," said Sanders, while also alluding to several other Metaverse applications for the Deathbats NFTs. One goal is to allow holders to use their NFTs as avatars in The Sandbox by creating 3D models or airdropping holders a new set of avatars, similar to how Larva Labs gave out Meebits to all CryptoPunk holders. 
Beyond virtual worlds, the Deathbats NFTs will form the basis for a DAO to break down the barrier between the group and its fans. In the future, Deathbats holders will be able to vote on various topics and dictate the future of the Deathbats NFT community. However, the band is also mindful that most of its fans won't buy one of the NFTs, and they need to be considered too. "We have millions of fans that are not going to be in this club," Sanders pointed out. "And we can't have them be affected too much by the club, right?"
From a technical perspective, the band is pulling out all the stops to make Deathbats an enduring, high-quality collection. Sanders has recruited one of his childhood friends to do all the backend coding for the project's smart contracts, meaning the band won't have to give up any creative control or sign any contracts. 
Additionally, the band weighed up the pros and cons of different blockchains but decided to mint the NFTs on Ethereum as the network is currently the de facto home of NFTs in the crypto space. On the issue of using Ethereum, Sanders acknowledged the downsides, most notably the high gas fees. Ultimately, though, the network's dominance gave the group confidence that it was a strong platform to launch on. Sanders said: 
"I believe with the money locked up in there that I can feel confident giving this to our fans, knowing that it has the best chance of still being around in the next 20 to 30 years."
Sanders also alluded to fractionalizing the band's music and distributing tokens to Deathbats holders to continue delivering value to the community years down the line. Additionally, as more bands follow Avenged Sevenfold's example and launch their own NFTs, there's the possibility of collaborations. "We want to do things like if Metallica does enter the space or somebody bigger does something, we can say "hey, if you have the Metallica token and our token, you can get something special,"" Sanders remarked. 
Preparing for Launch
To give Avenged Sevenfold fans the best possible chance to get a Deathbat, the band has introduced an open whitelist with a strict one mint per wallet rule. Fans can link their Discord and Ethereum wallets on the Deathbats website to automatically join the whitelist, making them eligible to mint a Deathbat for 0.08 ETH on Dec. 11. 
Once the drop commences, everyone on the whitelist will have 48 hours to mint, allowing them to choose when they want to mint so they can save on gas costs. After the whitelist mint time is up, the remaining Deathbats will be released conventionally, allowing anyone to mint up to three in one transaction. 
Deathbats will be the music industry's first example of a fully-fledged NFT-based fan club. If fans can make the journey onto the blockchain, they should be rewarded with a premium fan experience, delivered seamlessly through NFTs. Sander seems confident that the collection will be a success. "We're going to provide so much value fans won't want to sell," he insisted. However, the biggest challenge will be convincing the band's adherents to take the leap. With NFTs gaining traction more and more outside of the crypto space, Avenged Sevenfold is hoping that the Deathbats will be received well by all their fans, not just those who already understand crypto. 
Disclosure: At the time of writing, the author of this feature owned ETH and several other cryptocurrencies. 
NFT Project Spotlight: Quantum, the NFT Photography Launchpad 
Quantum is showcasing top talent from the art photography world through NFTs on Ethereum. While the platform is still in its infancy, demand for Quantum-curated collections is growing fast.  What…
Audience Survey: Win A $360 Subscription To Pro BTC Trader
We're doing this because we want to be better at picking advertisers for Cryptobriefing.com and explaining to them, "Who are our visitors? What do they care about?" Answer our questions…
NFT Project Spotlight: ThorGuards, the Avatars With Utility in THORCha…
ThorGuards is a collection of 9,999 NFT characters with art inspired by the THORChain ecosystem, Norse mythology, and Cyberpunk aesthetics. Learn about how the art and utility of ThorGuards set…
How CryptoPunks Inspired a Wave of NFT Avatars
As one of the earliest examples of non-fungible tokens, CryptoPunks have become the most coveted NFT avatars in existence. Subsequent projects have sought to develop the concept of NFT avatars…