Crypto.com's native token CRO has continued its multi-week rally, gaining another 25% after becoming the first cryptocurrency platform to achieve SOC 2 compliance. Crypto.com also announced it had bought the naming rights to LA Lakers' home arena earlier this month.  
Crypto.com Coin Nears $1
Crypto.com's native token is soaring off the back of a string of major announcements. 
CRO spiked 25% Tuesday following the exchange's successful completion of a Service Organization Control (SOC) 2 Audit.
The audit, conducted by globally recognized consulting firm Deloitte, affirms that Crypto.com's information security practices, policies, procedures, and operations meet all SOC 2 standards. Crypto.com is the first crypto exchange to achieve SOC 2 compliance.
The SOC 2 compliance has helped CRO reach gains of 384% over the past month and is only the latest development in a run of bullish catalysts.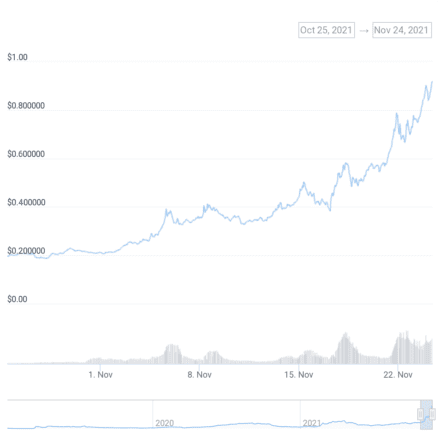 At the end of October, Crypto.com announced a $100 million advertising campaign, releasing its "Fortune Favors the Brave" advertisement starring actor Matt Damon. Last week, the exchange also made headlines when it paid $700 million to acquire the naming rights for LA's iconic Staples Center, renaming it to the Crypto.com Arena in a 20-year deal. 
Crypto.com is also making efforts to improve its user experience. At the start of November, the exchange announced support for deposits and withdrawals on Cronos, a new, scalable EVM-compatible chain developed by the Crypto.org team. Cronos will work in tandem with the existing Crypto.org Chain and aims to scale the DeFi ecosystem by providing developers with the ability to rapidly port apps from Ethereum and EVM-compatible chains. 
The recent positive price action makes the CRO the 12th largest cryptocurrency by market capitalization. The coin currently trades at $0.93 and is quickly approaching the $1 milestone. Whether it will be able to break this strong psychological level remains to be seen.
LA Lakers' Home Arena Renamed After Crypto.com in $700M Deal
Crypto.com has paid $700 million to secure a 20-year naming rights agreement for LA's iconic Staples Center, renaming it to the Crypto.com Arena.  Crypto.com Renames Staples Center Crypto.com has signed…
Crypto.com Becomes Official Partner of UFC 
Crypto.com has established a long-term relationship with the biggest mixed martial arts organization, Ultimate Fighting Championship (UFC), for on-site advertising and media broadcasts.  Crypto.com Enters Partnership with UFC  Crypto.com has…
Crypto.com Approved to Offer Bank Transfers in Malta
Crypto payments firm Crypto.com has acquired an Electronic Money Institution (EMI) License from the Malta Financial Services Authority. Crypto.com Wins EMI License  Crypto.com has received an Electronic Money Institution License,…
MDEX: Overlooked Decentralized Exchange That Pays You to Trade
Based on statistics from DeBank and dapp.com, one of the top-performing decentralized exchanges by TVL and trading volume this year is MDEX—an AMM-based DEX functioning across the Huobi Eco-chain (HECO), Binance Smart Chain…