This quarter has been rewarding to Ethereum (ETH) because it is now an asset with a market capitalization of more than $500 billion. Continued adoption has played an instrumental role in enabling Ethereum's value to rise because it is one of the sought-after networks in the non-fungible token (NFT) and decentralized finance (DeFi) sectors.
Furthermore, ETH supply on exchanges has been shrinking, which has been pivotal in Ethereum's price rally. Crypto analytic firm Santiment acknowledged:
"Ethereum's supply on exchanges sits at 15.66%. One year ago, this number sat at 23.29%. It's clear that more and more ETH is moving safely to cold wallets for DeFi-related activity and hodling, an encouraging sign for long-term price prospects."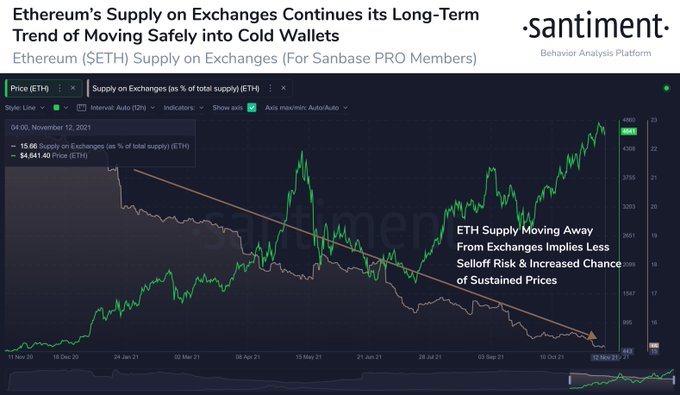 Market insight provider Glassnode echoed these sentiments and noted that ETH balance on exchanges dropped to a 3-year low.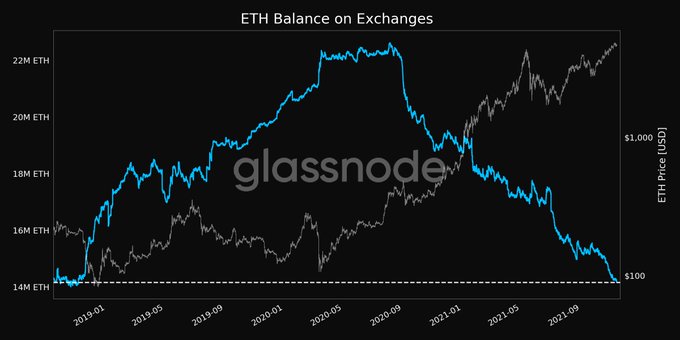 Investments in Ethereum 2.0 continue going parabolic
According to Glassnode:
"Total value in the ETH 2.0 deposit contract just reached an ATH of 8,240,450 ETH."
Ethereum 2.0, also known as the Beacon Chain, was launched in December 2020 and was regarded as a game-changer that sought to transit the current proof-of-work (POW) consensus mechanism to a proof-of-stake (POS) framework.
The proof-of-stake algorithm allows the confirmation of blocks to be more energy-efficient and requires validators to stake Ether instead of solving a cryptographic puzzle. As a result, it is touted to be more environmentally friendly and cost-effective. ETH 2.0 is also expected to improve scalability through sharding.
Meanwhile, ETH mining difficulty recently reached record highs.
The Ethereum mining difficulty measures how many hashes in statistical terms must be generated to find an effective solution to solve the next ETH block and earn the mining reward.
With this metric reaching record highs, the Ethereum supply is expected to continue being depleted because it is becoming harder to generate more coins. 
Image source: Shutterstock