In brief
Coinbase users can now share price charts or their portfolios on social media platforms

The move makes Coinbase more like social-focused Venmo or Public
Coinbase announced new social media features on Thursday that will allow users to share images of price charts or their portfolios on platforms like Twitter and Instagram.
In a blog post describing the features, Coinbase touted its new one-click sharing tools as an entertaining way to educate others about crypto.
"We want to help self-empower the community with easy-to-use sharing tools making it simpler and more fun to share information on your portfolio allocations or key crypto topics such as emerging new assets," said Coinbase.
For those who elect to share their portfolio, the Coinbase tool will only display percentage allocation not the financial value of the portfolio. It also includes a feature that will automatically share changes to a user's portfolio to social media, but one that can be toggled on and off.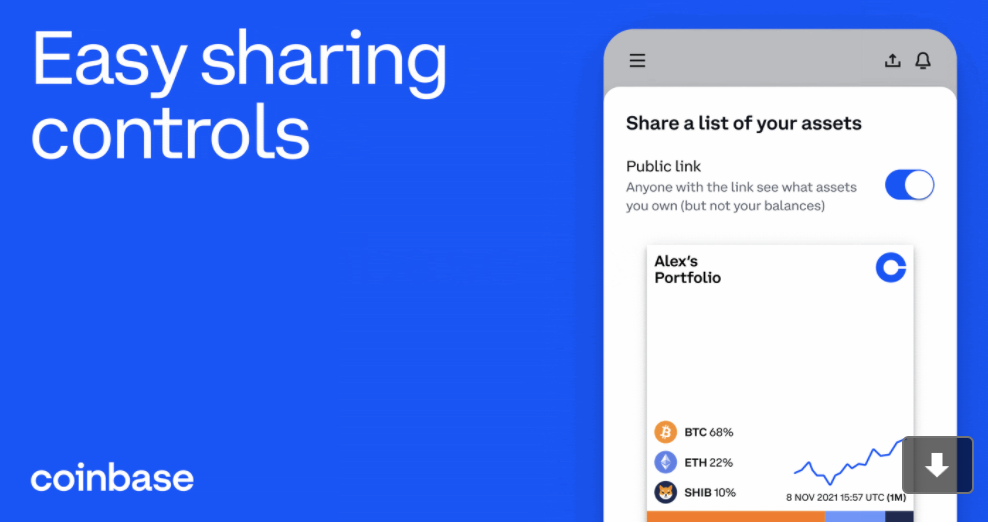 The move by Coinbase is interesting in part because the company is emulating other financial platforms like Venmo and Public, a stock and crypto-buying app, that have have long made social media a core part of their product.
Meanwhile, Coinbase has also indicated that its forthcoming plans to offer an NFT platform will include a social network.
The company is likely treading carefully, however, since mixing social media and financial platforms poses regulatory risk. Specifically, encouraging users to post about their financial holdings could—in certain circumstances—amount to dispensing investment advice.
In any case, the upshot of Coinbase's new sharing tools are likely to be more crypto-related messages on social media. The tools could also provide a new source of information for market watchers: If prominent or wealthy traders use the public sharing features, traders may look to emulate their strategies.
The Coinbase news comes after the company, which had been having a blockbuster year, saw its profits decline in the third quarter and its share price slump.