In brief
Inflows to digital asset platforms hit $8.9B last week, according to a new CoinShares report.

Polkdot's native coin, DOT, saw inflows of $9.6M, an all time weekly high.
There's already been more institutional money invested in digital assets in 2021 than in all of 2020, according to a new report from CoinShares.

As of Friday, the running tally of digital asset inflows among crypto asset managers reached $8.9 billion following 12 straight weeks of growth. With seven weeks left in the year, that's already $2.2 billion more than the total invested in 2020.
The report notes that Bitcoin accounts for two-thirds of the year-to-date inflows and has also hit an all-time high record of $6.4 billion. Ethereum, after lagging for a bit, has accounted for just over $1 billion YTD and now accounts for one-fourth of the inflows.
"Ethereum saw renewed positive sentiment with inflows totaling US$31m last week. Ethereum's market share has suffered in recent months due to Bitcoin's dominance," writes James Butterfill, CoinShares investment strategist, "but the recent combination of positive price performance and inflow has seen their AuM rise to a record US$20bn."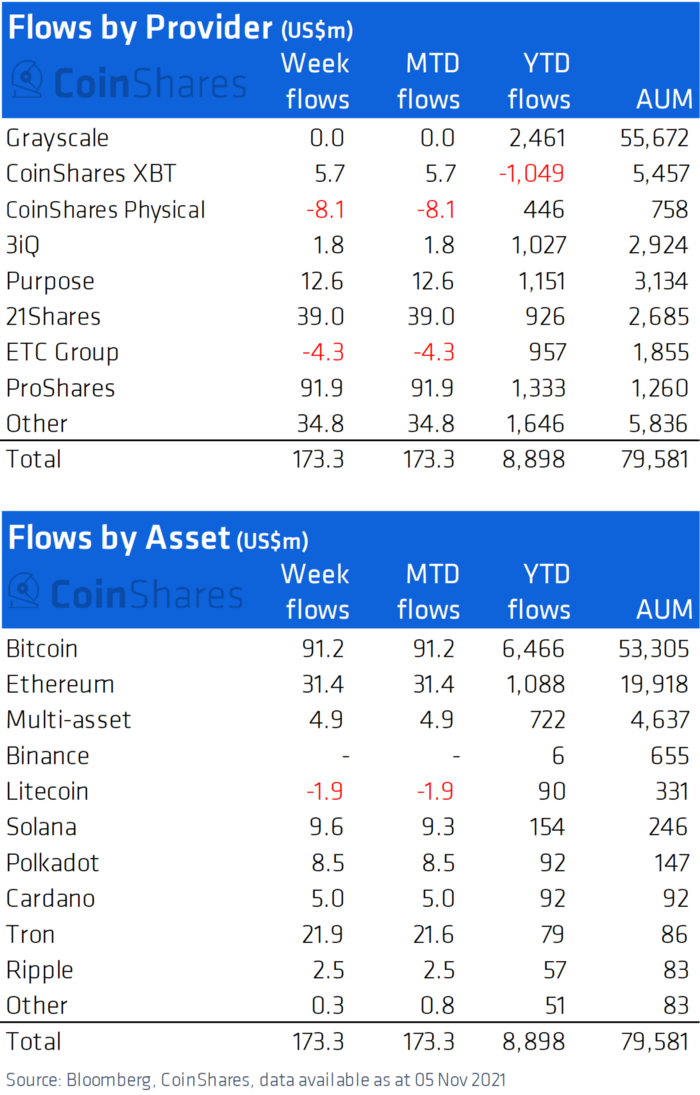 A handful of popular altcoins like Binance's BNB, Litecoin, Solana, and Polkadot make up the rest. 
Polkadot, the proof-of-stake interoperability protocol that allows data and tokens to flow between different blockchains, has seen its market cap surge in the last couple weeks. Its DOT coin saw inflows of $9.6 million last week, its best on record, according to the CoinShares report. 
Sitting today at a $56 billion market cap, DOT has surpassed Dogecoin's $37.1 billion and USDC's $34.5 billion, according to CoinGecko, making it the 8th largest coin today.  
The report also tracks inflows to individual asset managers.
After seeing record-high trading volumes at the start of the year, CoinShares XB—a line of exchange traded Bitcoin products available in Europe–has seen its inflows drop this year. Even so, its $5.5 billion AUM means that it's second only to Grayscale, which CoinShares estimates has $55.7 billion AUM.