Solana has overtaken both Cardano and Tether amid rising interest in the SOL token. It hit a new high of $245.69 Wednesday while other assets also jumped.
Solana Rallies Higher
Solana is taking names as it climbs the cryptocurrency rankings. 
The high-speed blockchain has become the fourth-largest cryptocurrency by market capitalization, overtaking both Cardano and Tether in the past week. The SOL token has rallied hard amid renewed interest in the digital assets space, putting in a new all-time high of $245.69.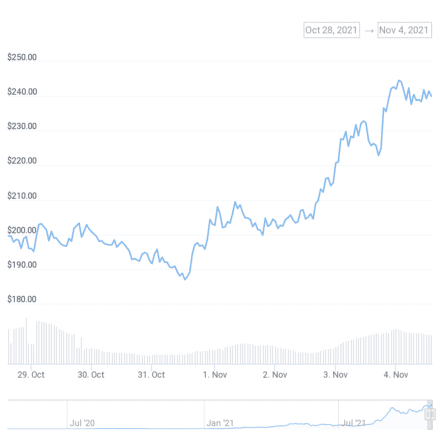 Solana's current move looks to be part of a wider trend boosting Layer 1 assets. Ethereum and Polkadot have both recently hit new all-time highs, with Terra and Avalanche also coming close. 
During Solana's recent rise, Solana Labs CEO Anatoly Yakovenko commented on the blockchain's place in the wider crypto ecosystem, praising Ethereum's innovation and suggesting that Solana's success won't be driven by the potential failure of Ethereum's Proof-of-Stake merge planned for 2022.  
Eth2 is a wild and crazy design. It hasn't been tried before, it's already has and will force a ton of new innovation. I can't imagine a world where Solana succeeds because eth2 fails.

— anat◎ly 🦀🤿🏒 🤙 (@aeyakovenko) November 3, 2021
Since January, Solana has risen almost 17,000% percent, making it one of the best crypto investments of the year so far. The adoption of NFTs on Solana and growing total value locked in DeFi protocols such as Raydium and Orca have contributed to the chain's parabolic growth. 
Solana's market cap currently sits at around $72 billion. If it's to challenge Binance Coin for the number three spot, the SOL token will need to close the 30% gap between the two assets. 
Disclosure: At the time of writing this feature, the author owned ETH, SOL, and several other cryptocurrencies. 
Solana Looks Ready to Overtake Cardano's Market Cap
Solana appears to be gearing up for a bullish impulse while Cardano sits on weak support. Data shows that SOL might only need $1 billion in total market value to…
MDEX: Overlooked Decentralized Exchange That Pays You to Trade
Based on statistics from DeBank and dapp.com, one of the top-performing decentralized exchanges by TVL and trading volume this year is MDEX—an AMM-based DEX functioning across the Huobi Eco-chain (HECO), Binance Smart Chain…
Solana in Price Discovery Mode After New All-Time High
Solana continues heading north after breaking all resistance levels that prevented it from achieving its upside potential. Given the lack of opposition ahead, the SOL token is primed for further…
FTX U.S. Launches NFT Marketplace on Solana
FTX U.S. is joining the NFT boom.  FTX U.S. to List NFTs FTX's U.S. arm has launched an NFT marketplace on Solana. Solana NFTs deposited to FTX U.S. will need…