Key Takeaways
Polkadot is getting closer to its first parachain auction on Nov. 11.

Picasso has announced it is Kusama's 12th auction winner.

DOT and KSM look primed for higher highs.
Polkadot and Kusama's vision of enabling multiple blockchain ecosystems or networks to communicate with each other is moving closer to becoming a reality. Polkadot is set to launch parachain auctions this month. 
Polkadot's Parachain Auction on the Horizon 
Polkadot is making significant strides to make cross-chain interoperability a reality. 
In an unanimous vote, the community has passed a motion to enable parachain registration and crowdloans. Developers will be able to register their parachains and seek additional funding as soon as Nov. 4. 
However, the first parachain auctions are not set to begin until Nov. 11. The auctions are crucial to deciding which projects will be selected to receive the right to develop a parachain integrated on Polkdot's blockchain. 
On the other hand, Kusama, the pre-production environment blockchain for Polkadot, has already conducted several parachain auctions. Composable Finance's Picasso project secured a slot Monday, becoming the 12th auction winner. With the new resource, Composable Finance aims to deliver a comprehensive decentralized finance ecosystem for Polkadot. 
Picasso's head of product, 0xbrainjar, said the project was launching on Kusama to "test out performance there, before opening up even further community development and participation opportunities." Further details, including a detailed roadmap, will be released in the coming weeks.  
The recent developments around Polkadot and Kusama have not been unnoticed. Their native tokens, DOT and KSM, have enjoyed bullish price action over the last 36 hours, both gaining over 15% in market value. 
Now, the two assets appear to be preparing to advance higher.
DOT and KSM Break Out
Polkadot has entered price discovery mode after breaching its previous record high at $49.86. DOT appears ready to advance further despite the significant gains posted, especially if it can slice through the Tom DeMark (TD) Sequential indicator's breakout line at $53.30. It's currently trading at $52.21. 
The formation of a parallel channel on Polkadot's daily chart prints a similarly optimistic outlook. Every time DOT has risen to this technical formation's upper boundary since Jul. 20, the uptrend has reached exhaustion, leading the price to retrace to the pattern's lower edge. From this point, the price tends to rebound, which is typical activity for an asset in a parallel channel.
As the recent upward impulse follows a rebound from the channel's lower boundary, the technical formation suggests that Polkadot could surge toward the middle or upper trendline. These potential areas of resistance sit at $60 and $89. 
Polkadot must continue to trade above $41 for the bullish thesis to hold. Failing to do so could result in a brief correction to $35 or even $30.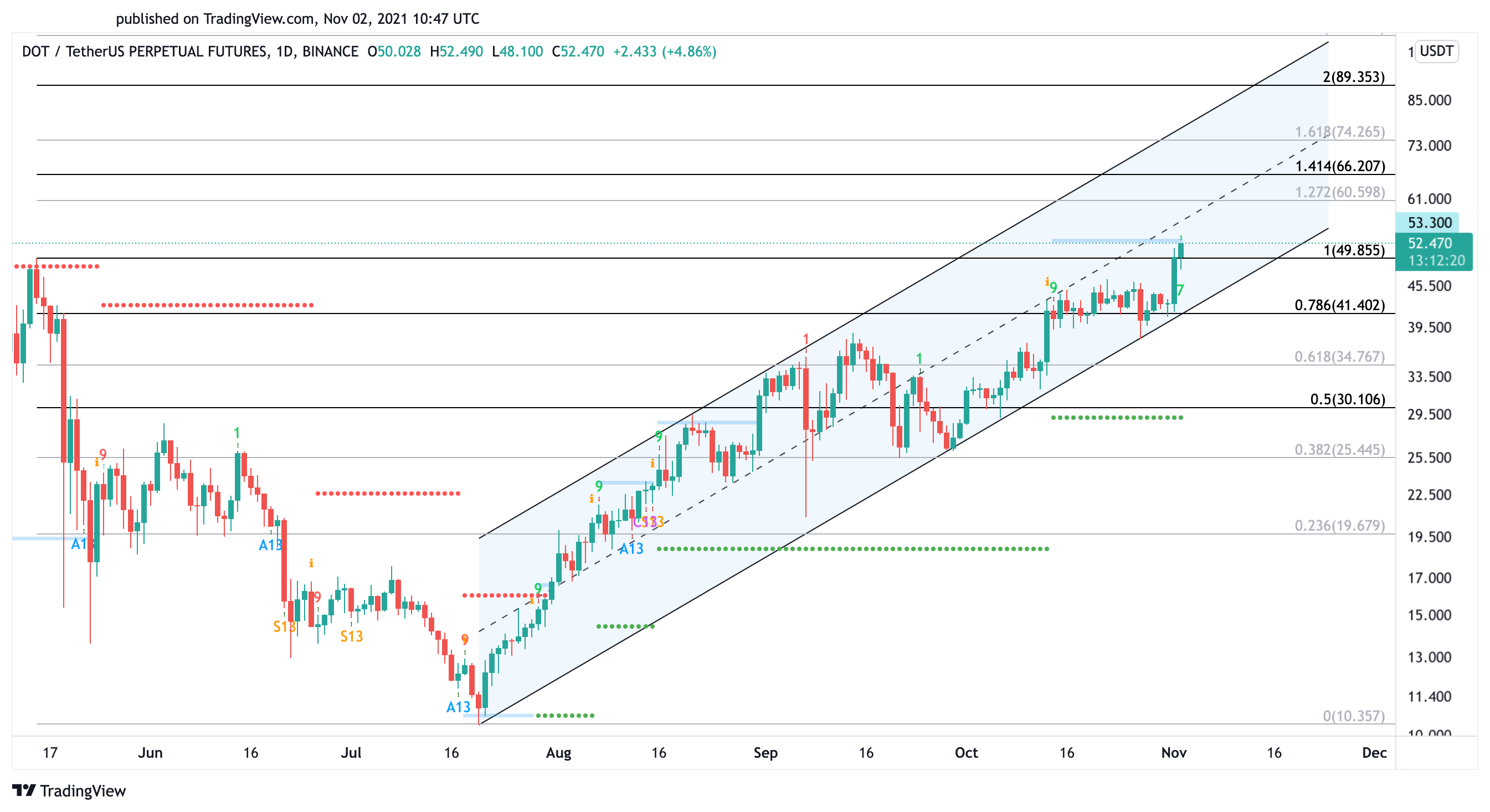 Kusama could also be about to experience a significant upward impulse as it approaches the TD's breakout line at $441. This crucial area of resistance has prevented KSM from advancing further several times since the beginning of September. A successful breach of this barrier could encourage sidelined investors to enter long positions in preparation for a significant price increase.
Under such unique circumstances, Kusama would likely target $512 first. If it overcomes this resistance wall, prices could rise further to retest the May 18 all-time high at $626.68.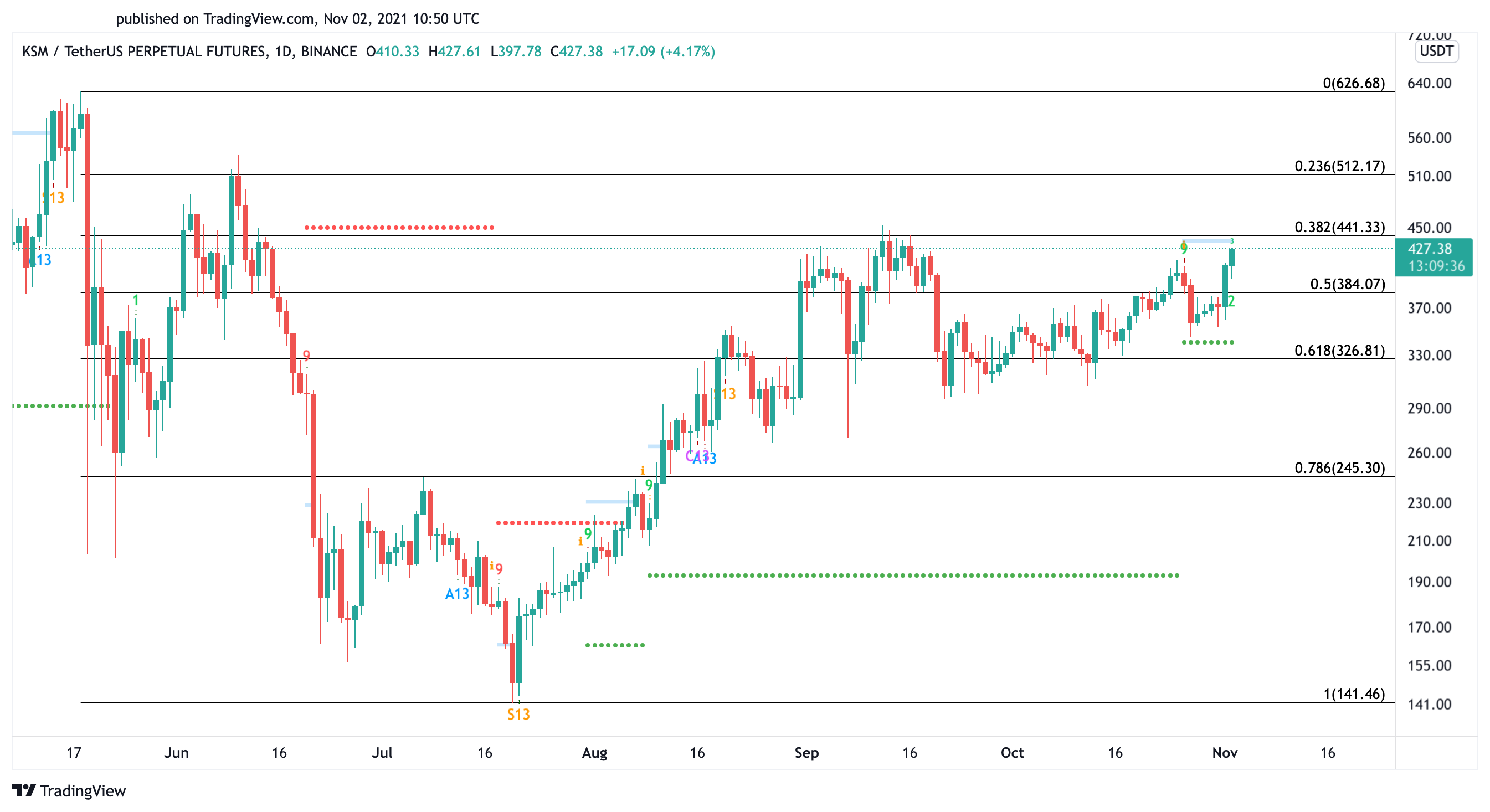 In the event of a market sell-off, the $384 support level or the 61.8% Fibonacci retracement level at $327 could prevent Kusama from incurring significant losses. 
Disclosure: At the time of writing, the author of this feature owned BTC and ETH.
Acala Launches Update to Bring EVM DeFi to Polkadot
EVM+ by Acala provides an entry for Ethereum apps to get access to Polkadot's multichain network.  MetaMask Comes to Polkadot via Acala Acala, one of Polkadot's main DeFi hubs, has…
Karura Wins $100 Million Parachain Auction on Kusama
Karura Network, the testnet version of Acala, has won the first parachain auction on Kusama, backed by millions in community contributions.  Kusama Ends First Parachain Action  Karura is the testnet…
After Solana, Tether Launches on Polkadot, Kusama
Another two chains for Tether: USDT will soon be available on Polkadot and Kusama.  Tether Primed for Growth  Tether is preparing to launch on another two blockchains.  The Tether team…
MDEX: Overlooked Decentralized Exchange That Pays You to Trade
Based on statistics from DeBank and dapp.com, one of the top-performing decentralized exchanges by TVL and trading volume this year is MDEX—an AMM-based DEX functioning across the Huobi Eco-chain (HECO), Binance Smart Chain…