Bitcoin (BTC) has been on a roller coaster ride because it recently set a new all-time high (ATH) price of $66,952 after breaching the previous record of $64,800 achieved in mid-April. 
Meanwhile, the Percent Balance of Bitcoin on exchanges has been down-trending after hitting a three-year low of 13%.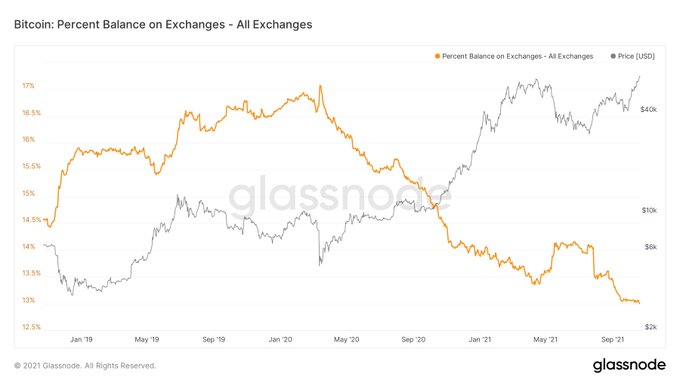 This is bullish because it signifies a holding culture, given that Bitcoin is transferred from crypto exchanges and kept in cold storage and digital wallets. 
BTC's surge has been fueled by the Securities and Exchange Commission (SEC) approving the Bitcoin Exchange Traded Fund (ETF).
ProShares, an American ETF provider, announced on October 18 that its Bitcoin Futures backed ETF would be traded on the New York Stock Exchange (NYSE). 
Days later, the SEC approved VanEck's quest to launch a similar product. VanEck is a global asset management firm.
Bitcoin ETF is a type of security that tracks the overall price of Bitcoin. It enables investors to trade and purchase shares of it on traditional exchanges, circumventing crypto trading platforms.
By holding an ETF, investors can access many stocks in the same category, such as the banking industry, the tech industry, or the oil industry. ETFs offer diversity to investors' portfolios and provide a mixture of investments such as stocks, commodities, and bonds. 
Bitcoin's open interest in perpetual swaps hits ATH
According to data analytic firm IntoTheBlock:
"Bitcoin's Open Interest in Perpetual Swaps reached $19 billion for the first time."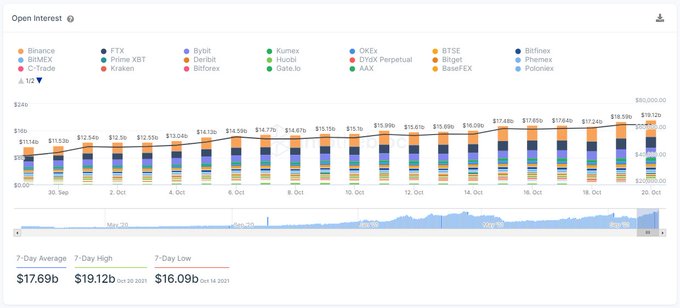 Therefore, open interest increases with price, and this shows their strong correlation.
Meanwhile, long-term BTC holders are almost entering their preferred profit-taking area. On-chain analyst under the pseudonym TXMC explained:
"After one day in price discovery, Long-Term Holders are quickly nearing their preferred profit-taking zone. We anticipated this- a natural step in all bull runs. The coming weeks will tell the story of this market's chances to reach its full potential. Confidence is high."
Long-term holders have emerged to be significant players in the Bitcoin ecosystem. 
Image source: Shutterstock