Crypto investment firm Digital Currency Group (DCG) has upped its authorization to purchase Grayscale's Bitcoin Trust's (GBTC) shares from $750 million to $1 billion. The trust is run by digital asset manager Grayscale Investments, which is itself owned by DCG.
In an announcement on Wednesday, DCG said that it "plans to use cash on hand to fund the purchases and will make the purchases on the open market, at management's discretion."
The firm added that as of October 19 it has bought $388 million worth of GBTC shares.
DCG first revealed plans to acquire up to $250 million of shares in GBTC in March this year, extending the authorization to $750 million in May.
The firm stressed, however, that the authorization doesn't obligate it to make a purchase at any specific time, and it can be extended, modified, or discontinued.
Through buying GBTC shares, DCC is making an apparent attempt to narrow the discount between the market price of GBTC shares and their net asset value (NAV).
Historically, GBTC shares have traded at a hefty premium relative to the price of underlying Bitcoin. Things changed in February this year when GBTC's shares turned negative for the first time since the fund's inception in 2013.
Earlier this week, the discount on the Grayscale Bitcoin Trust fell to -20.5%, the second lowest point in the trust's history. As of October 20, the discount narrowed to -15.56, according to data from Glassnode.
With newly issued shares being locked for a period of six months before they can be traded on the secondary market, and Bitcoin inflow into the trust coming to a halt in February, GBTC's holdings have been in decline for the past eight months.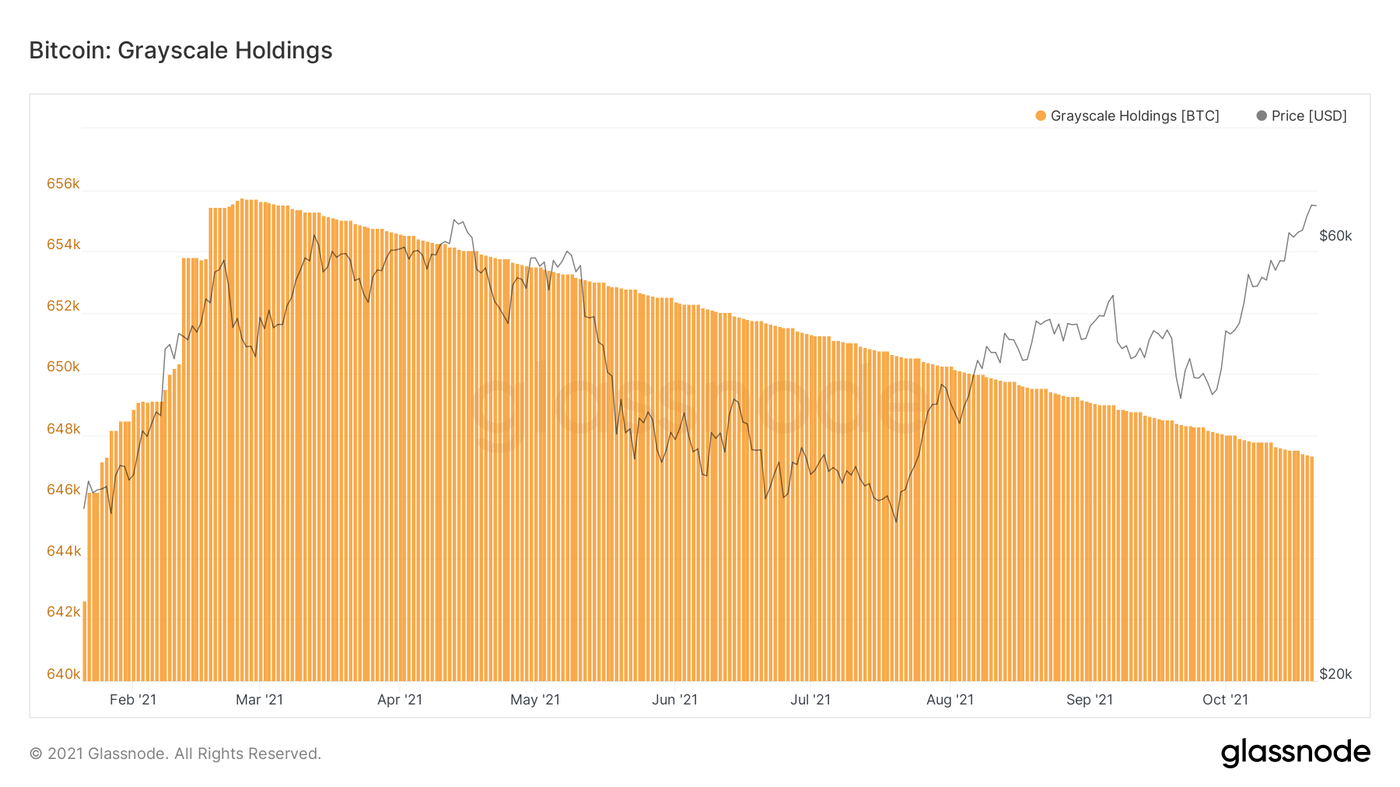 Grayscale sets sights on a Bitcoin ETF
In the long term, Grayscale hopes to address the issue of the negative premium by converting GBTC into an exchange-traded fund (ETF) backed by physical Bitcoin.
The firm first outlined its intentions in April, backing them with a corresponding SEC filing on October 18.
Whether Grayscale will succeed remains to be seen, however, as the SEC chair Gary Gensler has so far opposed the very idea of a Bitcoin spot ETF, making it clear that he favors ETFs based on regulated Bitcoin futures contracts.
ProShares was the first U.S. firm to launch a Bitcoin futures ETF earlier this week, with Bitcoin surging in the wake of its debut to hit a new all-time high. VanEck is hot on ProShares' heels, with its own Bitcoin futures ETF set to debut on the New York Stock Exchange next week.