After reaching an all-time high this week, the price of Bitcoin is down 5.5% in the last 24 hours.
But traders on Binance US watched this morning as the price of the asset plunged quite a bit further: 87%. The American affiliate of the leading international cryptocurrency exchange now says the flash crash was caused by an error in a trading algorithm.
Though Bitcoin is trading for over $60,000 on every major exchange, it reached the $8,200 mark on Binance US before quickly heading back to the "right" price.
"One of our institutional traders indicated to us that they had a bug in their trading algorithm, which appears to have caused the sell-off," Binance US said in a statement shared with Bloomberg. "We are continuing to look into the event, but understand from the trader that they have now fixed their bug and that the issue appears to have been resolved."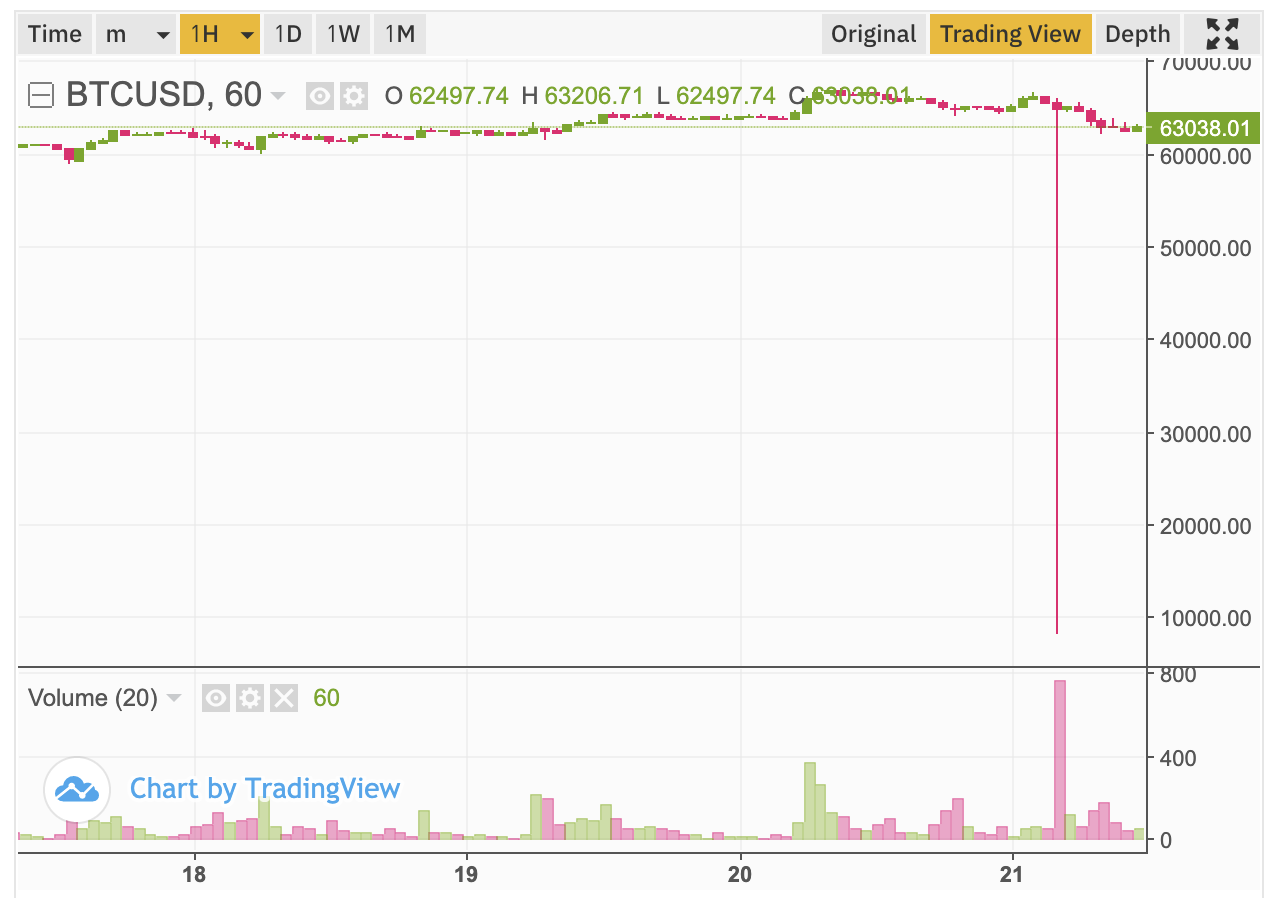 Flash crashes are nothing new to the worlds of traditional and crypto finance, which are reliant on computerized trading; when something extremely unusual happens in the trading day, it can cause the algorithm to sell off a lot of the asset. The New York Stock Exchange uses circuit breakers to make trading impossible in the event of a sudden drop in prices.
A flash crash occurred on Binance in December 2019, sending the price of Bitcoin downward more than 90% when traded with stablecoin StableUSD. Earlier that year, the same trading pair had the opposite of a flash crash—a flash spike—in which the asset went from $5,000 to $11,000. And other exchanges have experienced them as well.
All of this can negatively affect users who have set up stop-loss orders to sell if the price drops below a specified amount. Decrypt has reached out to Binance US to determine if any traders were negatively affected and, if so, whether the exchange plans to compensate them.