Key Takeaways
Vitalik Buterin has sold off dog coins he received in his Ethereum wallet.

The total sales of the tokens netted Buterin over $1.8 million.

The Ethereum co-founder has already used some of the funds to help Proof of Humanity's UBI project.
Vitalik Buterin has sold off another $4.3 million worth of dog coins sent to his wallet over the last few months. Buterin used some of the funds to buy and burn tokens from Proof of Humanity's UBI initiative. 
Buterin Sells Dog Coins
Vitalik Buterin has been cleaning out his wallet.
The Ethereum co-founder sold stacks of six dog coins involuntarily sent to his Ethereum wallet Tuesday. Buterin made the trades through the decentralized exchange Uniswap, dumping bags of Aidi Inu, Small Doge, Jejudoge, Baby Shiba, Kishu Inu, and HuskyToken with a combined value of over $4.3 million. 
However, due to the lack of liquidity for these niche coins, the total amount Buterin received after selling was closer to $1.8 million. The prices of the Dogecoin knockoffs have been hit hard, with the biggest loser, Baby Shiba, dropping 72%.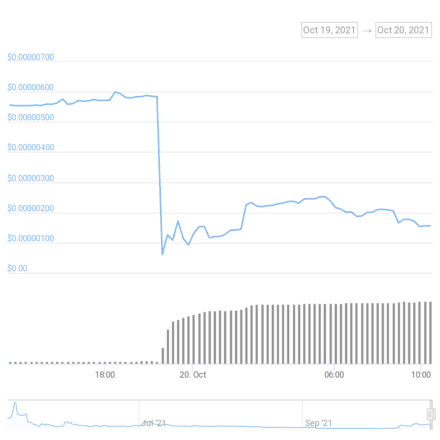 Following the success of meme tokens like Dogecoin earlier this year, numerous copycat projects have emerged hoping to emulate its success. The creators of these projects often send large amounts of tokens to Buterin's wallet, hoping that his star power will lend legitimacy to their projects or act as a "token burn," removing large amounts from circulation. 
As such, this is not the first time Buterin has cleared his wallet of these unsolicited tokens. In May, Buterin dumped large amounts of Shiba Inu, Akita Inu, and Dogelon Mars onto the market for a total of $63 million at the time. Once liquidity on exchanges ran out, Buterin started giving the tokens away, memorably donating a further $1 billion worth of Shiba Inu tokens to the India Covid-Relief Fund.
Buterin has already started using the proceeds from the latest token dump to help good causes. Transaction data from Etherscan shows that he spent almost $200,000 buying and burning 8% of Proof of Humanity's UBI token supply. 
Proof of Humanity is a project aiming to verify human identities in a decentralized manner. The project has partnered with Democracy Earth to launch a Universal Basic Income initiative, distributing UBI tokens to all verified humans. 
By burning the UBI tokens, Buterin reduces the total supply, thus increasing the value of other holders' tokens. Additionally, the move signals Buterin's support for the project, with onlookers taking to Twitter to describe the act as "the highest form of validation someone can get in the crypto space."
This is the highest form of validation someone can get in space, and I'm happy to witness you getting it buddy. <3

— dheerajshah.eth 🦇🔊 (@DheerajShah_) October 20, 2021
While the latest dog coin purge was not as big as the previous one in May, it may not be the last. Buterin previously posted a public on-chain message urging people to stop sending him large amounts of unsolicited tokens, but it appears to have been ineffective. 
Disclaimer: At the time of writing this feature, the author owned BTC, ETH, and several other cryptocurrencies. 
Vitalik Buterin Has Dumped His Unsolicited Doge-Clones
Ethereum creator Vitalik Buterin has sold and given away several of the Dogecoin lookalike tokens sent to him in recent weeks. Buterin Sells Off Tokens Over the past few months,…
Dogecoin Clone Turns to Vitalik Buterin for Coin Burn
Ethereum creator Vitalik Buterin has involuntarily accumulated 50% of Shiba Token's supply over the past year. This week's donation attracted attention as the token's price rose significantly. What Is Shiba…
A Guide to Yield Farming, Staking, and Liquidity Mining
Yield farming is arguably the most popular way to earn a return on crypto assets. Essentially, you can earn passive income by depositing crypto into a liquidity pool. You can think of these liquidity…
Shiba Inu Primed to Run Following Coinbase Pro Listing
Shiba Inu has enjoyed a rally after Coinbase Pro revealed it would list the token on its platform. SHIB has surged by 47%. Shiba Inu Listed on Coinbase Pro Meme…