Bulls are in control as Bitcoin and the crypto market break every all-time high, coming into the top 10 is Terra's native cryptocurrency LUNA with a 12.9% rally in the daily chart. Trading north of $40, at press time, this cryptocurrency has outperformed BTC and major altcoins in lower timeframes.
However, LUNA could be just firing up its engines and getting ready for a fresh leg-up in the short term. The Terra ecosystem has been implementing major improvements to its ecosystem in the past months.
Related Reading | Why The Terra Ecosystem Delayed A Major Mainnet Upgrade For Late September
Therefore, LUNA could have multiple bullish reasons to continue to outperform the market. As researcher Ryan Watkins recently indicated, Terra is closed to implementing all 3 massive upgrades on its infrastructure.
The Colombus-5 and Wormhole V2 upgrades have gone live, and the Inter-Blockchain Communication (IBC) protocol upgrade is set to roll out today, October 20th.
As NewsBTC reported in August, Columbus-5 was delayed providing every actor on the Terra ecosystem with more time to prepare for the upgrade. Designed to introduce a deflationary mechanism for LUNA, this upgrade will increase Terra's interoperable capabilities while creating more demand for its underlying asset.
In the meantime, the Wormhole upgrade will operate as the communication component between Terra, Ethereum, Solana, Binance Smart Chain, and potentially more blockchains in the future.
Related Reading | Why Terra (LUNA) Will Reward Users With New Community Bounty Program
In addition, the upgrade introduced a user interface that will remove friction between the network value transfer capacity. Finally, the IBC protocol will allow Terra to benefit from "permissionless trans of tokens across chains". The team behind Wormhole celebrated the achievement:
Terra is known for its vibrant ecosystem, #LUNAtic community, and its decentralized stablecoin, $UST. Terra has grown at a dramatic rate in recent months, and we're excited to unleash Terra innovation on the SOL, ETH, and BSC communities!
LUNA Ready For Take-Off? Bull Market In Its Early Days
Historically, tokens with interoperable capacities have performed well. Binance Smart Chain token BNB, integrated with its own burn mechanism, went from a low below $30 in 2020 to an all-time high above $600 on the back of its CeDeFi utility.
Related Reading | Can LUNA Reach $170? This VC Fund Thinks It Has The Fundamentals
Terra has another secrete weapon in its stablecoin UST. Talking about recent developments, Watkins claimed that the Terra ecosystem has built the potential for a new cross-chain trade boom. In September, the researcher made the following prediction:
With Colombus-5 and Wormhole V2 going live in the coming weeks, UST growth will likely accelerate, setting it up to challenge DAI for the top spot among decentralized stablecoins.
As seen in the chart below, Terra's native UST has taken the decentralized stablecoin market by storm. Since February 2021, its dominance over this sector has skyrocketed and seems poised to continue the trend with an upgraded ecosystem.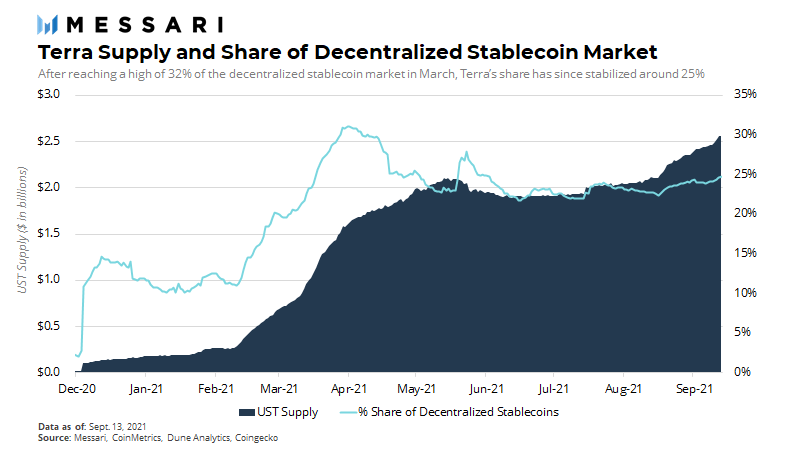 As Watkins pointed out, there are two main trends that will allow UST and Terra to grow: new capital coming into the ecosystem due to the upgrades, UST moving onto new platforms.
In totality these catalysts could all drive a ton of new demand for UST in the coming months, which has already been the fastest growing decentralized stablecoin in 2021. pic.twitter.com/LxcTF6LHKJ

— Ryan Watkins (@RyanWatkins_) September 15, 2021