Since the first meteoric rise of Bitcoin in 2017, asset managers and investment firms have looked to seize the opportunity in the growing space, attempting to bring the cryptocurrency to Wall Street. Of course, the majority of these efforts (if not all) were futile – caused by waning demand during downturns, opposition from government entities, or the general uncertainty surrounding crypto's future as an asset class. But now, with Bitcoin gaining approval from the public, institutions, and even nations like El Salvador, it only seems right for crypto to finally cement its legitimacy. 
ProShares' Bitcoin ETF Gains Approval from the SEC
Earlier today, the Securities and Exchange Commission (SEC) finally announced that it had approved the first ever Bitcoin Futures ETF in the United States. This is following months of deliberation and delays, with the commission delaying its verdict on at least a dozen or more additional Bitcoin ETF applications. Proshares, the asset management firm that filed its ETF earlier this summer, is set to launch as early as next week. In its amended prospectus updated on Oct. 15, Proshares stated that its ETF is expected to launch on Monday, Oct. 18. 
BREAKING: U.S. Securities and Exchange Commission (SEC) officially approves #Bitcoin ProShares Futures ETF, which is expected to begin trading next week. pic.twitter.com/FC4mEaJuPO

— Mr. Whale (@CryptoWhale) October 15, 2021
Without a doubt, this is a historic moment for the cryptocurrency space. Serving as a regulated alternative to directly holding the underlying digital asset, an accessible exchange-traded fund will mean an influx of funds from retail and institutional investors alike.
ProShares' Bitcoin ETF will function similarly to that of Grayscale's GBTC, where the ETF will track Bitcoin futures, rather than the price of the digital asset directly. SEC Chair Gary Gensler stated that future-based products will likely provide stronger investor protections due to the stringent securities laws they must operate under. 
As a futures-based product, there may be potential premiums or discounts relative to the net asset value (NAV). However, the Proshares' ETF has a management fee of 0.95%, which is considerably lower than GBTC's 2%. This, coupled with GBTC's stringent redemption periods and deviation from the NAV, will likely lead to a mass rotation of funds from the GBTC to ProShares' ETF. 
Breaking Down Bitcoin's Price Action
The aforementioned news sent the crypto markets higher, with BTC nearing its all-time high price of $63,000. Earlier today, the price of BTC peaked at $62,600. At press time, BTC is priced at $61,300 – up 6.36% in the past 24 hours alone.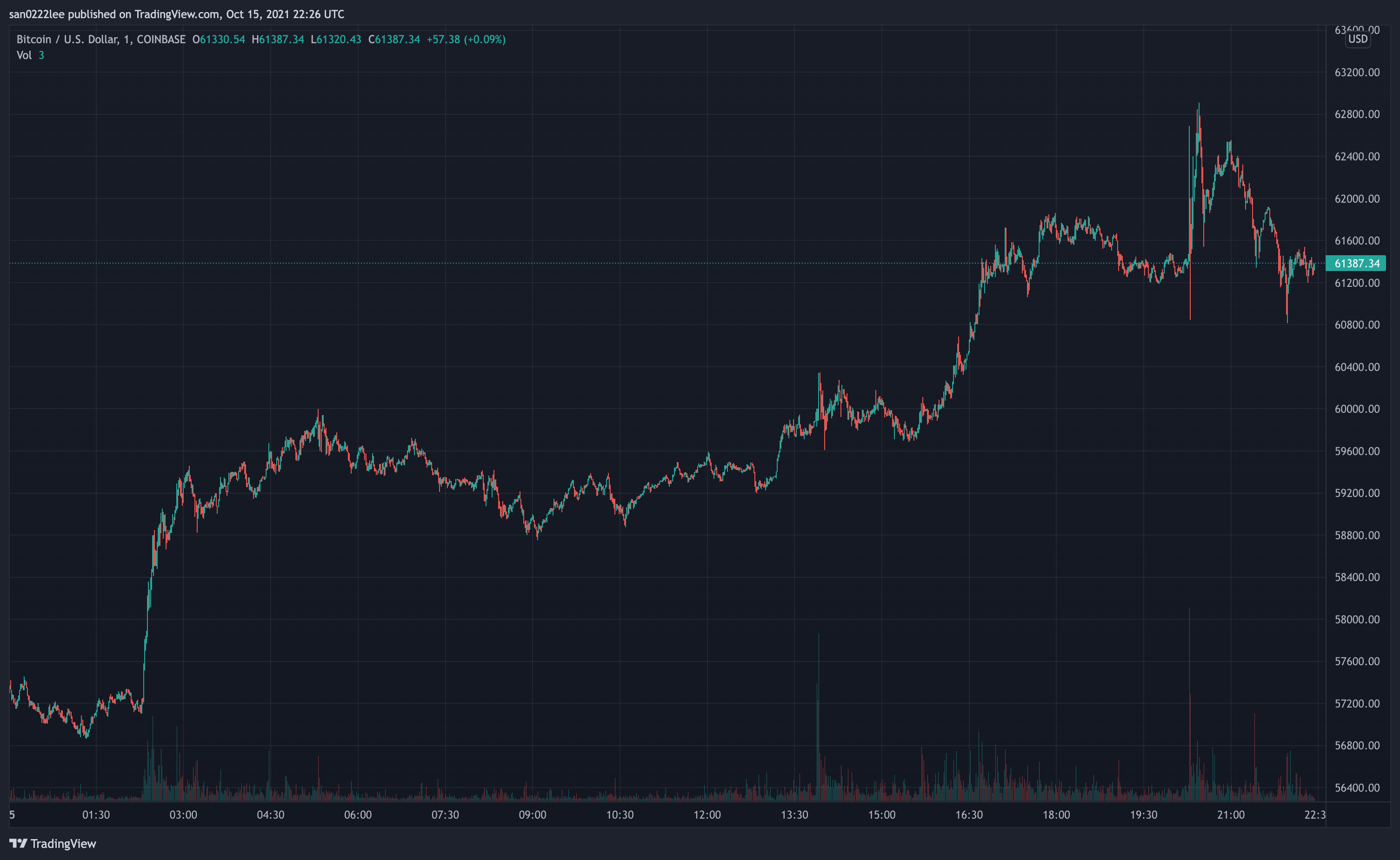 According to CoinMarketCap, the major cryptocurrency has reclaimed its $1 trillion market capitalization, comfortably sitting at $1.15T. Ethereum and other major altcoins reacted positively to the news, closing in on their respective all-time high prices.
Featured image from UnSplash