Bitcoin (BTC) has been experiencing an uptick in price, given that the leading cryptocurrency recently breached the $58K level, a scenario last seen in May. BTC was up by 16.66% in the last seven days to hit $57,553 during intraday trading, according to CoinMarketCap.
As a result, the BTC futures market has been scaling the heights. Jan & Yann, the co-founders of on-chain metrics provider Glassnode, acknowledged:
"The term structure of Bitcoin futures markets are in a healthy contango. This means the market expectations are for higher prices in the future. Traders are pricing Bitcoin across most exchanges at a ~12% annualized premium out to December."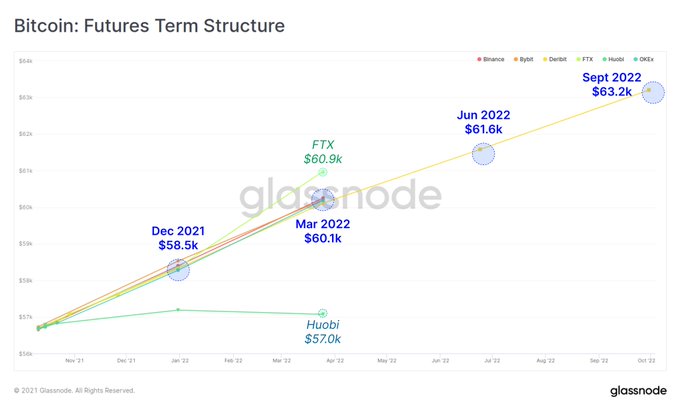 A contango is a situation where a commodity's futures price is higher than the spot price.
Reportedly, Bitcoin futures open interest has jumped by $5.6 billion so far this month, representing a 45% increase from September lows.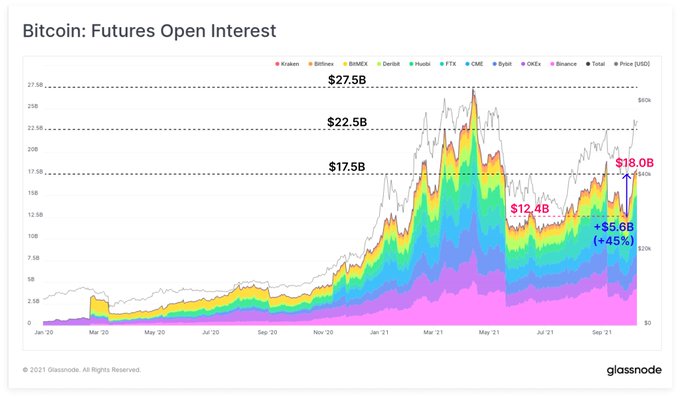 Bitcoin needs to break above $58,400 for new ATHs
According to market analyst Ali Martinez:
"Two key levels will determine Bitcoin's fate! The IOMAP shows that a break above $58,400 could see BTC fly towards new all-time highs. But if BTC closes below $53,700, prices will drop to $49,500."
Bitcoin set an all-time high (ATH) price of $64.8K in mid-April as institutional investments continued trickling in the market.
Martinez also believes that BTC is primed to skyrocket. He noted that:
"On-chain data shows that addresses holding 100 to 1,000 BTC have purchased 60,000 BTC since Oct 1, worth ~$3.4B. Meanwhile, 20,000 BTC have been removed from known cryptocurrency exchange wallets within the same period."
Meanwhile, Bitcoin scarcity has been going through the roof because illiquid or immobile BTC supply hit 85% in the last three months. 
The rate is higher in the last month because the illiquid Bitcoin supply reached 92%.  If supply decreases and demand increases, price is expected to rise based on market forces.
Image source: Shutterstock