The decentralized finance (DeFi) sector took the world by storm in 2020 after its value grew by fourteen times. Its presence in the crypto space continues to be felt as its value continues to skyrocket.
According to DefiLlama, a ranking and metrics provider for DeFi protocols, the total value locked (TVL) in this sector stands at $208 billion. 
Ethereum leads the pack in DeFi's TVL at $141.92 billion, representing 68.2%. Binance Smart Chain (BSC) and Solana take the second and third positions at $17.38 billion and $10.71 billion, respectively.
DeFi is founded on blockchain-based smart contracts that fulfil certain financial functions based on the underlying code. 
Some experts expect this industry to experience more growth in the coming years. For instance, Matthew Roszak, a veteran crypto investor, recently stated that the DeFi sector would become an $800 billion industry thanks to increasing mainstream crypto adoption, the global chase for yield, and increased inflation.
On the other hand,  blockchain analytic firm Chainalysis reported that the United States had the highest DeFi adoption rate, followed by Vietnam, Thailand, China, and the United Kingdom.
More investments continue trickling into Ethereum 2.0
According to market insight provider Glassnode:
"The total value in the ETH 2.0 Deposit Contract just reached an ATH of 7,906,210 ETH."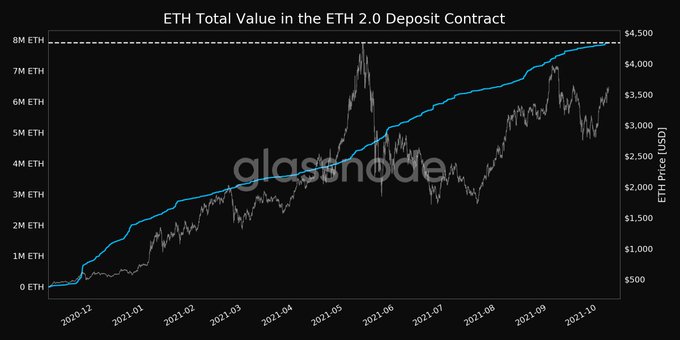 Ethereum 2.0, also known as the Beacon Chain, is seen as a game-changer that will offer a transition from the current proof of work (POW) consensus mechanism to a proof of stake (POS) framework. As a result, scalability and efficiency will be boosted. 
Meanwhile, the holding continues to thrive in the Ethereum network. Reportedly:
"The number Ethereum addresses Holding 100+ Coins just reached a 4-month high of 43,048."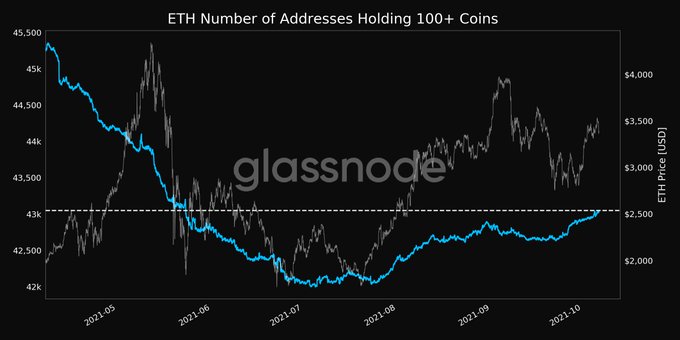 Holding is a favoured strategy in the crypto space because coins are kept in cold storage and digital wallets for future purposes other than speculation. 
Image source: Shutterstock