In brief
Ethereum game Axie Infinity has surged in popularity of late, yielding over $2 billion in total NFT transaction volume.

Sky Mavis is working on gameplay upgrades, expanded play-to-earn initiatives, and free starter monsters to let users try Axie before buying NFTs.
What's the biggest NFT project to date? In terms of total trading volume, it's not NBA Top Shot or CryptoPunks. No, it's Axie Infinity—an Ethereum-based, Pokémon-inspired, monster-battling game that exploded in popularity this summer.
Sky Mavis' game surpassed the $2 billion mark in total transaction volume last week, according to data from DappRadar. Players are spending piles of ETH on cartoonish monsters, land plots, and other items in a game that now claims more than 1.8 million daily active users. Axie's native AXS governance token has also surged in value, with a market cap nearing $4 billion.
It's not a cheap game to get into, however. An NFT acts like a deed of ownership to a digital item—in this case, an interactive creature or a chunk of customizable terrain. You need three monster NFTs to even play Axie Infinity, with starting prices around $150-200 worth of ETH apiece. That's a sizable upfront investment, although it hasn't deterred the project's exponential growth of late.
The Axie Infinity community has gradually expanded since development started in late 2017, but it accelerated quickly this summer with the launch of Ronin, a custom-built sidechain for Ethereum. It cuts down fees and avoids Ethereum's network congestion in the process, resulting in speedy transactions as players buy, sell, and breed Axie NFTs.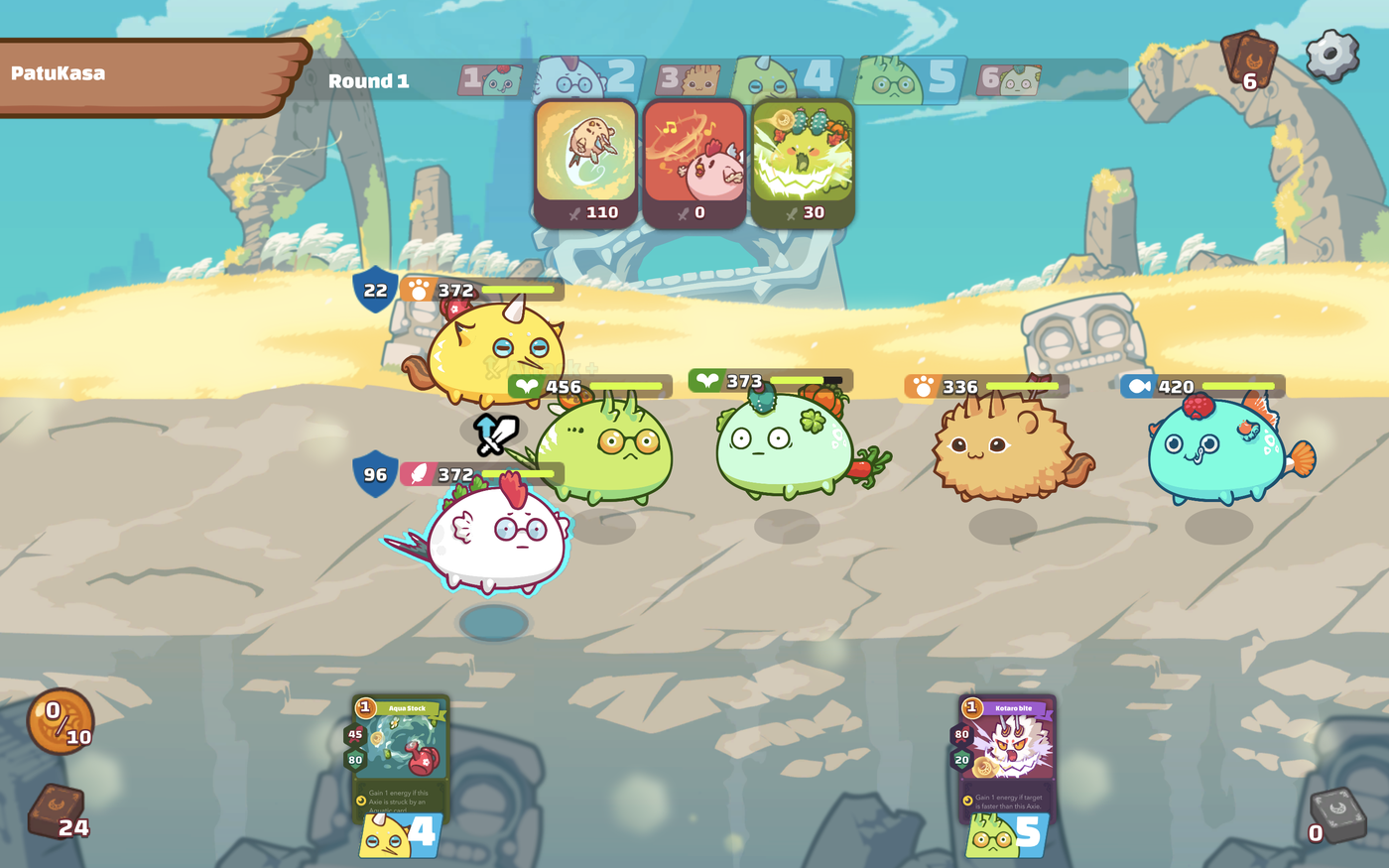 Ronin was the spark that set Axie Infinity ablaze, Sky Mavis co-founder and Growth Lead Jeff Zirlin told Decrypt.
"Ethereum will be the universal settlement layer, but it's not a place where you can run highly-performant applications," Zirlin told Decrypt. "This was the first time that a product with a very strong community fully migrated everything to a sidechain or layer-2 [scaling solution]."
Axie's summer surge also followed a $7.5 million Series A investment round announced in May. It's a relatively small amount compared to other crypto industry rounds of late, but it brought onboard heavyweights like billionaire investor and Dallas Mavericks owner Mark Cuban, as well as Seven Seven Six VC founder and Reddit co-founder Alexis Ohanian. The latter, in particular, has been outspoken about the game and its crypto rewards-driven play-to-earn model.
"It's easy to joke about, but the reality is this play-to-earn model is going to become the new normal," Ohanian told Bloomberg in August, speaking about Axie. "What it's doing to empower people all over the world is actually really remarkable, and quite extraordinary."
However, the influx of new players created fresh challenges. In July, Axie buckled under the weight of increased demand and was unplayable at times, as Sky Mavis dealt with what Zirlin described as a "tangled" database for Axie's battle system. Downtime happens with all online games, but the financial stake involved with a crypto game can amplify the stress.
Still, Zirlin said that they'll be ready to fix the next growth-fueled hitch, should it come. "Nothing has ever been killed by problems caused by too much demand," he added.
Building upon success
Axie Infinity's play-to-earn model is already taking root: some players in developing countries, such as the Philippines and India, are making a living by selling the SLP reward tokens earned from in-game battles. That's what fuels so-called Axie "scholarship" rental programs, headlined by the Andreessen Horowitz-funded and FTX-supported Yield Guild Games. It's a creative way to overcome the entry cost barrier to entry, with NFT owners loaning them out to players and then sharing in the token reward profits.
But it's only the beginning for Sky Mavis. The firm has a stash of AXS tokens earmarked to fuel future growth, and the token's recent price surge has boosted that fund's total to about $4 billion worth. Zirlin calls it "a growth catalyst on a different level than Ronin," and the expanded play-to-earn push will include staking AXS for rewards and token-based governance.
While Axie has brought in some 1.8 million daily players, the high upfront cost remains a significant barrier to entry to reaching potentially millions more users. Buying three Axie NFTs is expensive, while an Axie scholarship agreement is effectively a job—a serious commitment. What about casual players that just want to dabble and see what Axie Infinity is all about?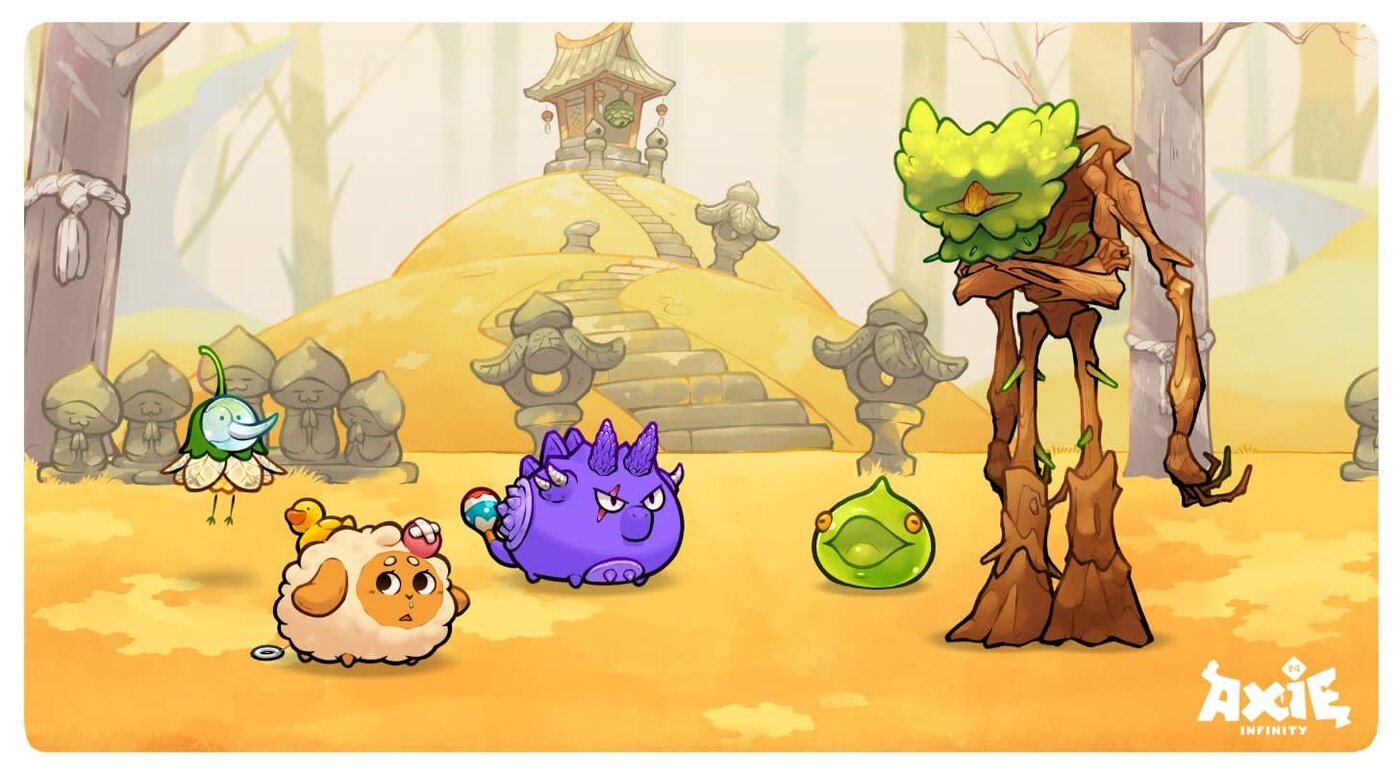 That's where free starter Axies will come in. Sky Mavis plans to implement trial Axies with "zero or close to zero" earning potential, Zirlin said, and that will provide a way to try the game before investing any money. Axie's play-to-earn benefits will still be reserved for players that buy the NFTs, but at least an easy on-ramp will be added—a demo version, essentially.
"It's solving a missing bridge between awareness and hard activation," Zirlin said.
Furthermore, Axie Infinity's gameplay will be enhanced and expanded. Currently, the game is primarily focused on battles, either against online opponents or A.I. foes, in which players use attack and ability cards to try and outmatch rivals. The parallel turn-based structure is clumsy, however, with a poker-esque approach of deciding your moves before seeing your opponents' actions. Zirlin admitted that it's "a little bit unintuitive" at present.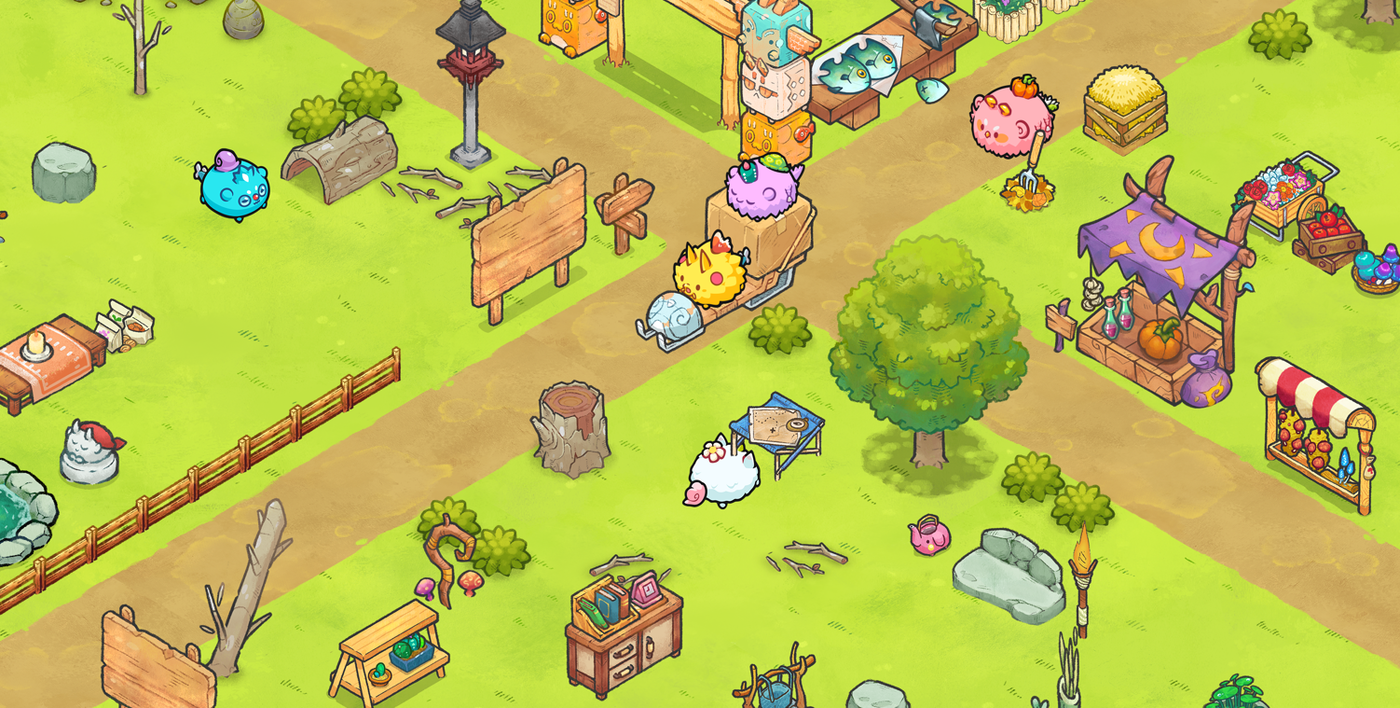 An V2 battle system upgrade will revamp the combat, enabling more of a back-and-forth, tit-for-tat flow that should boost the level of strategy needed for success. Furthermore, the new system—also called "Axie Infinity: Origin"—may implement more team and deck-building customization, alongside refreshed single-player content and Axie monster upgrades. All of the aforementioned features and upgrades are expected later this year or in early 2022.
Lastly, the long-awaited Land system will launch next year. Sky Mavis has sold Land NFT plots for some time—one set went for $1.5 million worth of ETH in February—but the gameplay is still in development. Once deployed, players can customize their owned terrain, use the location to mine valuable resources, and share the space with the world. It could be the bridge to bring the game's fervent community into a shared, online metaverse for Axie enthusiasts.
Challengers inbound
Axie Infinity has rapidly become the most visible and successful crypto game on the market today, but there are many others on the horizon that could challenge the computer and mobile game's early play-to-earn dominance.
Animoca Brands' The Sandbox is a promising open-world 3D metaverse game that has already raked in millions of dollars worth of LAND plot NFT sales, and inked alliances with Snoop Dogg, The Walking Dead and Atari. Meanwhile, play-to-earn mobile battler Guild of Guardians is set to launch next year, and fantasy role-playing adventure Big Time hails from AAA game industry veterans.
All of those games are based on Ethereum, but Solana-driven sci-fi game Star Atlas is also generating buzz lately with in-demand NFT spaceship sales. Solana project Aurory also plans to spin its existing profile picture NFTs into monster-battling, role-playing odyssey—and Animoca, also an early Axie Infinity investor, backs both Aurory and Star Atlas as well. Even Bitcoin gaming is on the horizon, thanks to upcoming play-to-earn fantasy battler Moonray.
Each of those games has its own unique look and feel, but as rivals jostle for the time, attention, and money of crypto-savvy gamers, Axie Infinity has a growing target on its back. Games are an ideal way to make the case for the value of user-owned assets and crypto rewards, Zirlin said, so it's no surprise to see a wide array of upcoming projects in the space.
"We've always believed that games with player-owned economies would be some of the largest applications of all time," Zirlin explained. "I think it's a really amazing way to introduce people to blockchain. One of the problems with blockchain is that it hasn't been able to capture the attention and imagination of everyday users."
"Axie Infinity was basically built as an engagement and retention machine," he continued. "If you were going to build something that could make sure that people were thinking about blockchain all the time, what would you build? You'd build a game with mass appeal."