Audius is a San Francisco-based startup offering a decentralized blockchain-powered digital streaming network, with the aim of connecting artists directly to fans. Following its mainnet launch in 2020, the service has reached more than 6 million unique users. 
The platform also aims to hand control over music distribution and monetization back to the artists, addressing long-standing issues over how they're compensated on other music streaming platforms.  
Unlike other music streaming services like Spotify, Audius isn't looking to make a profit in a traditional way. Instead, an open-source community of artists, fans and developers are rewarded for participation with the AUDIO token, with a view to turning a profit as its value increases with the growth of the service. Recent investors include the likes of Nas and Katy Perry, who are part of a recent $5 million investment round. Not too shabby…
Ease of use
Audius is available for free as a web app and as an app on iOS and Android devices. Signing up to the service is quick and easy; enter your email, choose a password, and you're all set.
Anyone who's used a music streaming service before will immediately feel right at home, though things might feel a little 'empty' if you're used to the pages and pages of curated playlists offered by incumbent services. 
One thing that's definitely worth checking out is the aforementioned playlists, which can be accessed by pressing the Explore option. The Trending section is also useful for seeing what new content is proving popular. Your enjoyment of suggested material will of course vary depending on your taste, but browsing through the most popular playlists is a decent way to help you get used to the lay of the land, so to speak. 
Another feature that Audius also offers is the ability to download songs as mp3s for free. Just hit the 'Download button' on a song's page, and you're good to go.
Design and UX
Audius has a streamlined, stripped-back design that's a far cry from the likes of services like Spotify, which have grown a little cluttered and harder to navigate over the years.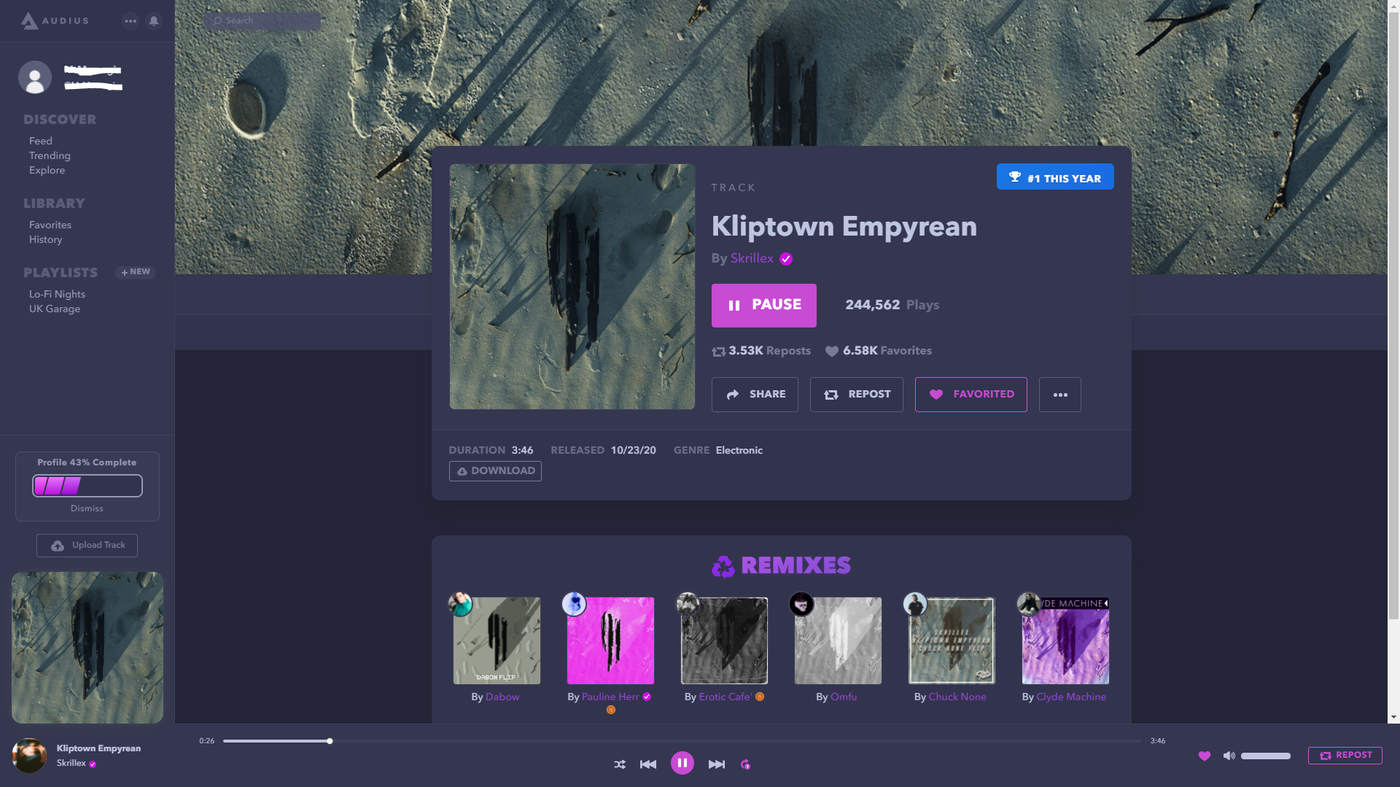 Both the browser and mobile app have a clean, minimal interface that's easy to navigate. We rather like the coherent purple colours throughout the design scheme—it matches both the light and dark mode rather nicely, and there's an overall feeling that you're using a service that's new, and a little bit different.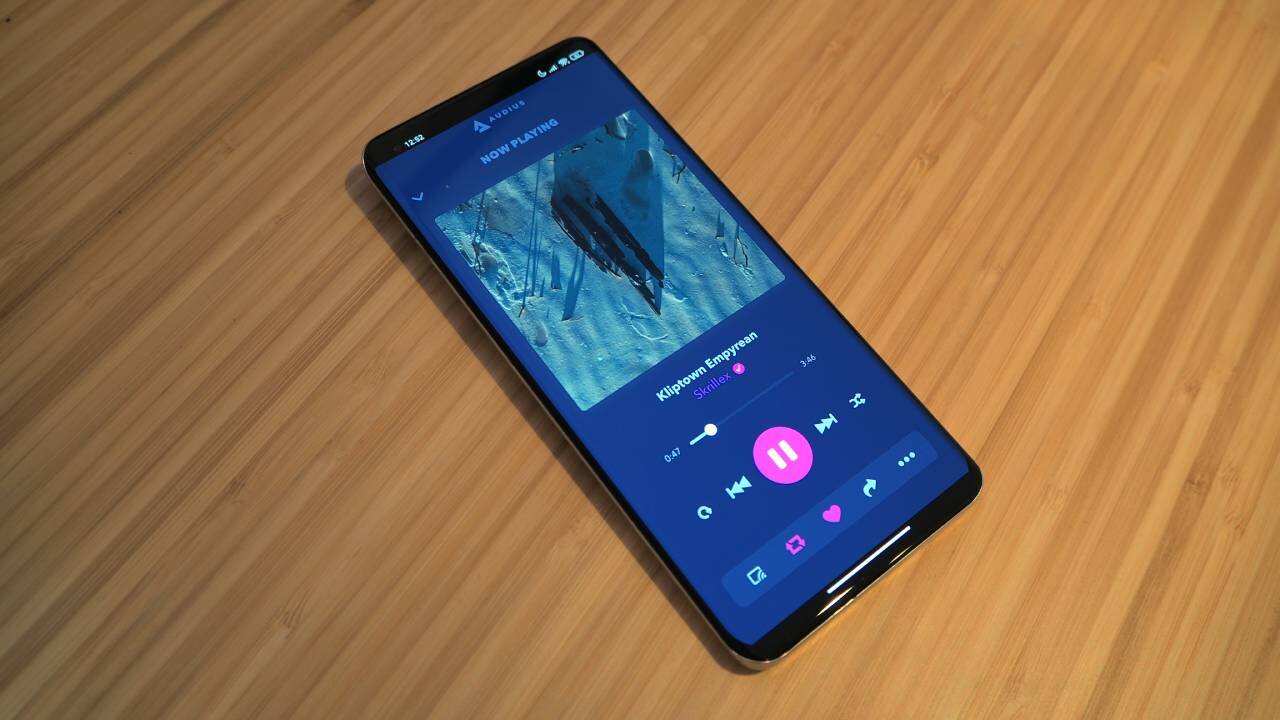 Pricing and subscription
At the time of writing, Audius is free, letting users listen to high-quality 320kbps streams without them having to pay a penny. That, of course, means that artists can't currently make any money on it either, but that's set to change in future.
The company has plans to let artists opt into requiring users to occasionally listen to ads or pay a few dollars a month for a subscription. 
Music catalogue
As a free service, Audius is closer in spirit to music discovery platforms like Soundcloud than paid streaming music services like Spotify, Apple Music and Tidal. Approach it in the spirit it's intended, and you'll find thousands of tracks from new and unsigned artists to whet your appetite.
When it comes to established artists, however, Audius' catalogue is, well, limited. Much has been made of the fact that artists such as Deadmau5 and Skrillex have embraced the platform, but don't expect to find their full discographies on Audius; indeed, they only have nine tracks and a single track uploaded, respectively.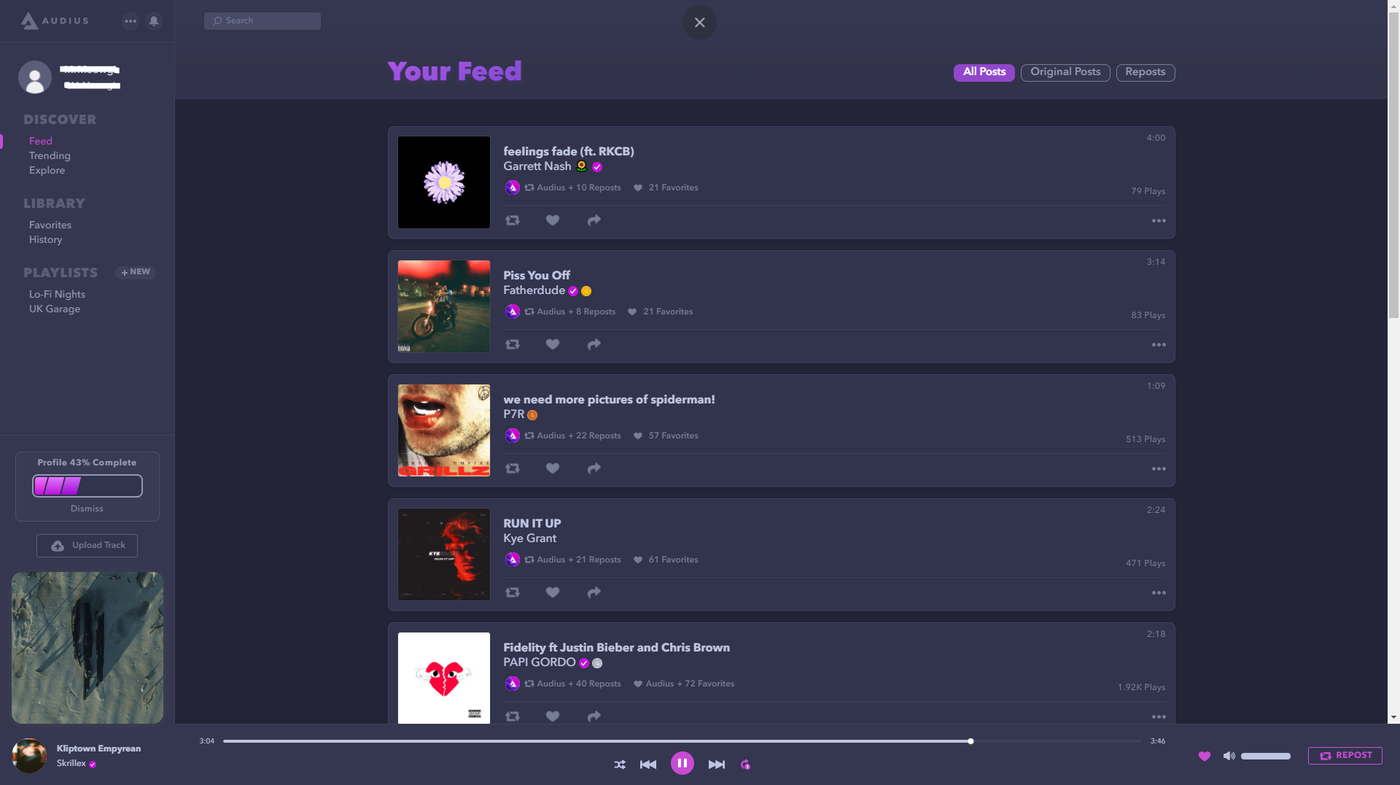 The same is true of other big names on Audius, like Weezer, Diplo, Disclosure and Mike Shinoda; their use of the platform stretches to experiments and remixes, rather than album tracks and singles.
You might get lucky and find unofficial fan uploads which, while not kosher, technically can't be removed due to the decentralized nature of the platform—which poses some interesting legal questions. We found Eminem's Music to be Murdered By uploaded by a random user in its entirety, for example, which definitely isn't an official upload from a legit channel.
That all sounds rather negative, but let's pause a second. It's best not to approach Audius as a straight-up Spotify replacement because, well, Spotify, and the other cookie-cutter services that compete with it, already exist. There's not much point trying to use Audius as a direct replacement when there are so many existing options out there that have all the known artists you could possibly ever need. Plus, of course, there's the fact that Audius is free, so you've got nothing to lose. 
When it comes to the content that is available, there's plenty of it. We found ourselves rather enjoying just clicking through top artist and album lists and trying out different things at random. From Cyberpunk movie soundtracks to a rather relaxing Chill Drive Lo-Fi Hip-Hop album, we've come across enjoyable tracks and albums that we otherwise would never have found.
Playlists
If you'd rather not spend the time skipping between random tracks from new artists, Audius offers a handy feature which lets users create and share their own curated playlists. Each week, the five most popular playlists win AUDIO tokens, providing an incentive for discovery and engagement with the platform.
Playlist categories include the overall top trending playlists, underground trending tracks (the best up-and-coming music on Audius), or even your personal favourite tracks on rotation. There's also a Let Them DJ playlist which serves up playlists created by the people you follow, and those are just a few examples. 
The variety of ways in which to simply dive in and discover new music (some you'll love, some you won't, natch), is pretty impressive, not to mention, necessary. Overall we found ourselves returning to Audius when we got bored of listening to our overly familiar Spotify library, and the novelty was more than welcome. 
Social features
One of Audius' biggest social features is the recently announced ability for artists to directly share their tracks to TikTok, opening their creations up to a potentially massive (and lucrative) new audience.
Non-artist Audius users can also use the platform to follow other users. This can be used to help you discover new music, or just see what your friends are listening to (if you can convince them to give Audius a try, that is).
Audio quality
Sound quality on the Audius app is impressive, offering streaming at 320kbps—the highest quality sound currently available from any free music platform. Paid services like Tidal HiFi and Amazon Music HD offer higher 24bit streams, but unless you're an audiophile looking to squeeze the most out of your carefully selected stereo setup, Audius' streaming quality won't leave you wanting for more.
What is AUDIO?
AUDIO is an Ethereum-based ERC-20 token which provides network security (node operators stake tokens to run a node, earning rewards in the process). It also provides exclusive features for artists that choose to stake the coin, letting them, for example, show off NFT collectibles on the platform. AUDIO tokens are also used as part of a governance system that lets holders of staked tokens vote on any proposals to the code and overall network.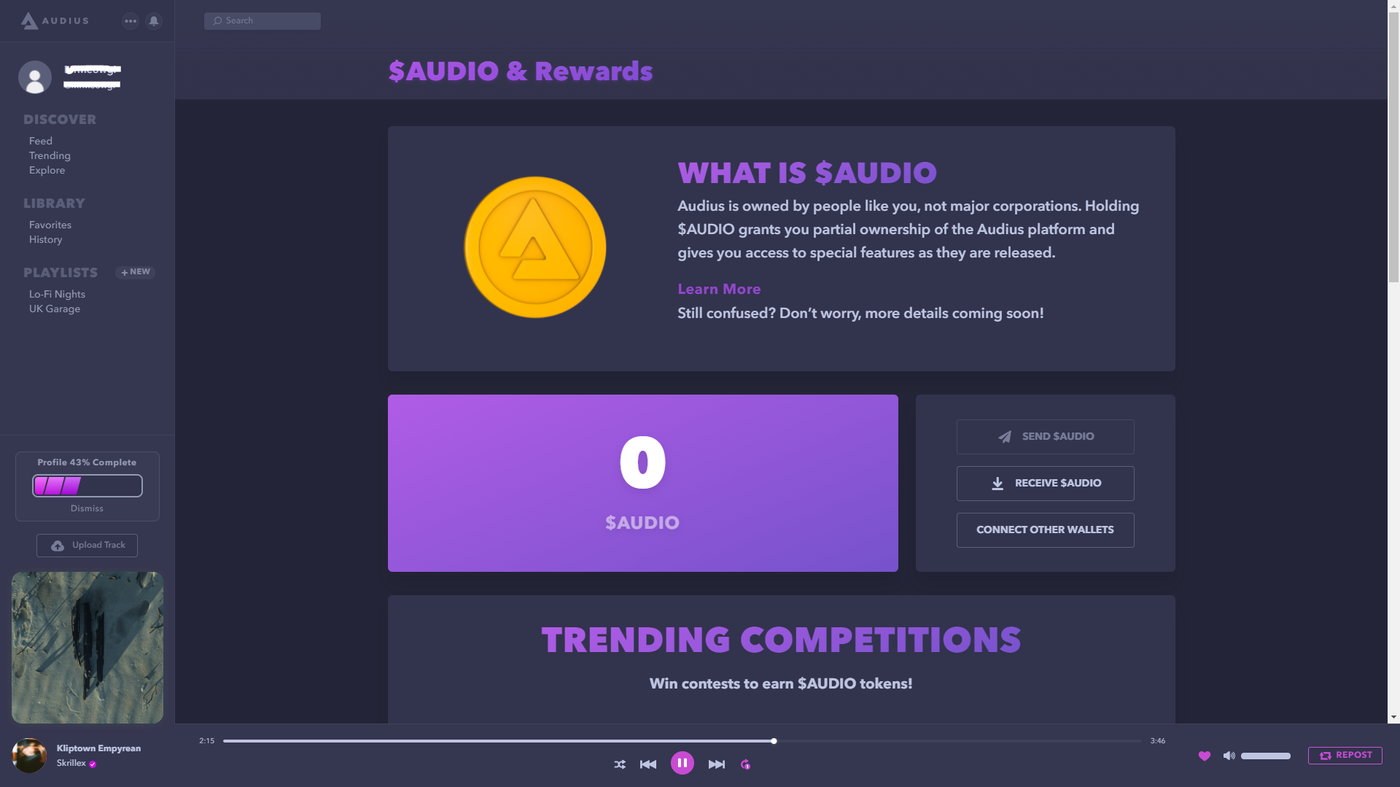 Tokens can be earned via certain rewards, such as curating popular weekly playlists, or uploading the most popular content in a given week. Artists can also receive a reward based on the number of listens and the level of social engagement they've shown. Last year the platform dished out 50 million AUDIO tokens across 10,000 artists and users.
Verdict
Audius is an interesting concept that's clearly still in its infancy compared to long-established music streaming services such as Spotify. Its biggest problem on paper is the fact that there are so few recognisable artists on there, and the ones that you will likely have heard of, don't have much content uploaded. From another perspective, though, that's a positive advantage; if you're a trendsetter rather than a follower of fashion, it's a great way to discover new and unsigned artists.
There's a lot to like about Audius, too. For starters, it offers quality, free streaming, with a quick and easy sign-up process to jump you straight into the action. Its apps work well, and the concept of earning rewards as either an artist or a curator is an appealing one, especially as you don't need to understand anything about blockchain to get involved. 
The best way to think about Audius is as Spotify's hipster cousin—the one that you occasionally see who recommends a ton of bands and artists you've never heard of. It's a refreshing way to dive into the unknown while hopefully discovering some hidden gems along the way. In a world where the music industry's become very homogenized and commercialized, there's something refreshing about having an opportunity to go off the beaten path.
Rating:
4/5