After the London Hardfork or EIP 1559 upgrade went live on August 5, the first-ever deflationary block on the Ethereum network occurred because scarcity was introduced every time Ether was burnt after being used in transactions.
Market analyst Lark Davis disclosed that burnt Ethereum was inching closer to the billion-dollar mark. He explained:
"We're almost at a billion dollars of Ethereum burnt due to EIP 1559. Thus there has been a billion less in sell pressure from miners. The economics of Ethereum is rocket fuel, and it will only intensify when The merge happens, and we switch from mine and dump to stake and save."
The London Hardfork upgrade set a base fee for every transaction undertaken. Furthermore, it eliminated the use of other digital tokens for the payment of Ethereum fees. Only Eth was utilised, thus restoring the unique relevance of the ETH cryptocurrency.
Short-term ETH holding increases
According to data analytic firm IntoTheBlock:
"The number of ETH holders holding for under 30 days (traders) is at its highest since May with over 3.8m addresses buying in October. This seems to be led by retail as the amount of volume held by traders is "only" 19m ETH as opposed to 26m in May."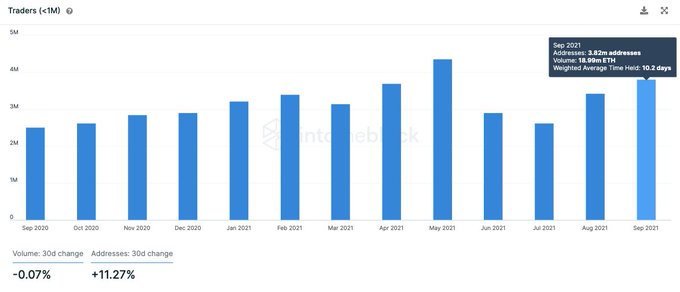 It shows more users have been entering the Ethereum network.
Meanwhile, ETH's development team continues to innovate and improve, given that Github's submission rate hit a 4-month high. Github is a web-based platform used for version control.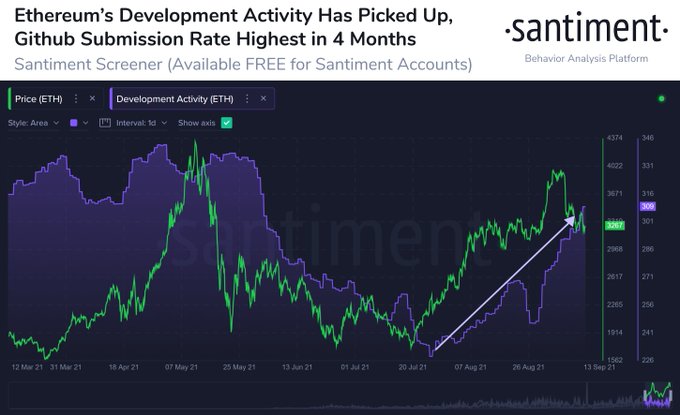 The total value locked in Ethereum layer two recently surged to $1 billion. Ethereum L2 is a scaling solution created to mitigate congestion on the network. As a result, decentralised applications (dapps) can avoid network congestion by utilising various technologies. 
The Ethereum 2.0 deposit contract, which went live in December 2020, is expected to boost scalability by offering a transition to a proof of stake (POS) consensus mechanism from the current proof of work (POW) framework. 
Image source: Shutterstock