In brief
The SEC has reached a settlement with some of the promoters behind BitConnect, an alleged cryptocurrency investment scam.

BitConnect reportedly raised some $2 billion by selling tokens, which were later deemed to be illegally unregistered securities.
BitConnect is one of the most famous alleged scams in the history of cryptocurrency, and while the project shut down in 2018 after raising some $2 billion from investors, regulators are still chasing the alleged perpetrators. The United States Securities and Exchange Commission (SEC) filed suit this May, and this week, the agency revealed that it has reached a settlement with some of the involved individuals.
The SEC announced yesterday that it has secured a settlement of 190 Bitcoin—worth $9.25 million as of this writing—and more than $3.5 million in cash from defendants Joshua Jeppesen, Michael Noble (a.k.a. Michael Crypto), and Laura Mascola. As a result, the United States District Court for the Southern District of New York entered a judgment against Noble and final judgments against Jeppesen and Mascola.
Jeppesen is currently responsible for the bulk of the settlement, including the 190 Bitcoin and about $3.04 million, plus he will provide information and access to the Bitcoin wallet in question and pay a $150,000 penalty. Mascola, a reserve defendant, will pay just over $576,000 in disgorgement and prejudgment interest.
Meanwhile, Noble's contribution has yet to be finalized: he will owe disgorgement, prejudgment interest, and a civil penalty in amounts still to be determined by the court. He is cited as offering and selling unregistered securities through the BitConnect scheme, while Jeppeson represented the firm at conferences and interacted with promoters. Mascola, Jeppeson's fiancée at the time, was charged with unjust enrichment, according to the SEC.
As a result of the judgments, both Noble and Jeppesen are prohibited from participating in future digital asset offerings, either directly or indirectly. The wider investigation against BitConnect's promoters is still ongoing, however, as fellow defendants Trevon Brown (a.k.a. Trevon Jones), Craig Grant, and Ryan Maasen were not included in this settlement.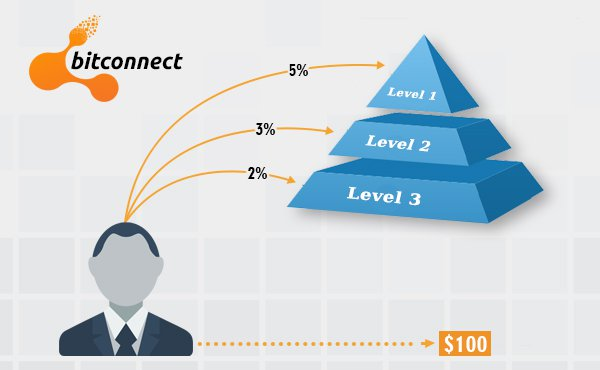 BitConnect launched in 2017 was widely considered to be a Ponzi scheme, promising significant returns to investors and rewarding those who brought other investors into the program. It even used a pyramid-like diagram to explain the scheme to prospective investors, and its BCC token reached a peak market cap of $2.6 billion at a price above $400 per token.
Regulators began circling in late 2017, however, and BitConnect closed down in January 2018 following cease and desist orders from regulators in both Texas and North Carolina. The price of the token collapsed soon thereafter and fell below $1, effectively wiping out the market and leaving investors with near-worthless digital assets.
In its May complaint, the SEC alleged that the project raised approximately $2 billion by selling the BCC tokens, which were deemed to be illegally unregistered securities. Per that filing, Jeppeson reportedly received more than $2.6 million worth of compensation from BitConnect, of which he transferred more than $500,000 to Mascola, while Noble received compensation of at least $480,000.