Key Takeaways
Flipside Crypto has requested a $25 million grant from Uniswap to build a community driven analytics firm.

Critics of the proposal have questioned why the Uniswap grant should favor only one actor in the space.

Uniswap's governance process was also criticized last month as a small number of parties can influence votes due to the number of tokens they have been delegated.
A controversial new governance proposal is up for a vote on Uniswap. The proposal would allocate $25 million worth of UNI tokens to the crypto data analytics firm Flipside Crypto.
More Criticism Over Uniswap Governance
A new Uniswap governance proposal has sparked debate over decentralization and favoritism in the crypto community.
Flipside Crypto, a community-driven data analytics firm focused on crypto, has requested a $25 million grant to finance its activity over the next two years. Competing data analytics firm Dune Analytics took to Twitter to express its discontent at the proposal. "Grants should go to community members, not service providers," the announcement read.
Grants should go to community members, not service providers.

There is no reason for @uniswap to fund @flipside's daily operations with 8 full time employees.

— Dune Analytics (@DuneAnalytics) August 19, 2021
Until Dune Analytics' post, votes were in overwhelming favor of the proposal. Dune Analytics argued that Uniswap was effectively picking a single winner out of the many firms interested in crypto analytics. Other leading data analytics firms in the space include Nansen, The Graph, and Token Terminal.
The proposal has since received many competing votes mostly against the proposal. The majority has now shifted to a NO vote, with around 41 million for and 46 million against at the time of writing. Voting ends on Aug. 20.
Of the yes voters, the various university blockchain clubs to whom Andreessen Horowitz distributed most of its UNI tokens represent most of the support for the proposal. Some of the biggest opponents include Dharma, Compound founder Rob Leshner, and vocal crypto advocate DCinvestor.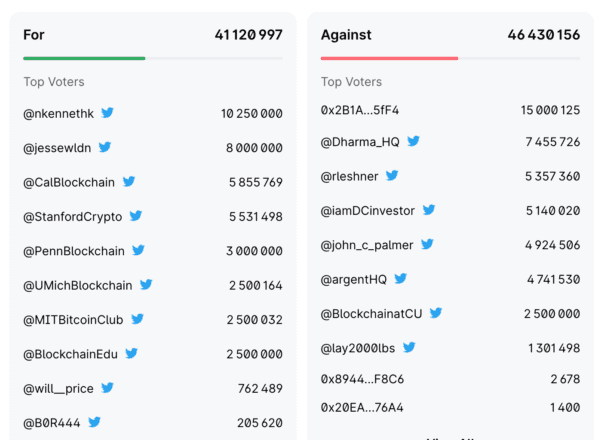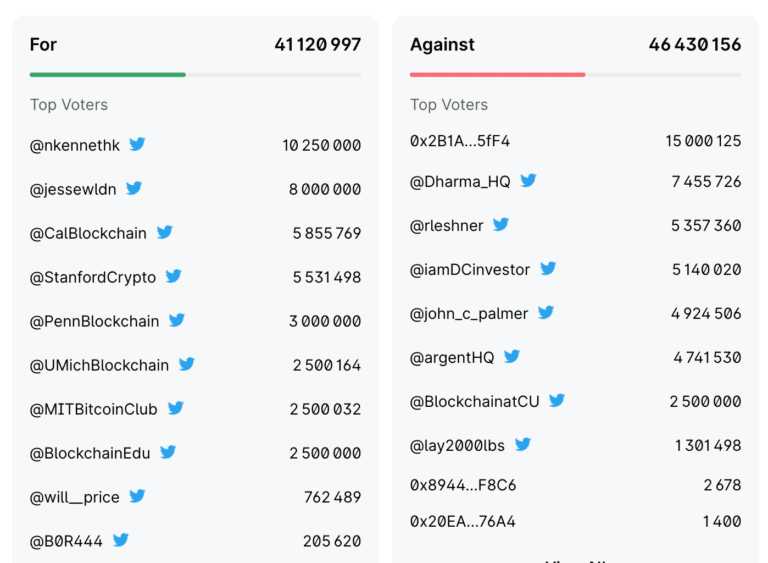 In a tweet addressing the proposal, DCinvestor said that the precedent of projects "using the UNI treasury for large cash grabs to support pet causes often benefitting narrow groups of actors is very bad."
The Flipside Crypto proposal is the second incident in which Uniswap's governance process has come under fire in recent weeks. Last month, the DeFi Education Fund was criticized for dumping $10 million worth of UNI for USDC after it received a $20 million grant from the Uniswap treasury. The vote for the proposal passed after some university clubs that Andreessen Horowitz had delegated UNI tokens to voted in favor of the proposal, sparking debate over Uniswap's degree of decentralization.
At this point, the latest proposal seems very unlikely to pass due to the vocal opposition on Twitter.
Disclaimer: The author held ETH, and several other cryptocurrencies at the time of writing. The author also holds UNI through an index token.
Uniswap Grantees Slammed for Dumping $10M in UNI
The controversial DeFi Education Fund, recently voted into existence following a Uniswap governance proposal, has come under fire for selling half of its UNI token grant. The sale was worth…
What is Impermanent Loss and How can you avoid it?
DeFi has given traders and investors new opportunities to earn on their crypto holdings. One of these ways is by providing liquidity to the Automated Market Makers (AMMs). Instead of holding assets,…
Nansen Discusses the Growth of DeFi on Ethereum
Crypto Briefing sits down with Ethereum analytics firm Nansen's researchers to discuss the state of DeFi since the market-wide crash in May.  DeFi Yields Are Falling Crypto is currently experiencing…
Uniswap Passes First Successful Proposal, Hires Grants Lead
Presented by Jesse Walden of Variant Fund and co-authored by Kenneth Ng, the Uniswap Grant Proposal (UGP) has passed successfully. The proposal aims to bolster the development of the Uniswap…