In brief
imnotArt is Chicago's first physical NFT artwork gallery, and there's an identical and connected version that you can visit in the CryptoVoxels metaverse.

The gallery is hosting its first exhibition, "The New Digital: Born in Chicago," beginning Saturday with new work from several NFT artists.
Chicago's imnotArt looks much like any other boutique art gallery from the outside, but a striking difference becomes immediately apparent once you're through the doors.
Rather than still paintings or prints, the walls are adorned with screens displaying bold, animated artwork—from the jittery, single-line compositions of Sinclair to a creature-esque amalgamation of iconic city sights by ProbCause. The entire gallery has also been recreated in a video game-like metaverse world, displayed on the back wall with a video feed pumping live footage from the physical gallery into the game space.
Every piece of artwork in the gallery is an NFT minted on Ethereum, and you can buy the single-edition piece for your own collection. NFTs enable digital art to be sold much like physical art: an NFT is effectively a blockchain-backed deed of ownership to a digital item, so you can verify the scarcity and provenance of a piece. Digital artwork can still be copied, saved, and shared easily, but NFTs offer a way to give them value and support the artists behind them.
You can view NFT artwork on digital devices, and we've seen virtual galleries pop up in online worlds. But now digital artwork tokenized as NFTs is starting to tread on the ground of its physical contemporaries in the form of real-world art galleries, where people can visit and view the digital creations depicted on screens. It's a way to show that art is art, regardless of medium, and perhaps legitimize this particular medium in the eyes of skeptics.
imnotArt, Chicago's first NFT art gallery, opened in June in the city's Wicker Park neighborhood. It has thus far hosted community-centric events, but on Saturday, the gallery will launch its first major exhibition: "The New Digital: Born in Chicago." Running through August 22, the exhibition features new work from the aforementioned artists as well as Chuck Anderson, Sophie Sturdevant, Sean Williams, Willea Zwey, and Joey the Photographer.
Each NFT piece is depicted on a large screen, giving the artwork—most of them animated in some manner—an opportunity to shine against the stark white walls of the gallery. Rather than a placard, a QR code is positioned alongside each piece. Scanning that with your phone brings up a website featuring information on the artist and artwork, as well as an auction link.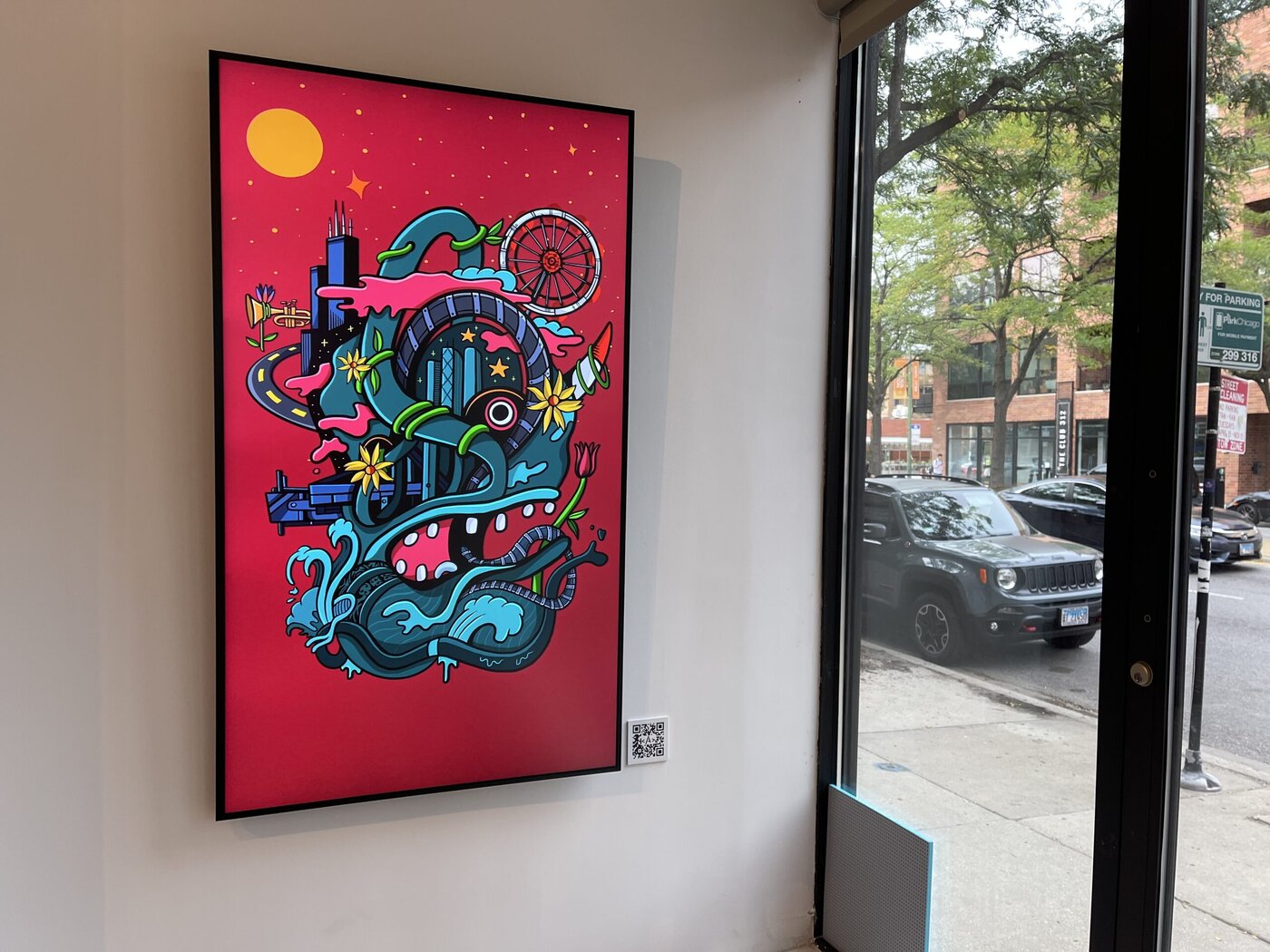 "We want people to come in here and then leave feeling like they know the artist, know the piece, and that they've had an experience with it—rather than just see a piece on a wall," co-founder Chase McCaskill explained to Decrypt during a visit this week.
But it's not the only way to experience imnotArt, as the gallery lives in the online metaverse as well. There's an exact replica of the physical gallery within Cryptovoxels, an Ethereum-driven virtual world. It has the same layout as the real-world locale, plus it shows the very same NFT artwork pieces on the walls. It's an identical space, albeit recreated with 3D voxel graphics.
As mentioned, there's direct convergence between the two. The physical gallery has cameras that feed into the virtual gallery via a Twitch stream, and then a live feed of the metaverse gallery plays on a large screen in the Chicago location. If you're standing inside the physical gallery, you can watch yourself on Twitch inside of a virtual recreation of the space. It's wild.
It's also practical. Conceived earlier this year amidst the ongoing COVID-19 pandemic, the hybrid physical/digital NFT gallery is partially a response to travel restrictions and health concerns. It allows NFT fans and members of their community to experience exhibitions from the safety of their homes (or anywhere) and still feel connected to the real-world space.
Beyond that, the dual-gallery approach means that local events in Chicago can have a truly global element, with attendees taking part from around the world, viewing the digital artwork, and placing bids as they please. imnotArt's previous events showed the potential for this kind of interplay, as seen in the embedded video clip above, but it will be all the more important now that the gallery is hosting its first proper exhibition with new artwork for purchase.
"As far as we know, this is the first true physical/digital art exhibition that's been done that is fully physical, but also fully virtual as an amplification of the physical," said McCaskill. "We want to keep pushing that envelope."
imnotArt is self-funded by the co-founders, including Matthew Schapiro and Zachary Grochocinski, and it's not a pop-up: they have a year-long lease with an option to extend. Beyond further exhibitions, the team plans to use the space for content creation and community engagement, as well. In addition to hosting a recent local Ethereum developer meetup, the space will host Bored Ape Yacht Club NFT collectors in September.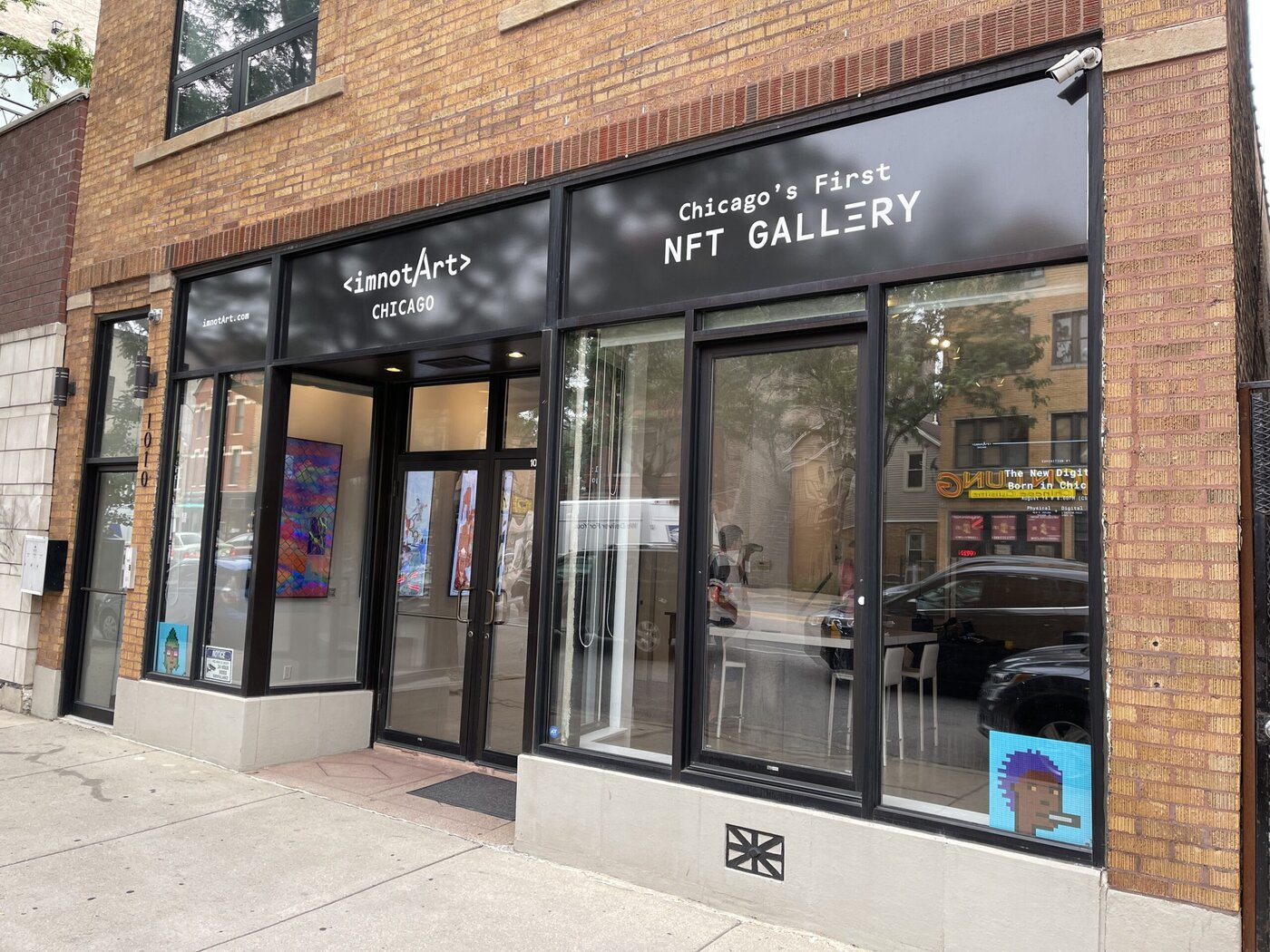 In a sense, imnotArt's founders see themselves as missionaries for NFTs, the crypto world, and especially Ethereum—the decentralized, blockchain network behind the second-most-valuable cryptocurrency, and the platform that drives the majority of NFT activity today.
Grochocinski said that while some people see the gallery and know what NFTs are—even shouting "NFTs!" while driving by—many of the people that wander by and pop in don't know what they are, or only have a surface-level understanding of the medium. The founders feel a sense of obligation to crypto natives to help introduce NFTs to the wider world and educate people about the ecosystem.
"Ethereum's ethos is all about how the rising tide raises all ships, and creating ways to make the world a better place," Schapiro explained. "That ethos has very much trickled down into imnotArt, and that's what we want to use this space to do."
"We really want it to be immersive and educational foremost. There's a lack of depth of understanding of what an NFT can mean," he added. "We don't want you to just come in and see a bunch of pictures on a wall. We want you to leave really understanding what this larger movement is all about."
It's an ambitious mission for an art gallery, but the care and attention put into imnotArt's physical and virtual spaces suggests that the founders are serious about spreading the word about NFTs, cryptocurrency, and decentralized technology—even if it's one visitor at a time.