Ethereum (ETH) has experienced a significant adoption rate thanks to booming non-fungible token (NFT) and decentralised finance (DeFi) sectors. As a result, ETH's trading volume across different platforms has been on an upward trajectory.
Reportedly, Ethereum accounts for almost half of the trading volume on top exchanges compared to a quarter a year ago. 
The Ethereum network is one of the most sought-after in the crypto ecosystem because it aids in the development of different features like smart contracts and NFTs.
The reason for the booming NFT sector is that it offers a unique application of blockchain technology when creating unique and finite tokens. 
For instance, OpenSea, a popular marketplace, recently processed $95 million worth of NFT transactions in two days compared to the cumulative volume of $21 million recorded in the entirety of 2020.
Moreover, the big four accounting and auditing firm Ernst & Young (EY) created NFTs for an award-winning Italian film using its blockchain-as-a-service platform, which runs on the Ethereum network. Therefore, this explains why ETH's trading volume has been on an upward trajectory on top exchanges. 
It is still the early days for Ethereum in DeFi
According to crypto data provider Documenting Ethereum:
"Only ~1.81% of all Ethereum addresses have used decentralized finance so it's still the very early days."
DeFi is a blockchain-based form of finance that does not use centralised intermediaries like banks and brokerages to offer traditional financial instruments. Therefore, it uses blockchain-powered smart contracts. 
Cryptoart's value skyrockets
The total market value of crypto art recently hit $684 million.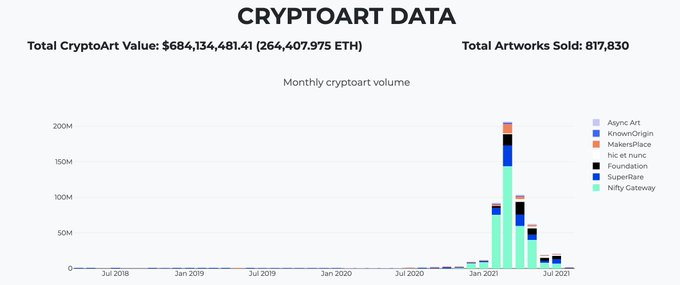 September 2020 marked the first time a crypto art piece was bought for at least $100K, following the unprecedented sale of "Matt Kane's Right Place & Right Time" on Async.art. This served as a signal to show the untapped potential in this emerging market.
The crypto art industry also heavily relies on the Ethereum network.
Image source: Shutterstock