Key Takeaways
Bitcoin and Ethereum were CB10's top gainers last month.

The rebalancing for August saw only small changes in token allocation percentages with no new additions.

Dogecoin was the biggest loser of the index as the meme crypto dropped by 18.1% in July.
Crypto Briefing's crypto market index CB10 has made additional room for Bitcoin and Ethereum during the rebalancing for August.
CB10 Index Records Gains 
Crypto Briefing's CB10 index jumped in July with the help of the two leading cryptocurrencies.
The CB10 index is an experiment composed of the top ten cryptocurrencies traded on top U.S. exchanges and weighted by market capitalization. The technique is similar to the S&P 500 and NASDAQ 100 index. 
CB10 has gained 17.3% since the last rebalancing event on Jul. 1. Bitcoin and Ethereum's overall gains during the same period were 19.5% and 22.1% respectively.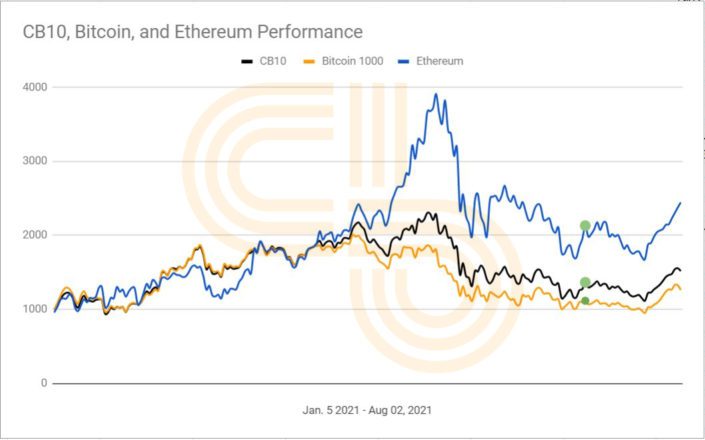 The index's performance has benefited from higher gains than BTC in the first six months to continue outperforming Bitcoin's year-to-date gains of 31%. ETH leads with 250% gains, while CB10 has returned 50% gains since its formation on Jan. 5. Dogecoin and Cardano's ADA token were the CB10's biggest losers last month.
Crypto's Latest Market Trends 
The crypto market showed its first signs of recovery after the recent crash in May, with Bitcoin rising to $40,000. Ethereum benefited from this uptrend as the imminent EIP-1559 update added to the bullish sentiments. 
If Bitcoin consolidates above the $42,000 resistance or Ethereum breaks $3,000, the market can expect the capital to flow towards other cryptocurrencies. 
While the trading volumes are starting to pick up for other cryptocurrencies, the flow to smaller market capitalization tokens is restricted as BTC is yet to re-establish a strong bullish narrative. Traders are showing reluctance in the bullish stance. They fear that the recent push to $40,000 could be a dead-cat bounce or bullish correction in a long-term negative trend, suggesting that the bottom could be below $29,000.

DOGE's poor performance in the CB10 index can be attributed to the cooldown in bullish euphoria after Elon Musk stopped tweeting about the coin. The values of other cryptocurrencies excluding DOGE and ADA increased in near lock-step with Bitcoin and Ethereum.
The crypto market is looking for a definitive direction as cryptocurrencies below ETH nervously follow the top two.
CB10 Rebalances for August
The reconstitution of Crypto Briefing's experimental $1,000 portfolio in CB10 was carried out at 10 am on Jul. 2, 2021.
Its composition for August saw no change in the cryptocurrencies from July's top ten list. However, there were minor percentage changes and consequent ranking adjustments. 
Bitcoin and Ethereum ate the most from other tokens' shares, adding 1.92% to their allocations. Ethereum, once again, constitutes more than one-fourth of the index's distribution. 
The change in almost all other cryptocurrencies was negative, nonetheless, with a small magnitude of less than 1%. Furthermore, Uniswap changed positions with Bitcoin Cash to take the sixth spot, as Chainlink replaced Solana at number nine with small percentage changes.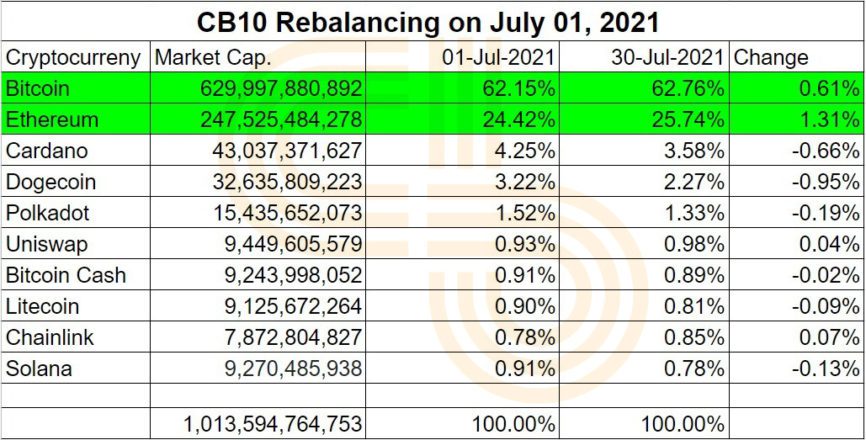 This month's CB10 rebalancing can be carried out rather easily by allowing for small errors in the calculation. Instead of reallocating all tokens, a change in the top five tokens alone could do the trick. Investors can sell the top tokens for a stablecoin, Bitcoin, or Ethereum pair and then rebuy according to the new percentages.
Some may also choose to book a part of their profit before reinvesting for the next month. For experimental purposes, Crypto Briefing will continue to compound the returns every month.
Introducing the Crypto Briefing 10 (CB10) Index 
The Crypto Briefing 10 (CB10) index is a portfolio composed of ten cryptocurrencies by market capitalization (MCAP), distributed by weighted average. It also assumes readers are American and excludes tokens…
Efficient Market Hypothesis: Does Crypto Follow?
The Efficient Market Hypothesis (EMH) is a concept in financial economics which states that security prices reflect all the available information about a financial instrument. EMH is one of the…
Crypto Briefing's CB10 Index Outpaces BTC in Q1, Q2
The half-yearly gains of Crypto Briefing's CB10 index have outperformed Bitcoin despite the market's negative trend in the last two months.  CB10's Performance in the Crypto Market  Crypto Briefing's experimental…
Crypto Briefing's CB10 Index Ends First Quarter With 86% Returns…
Crypto Briefing's CB10 yielded 86.8% by Apr. 2, compared to Bitcoin's 84.6% and ETH's 98.9% returns since the index's formation at year's beginning.  CB10 Performace So Far The CB10 index…