A surge above the $42K level provided a sigh of relief in the Bitcoin (BTC) market after months of consolidation. Nevertheless, the leading cryptocurrency was down by 2.63% in the last 24 hours to hit $38,541 during intraday trading, according to CoinMarketCap. 
On the other hand, the Realized Cap HODL Waves indicator, as availed by Glassnode, illustrates a pattern of accumulation is in play in the BTC market. The crypto analytic firm explained:
"Bitcoin on-chain data demonstrates a pattern of accumulation is in play, similar in structure to early-mid 2018. A key difference in 2021 is 10% more supply is held by long-term holders, so it starts from a higher base."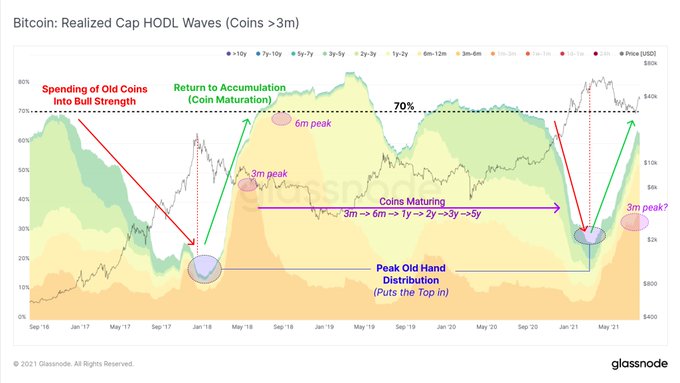 Long-term holders have been setting the accumulation ball rolling throughout 2021 because they have added 10% more BTC supply to their holdings. 
The recent dip provided them with an enormous buying opportunity, as recently disclosed by market analyst Michael van de Poppe. 
Furthermore, BTC moved to strong hands because its supply stock was at levels witnessed at the $50-$60K range. Strong hands are investors who indulge in an asset for long-term or future purposes other than speculation. 
Significant on-chain volume recorded
According to on-chain analyst Will Clemente, the current price level has recorded the most on-chain volume since Bitcoin was at $3,800.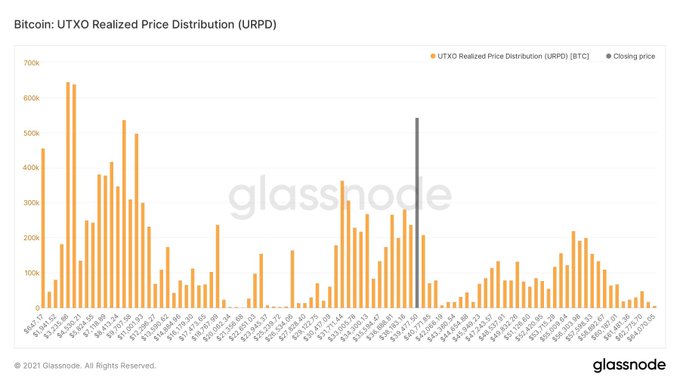 BTC was at the $3,800 level in March last year as the coronavirus (Covid-19) pandemic continued to wreak havoc, triggering uncertainty in the financial market. At the time, Bitcoin slipped by more than 50% in a single day.
Is the Bitcoin market feeling bullish?
Crypto analyst Lark Davis acknowledged:
"Huge outflows of Bitcoin from exchanges happening over the last few days! Seems that aside from the exit liquidity sellers, that most of the market is feeling very bullish on BTC."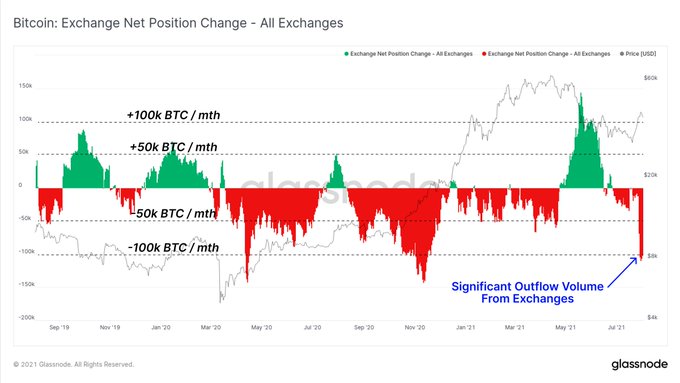 On-chain metrics provider Dilution-proof also stated that nearly 112K Bitcoin were withdrawn from exchanges, and this could add fuel to the fire that a new supply squeeze might be ongoing, which is bullish. 
Image source: Shutterstock