Bitcoin miners seem to be on the right footing as the hashrate is on an upward trajectory after nosediving by more than 50%.
Crypto analytic firm Dilution-proof explained:
"The Bitcoin hashrate has recovered enough that its 30-day moving average (Green) is close to a bullish crossover of its 60-day moving average (Blue), which precedes a buy signal on the Hash Ribbon indicator (when the dark red area ends)."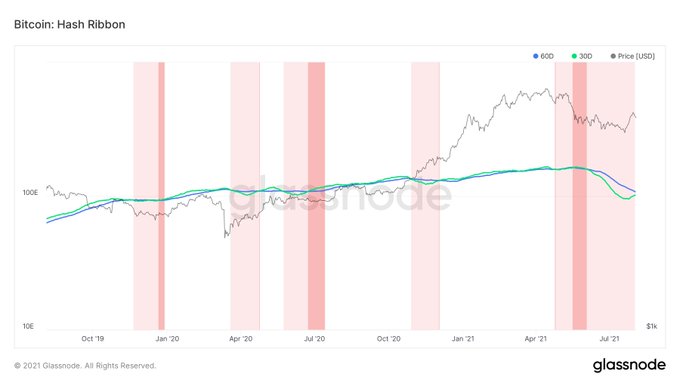 The hashrate is used to measure the processing power of the BTC network. It allows computers to process and solve problems that would enable transactions to be approved and confirmed across the network.
Crypto mining continues to be unwelcome on Chinese soil
A drop in BTC's hashrate was prompted by an intensified crypto mining crackdown by Chinese authorities that started in May. 
Therefore, Bitcoin mining continues to be unwelcome on Chinese soil, given that Anhui became the latest province to shut down all crypto mining activities mid last month, citing an acute power shortage. 
In June, Chinese authorities disconnected BTC mining sites in Sichuan. As a result, more than 90% of China's crypto mining capacity was hampered.
Crypto data provider CoinMetrics recently disclosed that China's sudden crackdown on mining in Q2 2021 left miners with no choice but to shut down operations and move elsewhere. As a result, Bitcoin's hashrate fell by more than 50%, but it appears to be rebounding.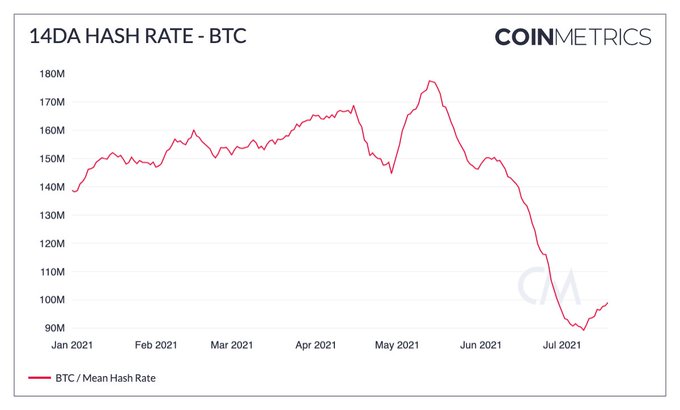 The upward trajectory in BTC's hashrate is caused by a shift from the East to the West, while the United States. is emerging as the biggest beneficiary. For instance, the US share of hashrate skyrocketed to 16.8% from just over 4%.
The bearish and neutral ratios between longs and shorts 
According to crypto data provider Santiment:
"The ratio between longs vs. shorts continues to fluctuate between bearish and neutral since Bitcoin's drop in May. The good news about Bitmex's contract funding rate continuing to be negative, is that there is less downside risk for BTC's price."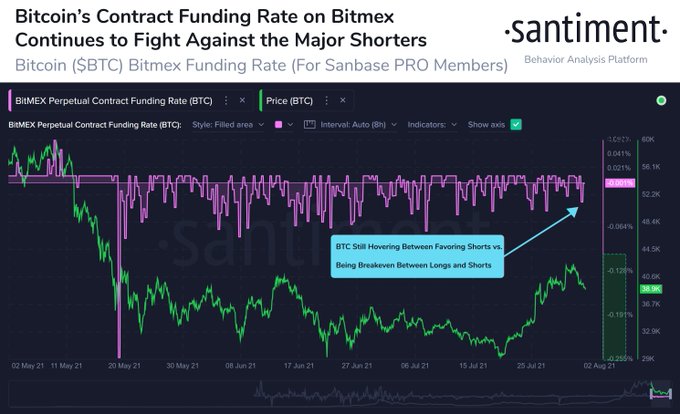 With Bitcoin's hashrate recovering, whether this will prompt an upswing in price remains to be seen as downside risk continues to drop. 
Image source: Shutterstock