In brief
Axie Infinity is a blockchain-based game in which players purchase NFTs of cute monsters and then battle them against each other.

Players can earn SLP tokens during gameplay and trade those for money at an exchange. It's fueling a "play-to-earn" movement around the game.
Non-fungible token (NFT) crypto collectibles like artwork and videos exploded in popularity in early 2021, but several blockchain-based video games had already been building in the space before most people took notice. 
When NFTs hit the mainstream, the promising crypto game Axie Infinity by indie studio Sky Mavis took off. And when the wider NFT market cooled a bit after all of that hype… well, Axie Infinity got even bigger.
Axie Infinity is inspired by Nintendo's beloved Pokémon series, and sees you collect and pit adorable monsters against each other in cartoonish combat. Getting started isn't simple or cheap, however, and there's a vastly larger upfront investment needed than your average PlayStation or Xbox game. The upside, however, is that you own your Axie NFTs and can resell them, plus its "play-to-earn" approach rewards you with crypto tokens that can be exchanged for money.
It's a bold new vision for gaming—and it's catching on. Here's how to get started.
What is Axie Infinity?
Axie Infinity is a monster-battling game where you pit teams of cute monsters called Axies against each other in battles.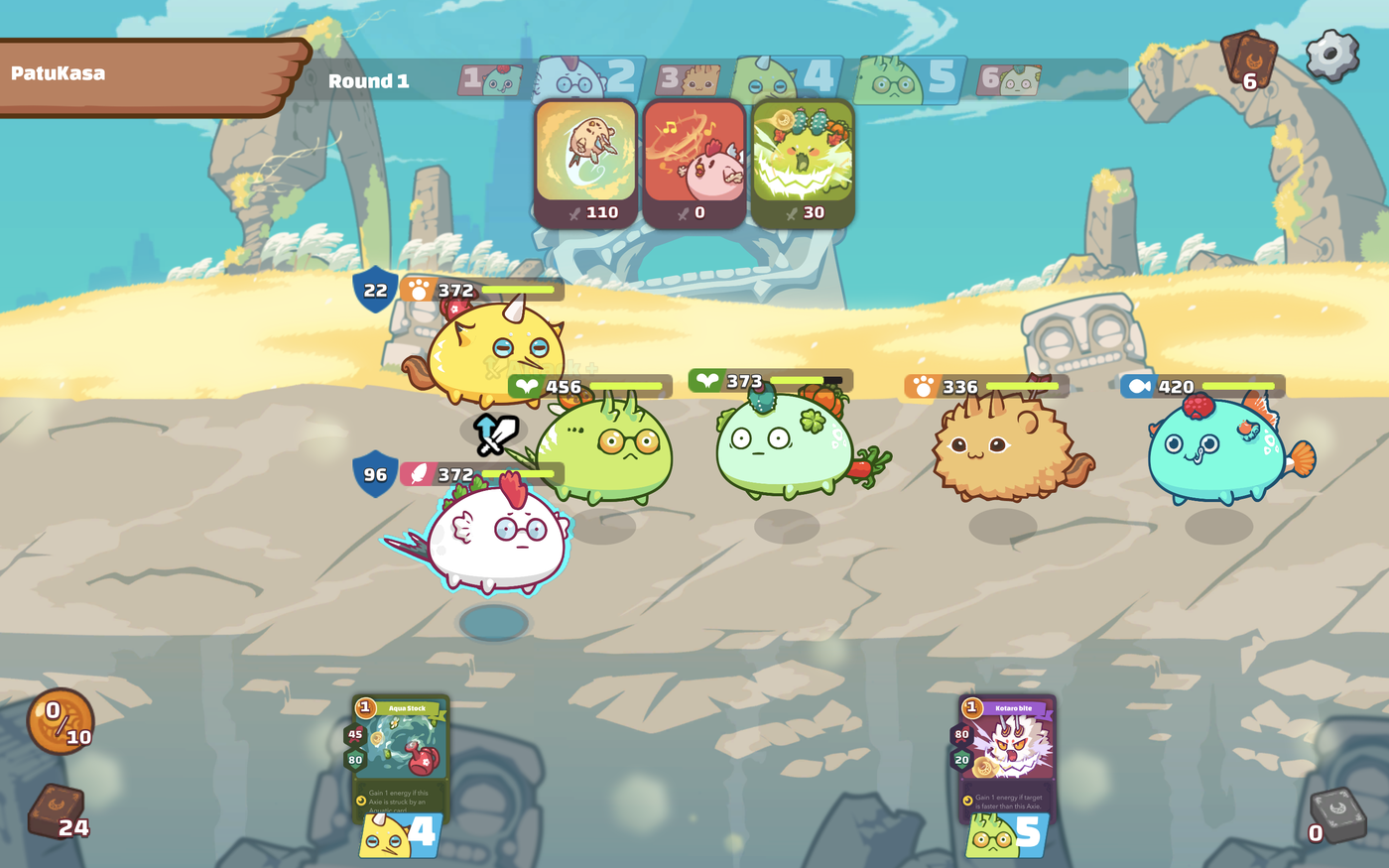 The game runs on the Ethereum blockchain with the help of Ronin, a sidechain that helps minimize fees and transaction delays. It's primarily focused on turn-based battles, either against computer-controlled Axie teams or live opponents over the Internet.
In-game items are represented by NFTs, or non-fungible tokens. These cryptographically unique tokens can be linked with digital content; in Axie Infinity's case, the Axies and land plots that populate the game. Unlike conventional in-game items, the NFT confers ownership on the buyer; you can trade Axies on the game's marketplace for real money.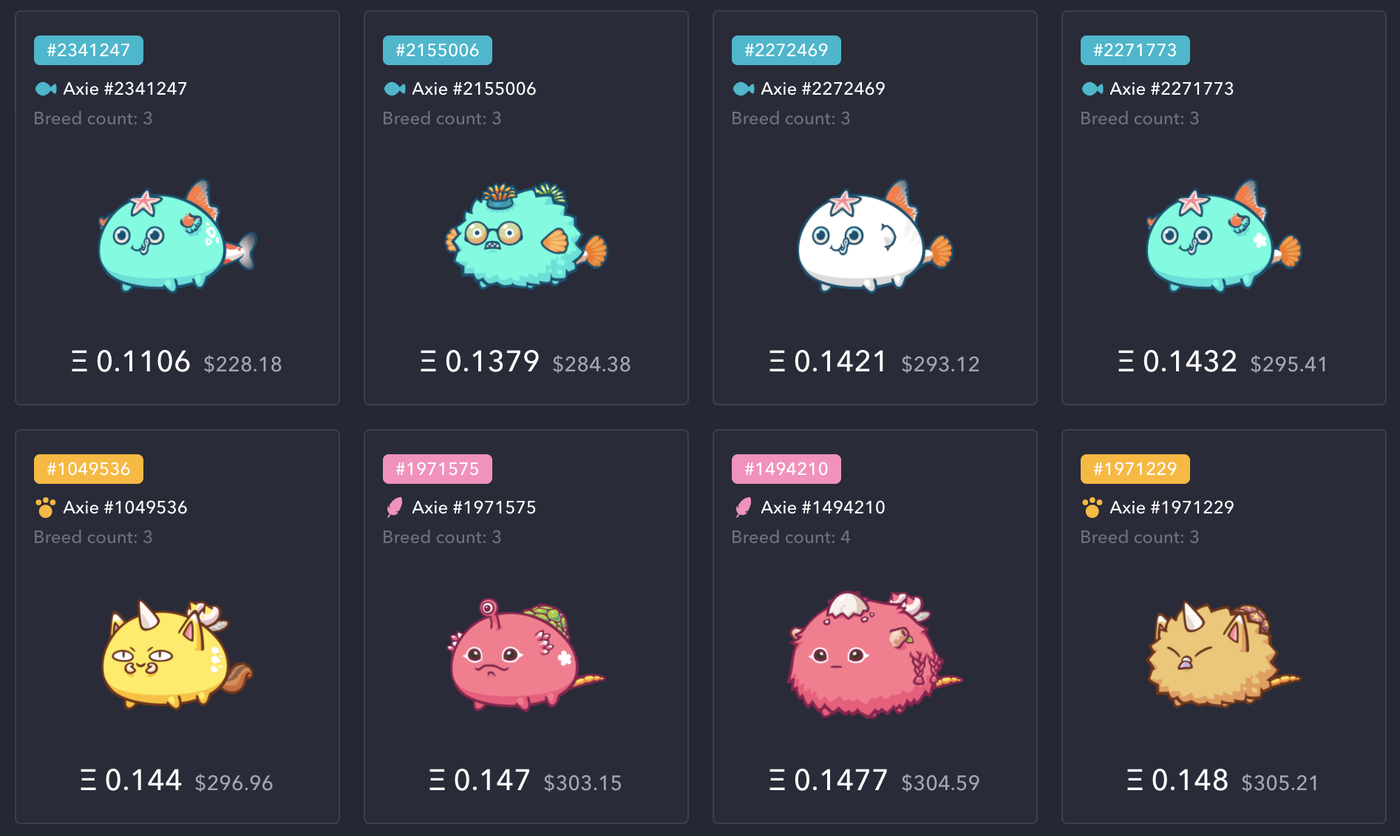 You can also breed Axies, which lets you build potentially more powerful teams and yields additional NFTs to sell on the marketplace. Some Axie NFTs have sold for as much as 300 ETH apiece, or more than $600,000 as of this writing.
How does Axie Infinity work?
As mentioned, Axie Infinity is built entirely around NFT items—and right now, there's no way to play unless you buy the three Axie NFTs needed to create your first team.
They can be purchased from the official Axie marketplace via your Ronin wallet, which you'll connect to the game. You can play on PC, Mac, Android, or iOS and take your Axies into battle to win rewards.
What's so special about it?
Axie Infinity takes the fun and alluring premise of Pokémon and adds the element of ownership into the mix. These Axies belong to you and yield tangible rewards: Smooth Love Potion (SLP) crypto tokens that can be exchanged for money. The upfront costs will be a major roadblock for many players, but it's a game that rewards players the more time and effort that they put into it.
"Play-to-earn" might sound like a marketing phrase or a gimmicky hook, but we're already seeing evidence of a player-owned economy taking shape around the game.
For example, there are thousands of "Axie scholars" through programs like Yield Guild Games and others, in which Axie owners loan their NFTs to other players to use and earn with. The profits are divided amongst the parties, and in countries like the Philippines and Indonesia, people are playing Axie to support their families. Whether that proves to be a sustainable model remains to be seen, but it's a potentially powerful and revolutionary idea that is already being put into practice.
How to get started with Axie Infinity
Here's the hang-up: you will need three Axie NFTs to start playing Axie Infinity, and as of this writing, the most affordable Axies available on the marketplace are about $225-$250 apiece. You might spend $700 or more to build a starter team. That's more than the price of a PlayStation 5 or Xbox Series X console, let alone a game. Keep in mind that your Axies are investments and can be resold, plus they generate rewards through gameplay.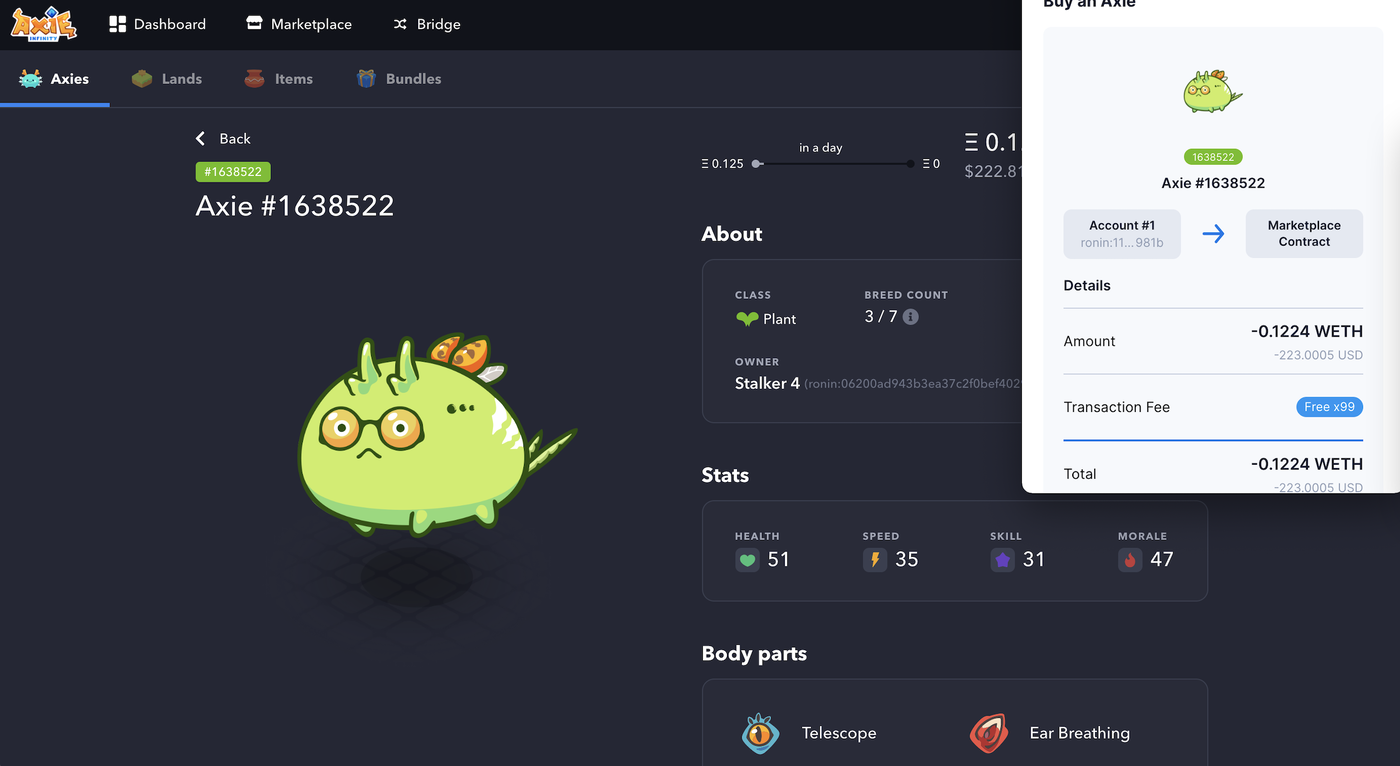 Now that Axie Infinity has migrated assets from Ethereum to its Ronin sidechain, you will need to create a Ronin wallet and have an Ethereum wallet (like MetaMask) as well. Once you have a Ronin wallet set up, you can use the Ronin bridge to transfer ETH over to Ronin, where it becomes WETH (Wrapped ETH). You can then use this to purchase Axies.
Create an account on the Axie Infinity website and download the game to your PC or Mac. You can download an Android APK to install on a smartphone or tablet, as well. The game has also been available for iOS via a beta release through Apple's TestFlight program, but is currently unavailable as of this writing. 
Whichever version you choose, you'll need to pair your Ronin wallet to your account, and then sync your Axies from the wallet to the game to start playing.
What is the AXS token?
Axis Infinity Shard (AXS) is the native governance token of Axie Infinity. Currently, you can use AXS to pay for breeding fees. In the future, AXS holders will be able to vote on decisions regarding the game and its future development, as well as stake AXS tokens to earn rewards within the game. 
Over time, Axie Infinity plans to gradually shift into a decentralized autonomous organization (DAO) to allow for community governance.
Did you know?
You can't even use Axie's land in gameplay yet, but it's in demand: a set of nine land plots sold for about $1.5 million in February 2021.
Where can you buy AXS?
AXS is available from cryptocurrency exchanges such as Binance, FTX, and Huobi Global, although it is not currently sold by Coinbase or Binance.US, for example. Decentralized exchanges like Uniswap and SushiSwap offer it, however.
Here's how you can purchase AXS from Uniswap. You will need a crypto wallet with ETH or another Ethereum-based ERC20 token to trade at Uniswap. If you need ETH, you can purchase it with fiat money at Coinbase or Binance and then transfer it to your wallet.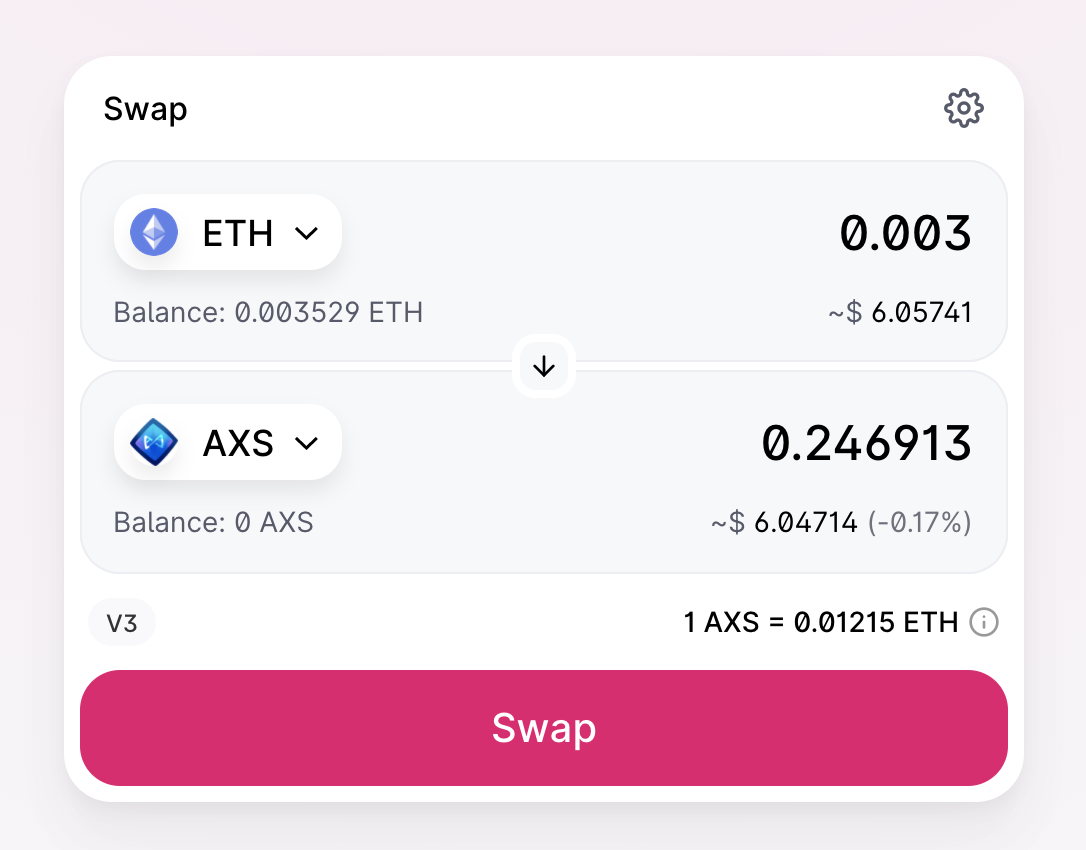 Connect your wallet at Uniswap, select AXS from the list, and then choose which asset you want to swap for it. Enter the amount you want to trade and Uniswap will tell you how much AXS you will receive in return. If the numbers square up to your liking, click "Swap" and the transaction will go through.
The future
Axie Infinity blew up in a big way in late June 2021, not long after the Ronin transition and the announcement of a $7.5 million Series A funding round featuring Mark Cuban and Alexis Ohanian, among others. Sky Mavis also has support from major game publisher Ubisoft, which mentored the team in its Entrepreneur's Lab accelerator program and aided the Ronin launch.
The AXS token saw a 600% increase in value within a month, and the game made nearly $85 million within a month between June and July. According to Sky Mavis, Axie Infinity was generating more fees than either the Bitcoin or Ethereum protocol during a seven-day span in July 2021. Axie Infinity reportedly had more than 500,000 daily active users as of mid-July.
However, the sudden surge in interest also led to widespread server problems, which were exacerbated by a DDOS attack and also hosting issues. It's a similar problem to what NBA Top Shot faced as it quickly transformed from a niche crypto project into a big deal, and it may take some time for the game to stabilize.
Sky Mavis has an expansive roadmap for the game ahead, including the addition of gameplay based around its land NFTs, which let players customize the terrain and develop shareable experiences. It's another aspect that will help expand Axie Infinity beyond simply battling and breeding monsters.
AXS staking and rewards are due in Q3 2021, with the land gameplay alpha test due in Q4. In 2022, Axie Infinity will expand its AXS ecosystem with governance and further play-to-earn elements, with land gameplay becoming available to all players in the first half of the year. 
Axie Infinity also plans to eventually roll out a way of playing without the enormous initial investment, by giving new users non-transferrable Axies with "limited earning potential."