In brief
War on Rugs audited smart contracts and warned of projects it viewed as vulnerable to abuse.

It started its own token and partnered with another.

Things haven't gone so well.
Talk about a long con. 
Anti-scam watchdog War on Rugs, a self-described collective of smart contract auditors and blockchain devs, presented itself as a resource for checking a DeFi project's credentials, warning of projects it viewed as vulnerable. 
That recently included Shiba Inu, a meme coin that surged past a $5 billion market cap. As a result, War on Rugs accumulated nearly 100,000 followers on Twitter (not to mention its other channels) and an equal number of detractors, angry that WoR targeted tokens they held stock in. Not without reason. Many, if not most, of WoR's scam advisories have so far failed to materialize, while at least one it recommended lost all its value.
Now, the aspiring hero has turned apparent villain, allegedly making off with more than $2 million worth of crypto in a series of suspected rug pulls. 
Just last week, the group launched its Rug Ethereum token, an ironic response to Ethereum founder Vitalik Buterin's decision to liquidate the holdings of altcoin Shiba Inu sent to him by SHIB's creators. 
The Rug Ethereum (RETH) project levied a 4% tax on each transaction. Two percent went to holders and the remaining amount was used to borrow ETH that would then be dumped for Binance Coin (BNB). RETH gathered over 9,000 holders in under a week, either for ideological reasons or the chance to get in early on a project that isn't directly listed on exchanges.
RETH came after WoR's audit of Fairmoon, a clone of Safemoon—a token that discourages selling by taxing transactions and redistributing tokens to holders. WoR was no lover of Safemoon, trashing the project. It wrote of Fairmoon, however: "No backdoors or [denial of service] possible from the owner perspective." 
It did more than audit Fairmoon, however. WoR and its head, known as Shappy, became the de facto leaders of the group and took over access to the smart contract—and Fairmoon and WoR claimed to be working on a platform for launching decentralized crypto exchanges. 
Last night, both got RETH and FAIR got rug pulled. 
The RETH and FAIR smart contracts have been reset so that the taxable amounts go to 100%, making it worthless to sell. But Shappy could, transferring the Fairmoon out on PancakeSwap, a Binance Smart Chain-based decentralized exchange on which anyone can list a token, in exchange for 1,170 BNB (worth $446,500 after today's market correction).
Fairmoon has lost nearly 100% of its value since yesterday. Trading activity for RETH, always valued at fractions of a penny (like many of these coins), is almost non-existent.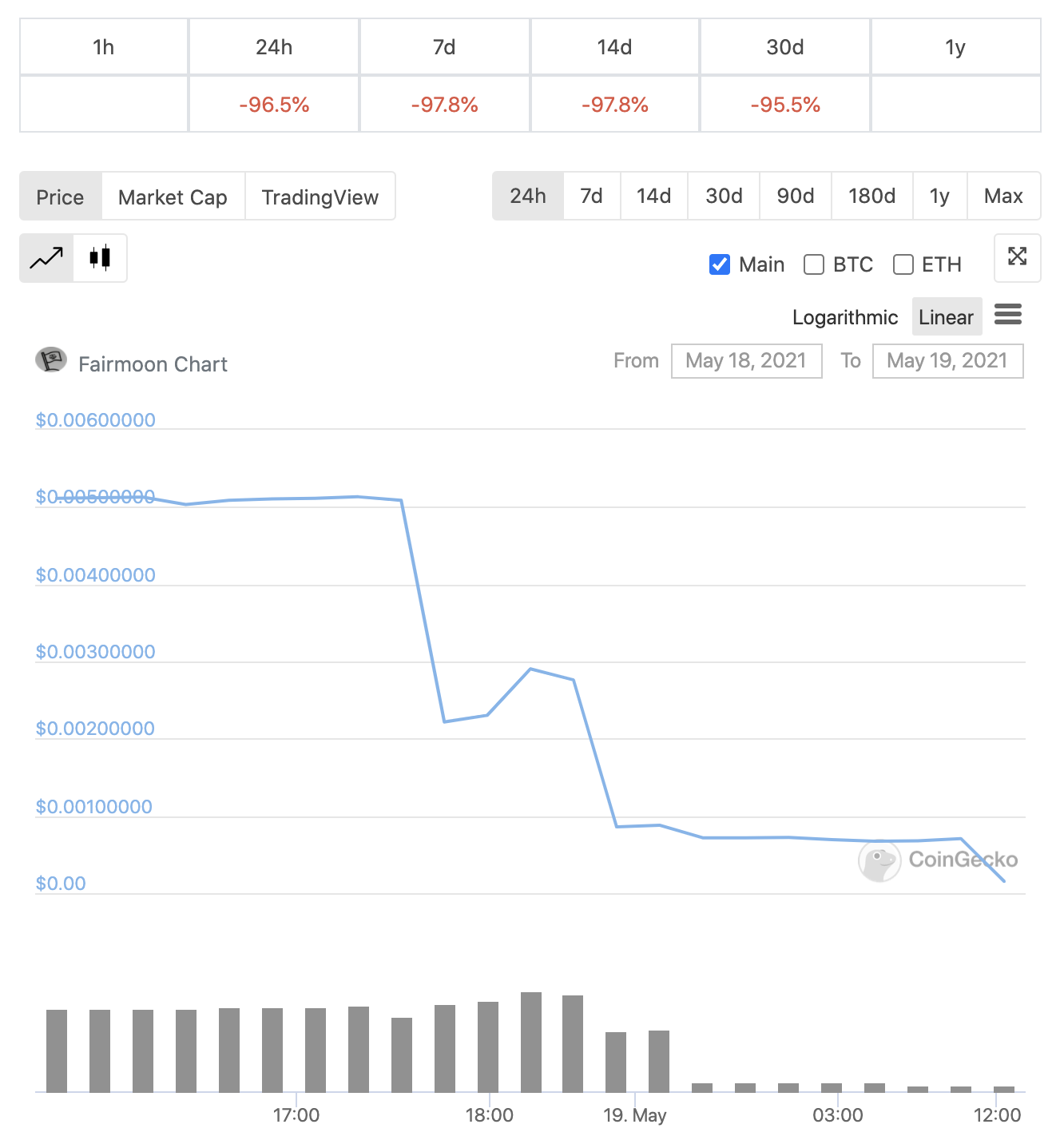 Fairmoon has pled ignorance, posting on Twitter: "SHAPPY, EX LEADER OF WOR, HAS BETRAYED FAIRMOON AND RETH AND SCAMMED BOTH THE FAIRMOON AND WOR COMMUNITIES." It did not respond to a Decrypt request for comment.
But according to WoR rival SaferDeFi, the rug pull has been going on since after the audit of Fairmoon. It alleges that a central wallet was "split to disguise the concentration among the holders." Each of those wallets then dumped $1.8 million in holdings when FAIR hit its all-time high price. Between the liquidations and today's disappearance, the group estimates WoR and/or Fairmoon took $2.3 million.
WoR, meanwhile, has gone AWOL. 
"I decided to do what I did so you understand that you should stop being a clown and spring [buying] in everything," it wrote before deleting all of its social media profiles, including Medium posts. "Hopefully after this you don't trust anyone anymore, pending proper regulations."