With a market capitalization of $265.54 billion and a price of $2,295, Ethereum (ETH) continues to showcase its considerable potential in the crypto space.
The second-largest cryptocurrency has enjoyed a remarkable bull run thanks to mainstream adoption and booming decentralized finance (DeFi) and non-fungible token (NFT) industries. For example, in March, payment giant Visa Inc. announced that it had settled for the Ethereum blockchain to undertake USDC transactions.
These developments have helped the ETH network outdo the transactions it settled in 2020 in just the first quarter of 2021, as alluded to by Documenting Ethereum. The crypto data provider explained:
"Ethereum settled $1.3 trillion in transactions in 2020. ETH settled $1.5 trillion in transactions in Q1 2021 alone."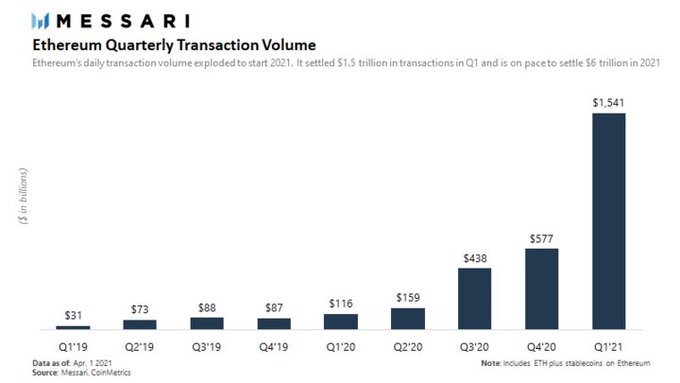 This uptrend in transactions is based on the fact that more participants are joining the Ethereum bandwagon. For instance, WeWork, an American commercial real estate company that provides flexible shared workplaces, has partnered with Coinbase and Bitpay to accept crypto payments in the form of Bitcoin, Ethereum, USD Coin, and Paxos. 
CME Ether Futures hit ATH volumes
According to data analytics firm Skew, CME Ethereum futures saw record volumes on April 19 as open interest surged past $360 million, whereas daily volume breached the $300 million mark.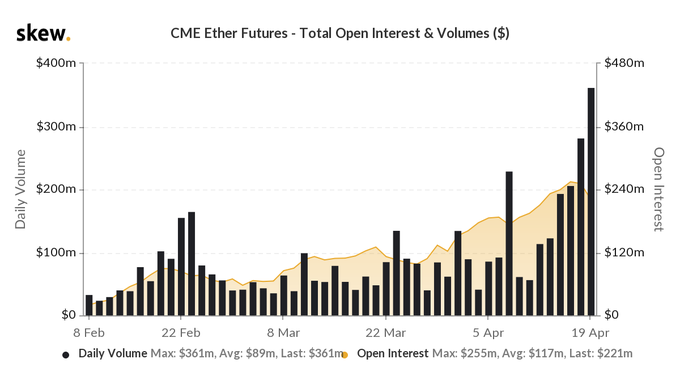 These record-breaking volumes show the high demand the Ethereum network is experiencing. Crypto analyst Joseph Young recently pointed out that Ethereum's supply crisis is intensifying. Therefore, based on market forces, high demand and a slackened supply usually trigger a price increase, as is the case with Ether.
Ethereum, together with other altcoins, has enjoyed a remarkable bull run. For instance, Dogecoin (DOGE) recently entered the top-ten list despite it being initially invented as a "joke currency" based on the "Doge" meme featuring a Shina Inu dog.
DOGE has defied many odds to emerge victorious in the crypto space thanks to backing from famous individuals like Tesla CEO Elon Musk and American rapper Snoop Dogg as it currently sits sixth with a price of $0.3215.
Image source: Shutterstock