In brief
Binance has announced its 15th quarterly burn of BNB tokens.

This is the largest BNB token burn by dollar value.
Crypto exchange Binance completed its 15th quarterly BNB token burn on Friday. BNB tokens are used to pay fees on Binance; the exchange entitles those who hold enough of them to discounts. 
Burning a token essentially deletes it, permanently removing it from circulation. This constricts the supply of the token, theoretically pumping up the price of those that remain. 
Binance burns tokens each quarter. With this recent burn, the total supply of BNB decreased from 170,532,825 BNB to 169,432,937 BNB.
These 1,099,88 burned BNB are worth approximately $595 million at current prices. This is the highest BNB burn by dollar value, a record the booming price of BNB helped to set. 
The token price has surged by 1,520% this year, from $38 to its all-time high of approximately $606 on April 12. 
BNB's price dipped shortly thereafter and is worth $527 today. In the past week alone, the price of BNB increased by a further 25% to its current price of $527.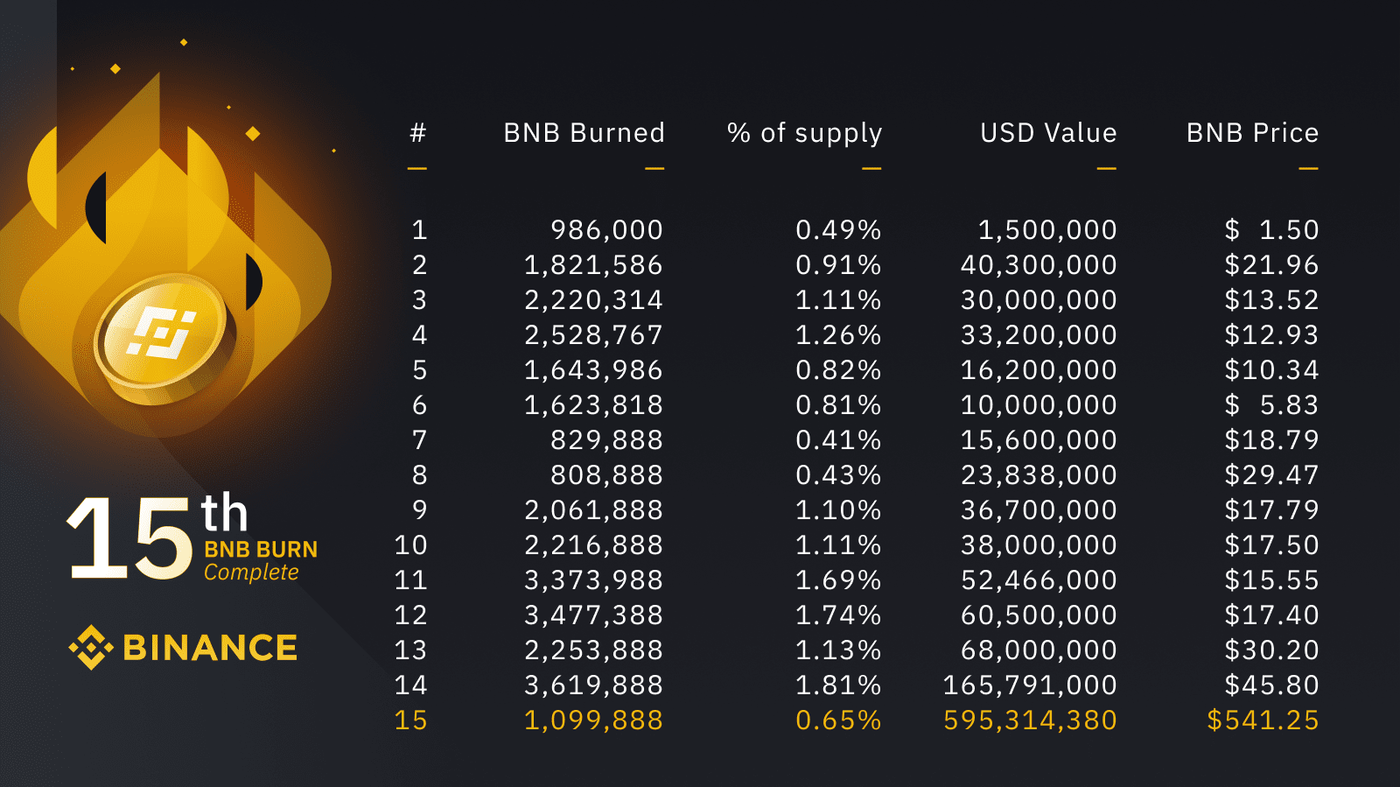 Binance CEO Changpeng Zhao attributed BNB's recent growth to the rising decentralized finance (DeFi) industry—Binance has grabbed some of the market share from Ethereum through its own Binance Smart Chain—and Coinbase's direct listing on the Nasdaq this week. "Yes, it helps BNB as well," Zhao said.
In 2017, when Binance first launched BNB, it committed to burning a total of 100 million BNB. This amounts to half of the total supply of BNB. According to research from The Block, Binance has burned 15.3% of the BNB supply so far.
Disclaimer
The views and opinions expressed by the author are for informational purposes only and do not constitute financial, investment, or other advice.