In brief
Dilbert is a popular comic strip.

Will it be a popular NFT?

What about if you add curse words?
Dilbert creator Scott Adams is selling a pair of NFT versions of his famous comic strip on marketplace OpenSea.
And one of them is a bit "naughty," according to the author.
The non-fungible tokens, which went on sale today and will be on auction until May 1, feature bespectacled office drone Dilbert chatting with his pet, Dogbert, about the high prices non-fungible tokens are demanding. A digital artwork from Beeple sold for $69 million last month, and everyone from Grimes to Rob Gronkowski have cashed in on multimillion-dollar sales.
In one PG-rated version, Dogbert explains that he bought an NFT for $600, to which Dilbert retorts, "There is literally no good reason to own any collectible digital art."
Dogbert responds that he's sold the item for $120,000. The mild-mannered Dilbert proceeds to go ballistic, screaming (mug still in hand): "Can you let me be right for one minute?"
The PG-13 version is identical apart from one key detail. After Dogbert informs him of the money he's made, Dilbert yells, "Can you let me be right for one f-ing minute?" (We at Decrypt prefer our funnies G-rated.)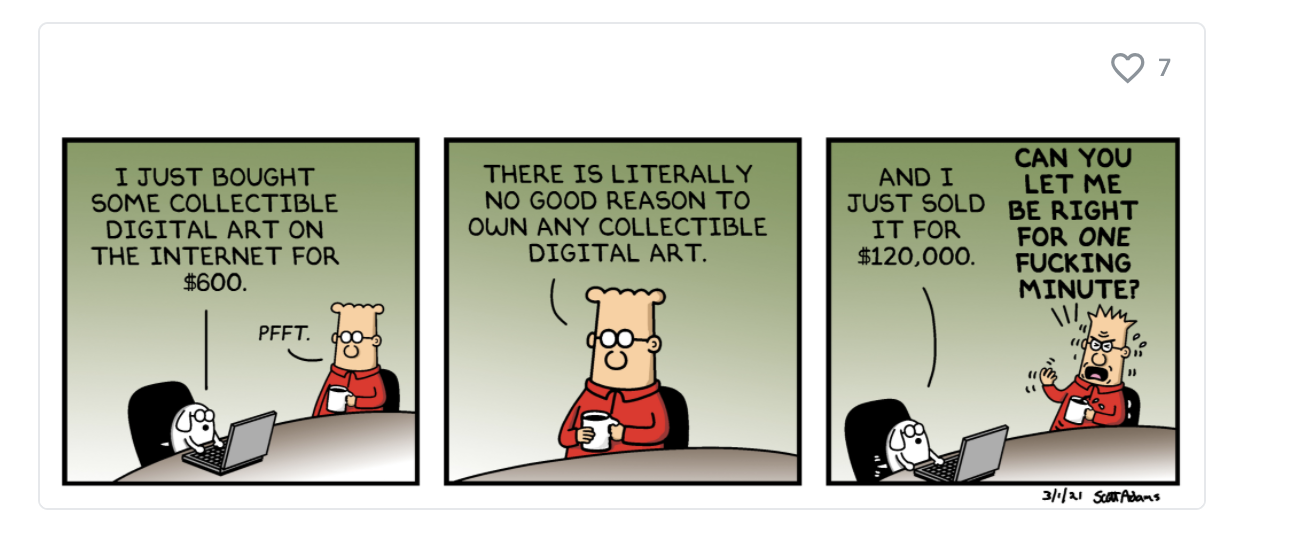 Newspapers, where Dilbert appears, don't usually publish comic strips with cursing (unless it's Family Circus, of course) making this an apparent first for the character.
Responding to fans and/or trolls via Twitter, Adams admitted he didn't quite get the fuss:
"For those who wonder, NFTs are digital art that is collectible because the original is registered on the blockchain. Yes, anyone can copy digital art. But you can't copy its entry on the blockchain, which makes it collectible. Does that make rational sense? Nope."
Of course, as Adams suggested, it doesn't have to make rational sense to make money.
Nor does it make a ton of sense to pay extra for a curse word, but the top (and thus far only) bid on the PG-13 version is over $7,077. As of the time this article was published, no one has bid on the PG strip.