Over the weekend, Bitcoin (BTC) breached the $61K mark once again as its renewed upsurge has driven the overall crypto market capitalization above $2 trillion. The leading cryptocurrency has, however, retracted to the $60,704 level at the time of writing, according to CoinMarketCap. 
Market analyst Michael van de Poppe believes that Bitcoin looks eager for a new all-time high as it continues regaining momentum. 
This price impulse also comes in tandem with Tesla CEO Elon Musk tweeting "going to moon very soon," which led many to speculate that the Tesla CEO was referring to Bitcoin.
Musk has shown his approval for Bitcoin. For instance, in January, he indicated that he would never turn down the chance of being paid in Bitcoin.
Corporates have emerged to be significant players in the Bitcoin network based on their huge investments. For instance, Meitu, a Chinese app developing company specializing in photo-editing and video processing software, recently announced the purchase of an additional 175.6 Bitcoins for $10 million, bringing its total BTC reserve to over 940 coins. 
Meitu has invested $100 million in Bitcoin and Ether since the beginning of March.
Bitcoin's bull run is far from over
According to the pseudonymous analyst PlanB:
"Bitcoin's 200-week moving average and on-chain realized metric (weighted average cost of all 18.7M bitcoins) show a bull market that is far from over."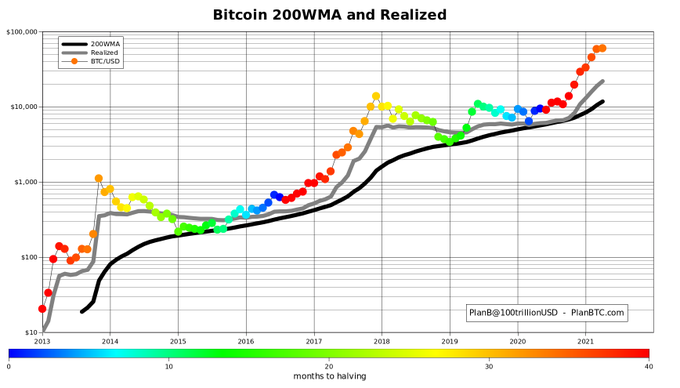 The analyst uses a stock-to-flow (S2F) model, which compares the amount of a commodity in circulation divided by the amount produced every year.
As BTC continues with its journey to the moon, crypto analyst Joseph Young recently revealed that Satoshi Nakamoto will be the richest person globally if Bitcoin hits $181,000. 
Satoshi Nakamoto is the pseudonym used by the anonymous person who authored the BTC whitepaper and developed the Bitcoin network. It is speculated that Nakamoto owns nearly 1 million Bitcoins.
Image source: Shutterstock