In brief
Loïc Gouzer, the former co-chair of the auction house Christie's, will court traditional art buyers for his first NFT auction.

The NFT is a 3D animation of an egg and a lighter by contemporary artist Urs Fischer.

Gouzer has the final say on the price he accepts. He told Decrypt he wants to sell it "at a price that makes it as democratic as possible."
The man who once auctioned off the most expensive artwork in history, Leonardo da Vinci's Salvator Mundi, for $450.3 million, is auctioning his first NFT, a 3D animation of an egg and a lighter modelled by contemporary artist Urs Fischer.
Often called the rainmaker for his wildly successful art auctions, Loïc Gouzer served from 2015 to 2018 as the co-chair of Christie's—the auction house that sold Beeple's NFT for $69.3 million last month.
In 2018, Gouzer left Christie's and set up Fair Warning, an app to auction fine art. The app, which launched last summer, auctioned a painting by Jean-Michel Basquiat for $10.8 million, setting a record for the largest in-app purchase.
Now the rainmaker's getting into NFTs—and bringing throngs of traditional art collectors with him.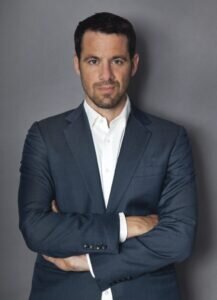 Gouzer told Decrypt from his home in Long Island that selling to crypto natives would have excluded fine art collectors. "There are great minds on both sides, and creative juices could come out of some dialogue between the two."And there's a good chance that Gouzer's first NFT client, Fischer, could make it rain once again: Fischer's previous work, Untitled (Lamp/Bear), a giant statue of a bear sitting under a lamp, sold for $6 million at a Christie's auction in 2011.
CHAOS #1 Human
Fischer's NFT, titled CHAOS #1 Human, will start accepting bids on Sunday at 5pm EDT.
The egg and lighter NFT is a shrine to the power of man, Fischer explained to Decrypt. Fire and the fertilisation of eggs were once purely natural processes, but humans conquered both: fire fits in our pockets and our eggs come from battery farms.
"The egg is such an absolute and stunning perfection—there are not many like it in nature," said Fischer.
And, due to the scarcity built into NFTs, there's only one of Fischer's NFT egg/lighter-combi on the blockchain. The bidding for the one-of-a-kind crypto collectible starts at a modest $1,000 and will conclude once Gouzer's satisfied with the price.
"I'm running a little auction house, so of course instinctively I want a high price. But there's also a part of me that just wants to sell at a price that makes it as democratic as possible," said Gouzer. "My right brain wants a big price and my left brain wants a low price so that anyone has a chance of getting a great work."
Should Gouzer's right brain end up booting out the poor, Fischer has 499 more NFTs on the way, each, once again, combinations of two everyday objects.
Fischer will sell these NFTs on MakersPlace, the NFT marketplace that Fair Warning partnered with for its NFT sale; MakersPlace mints the NFTs and stores the metadata and assets on IPFS, a decentralized web hosting network.
Then Fischer will sell an NFT that combines all 1,000 "everyday" objects in a sale that's reminiscent of Beeple's EVERYDAYS NFT, which represents 5,000 artworks, since tokenized, of art drawn on each of the 5,000 preceding days.
Fischer's subsequent sales on MakersPlace will feel quite different to the Fair Warning sales. Unlike MakersPlace, Fair Warning vets new registrations, meaning Gouzer and his team will know the identity of the buyer of the NFT.
"It's not that we're being snobs," said Gouzer. "On the app, we sell works for millions of dollars and we have to know the buyers are."
The business of selling art, after all, has historically faced the problem of money laundering—a concern that now also applies to million dollar-worth NFTs, as warned last month by the anti-money laundering watchdog FATF.
Selling NFTs is no different to Gouzer than selling traditional artwork—so the old rules still apply.
But beyond the hype, something else appeals to the two men.
For Gouzer and Fischer, NFTs offer the exact opposite to what characterizes today's conventional artwork. The traditional art industry is dominated by patronage: a few select artists, a few galleries, and of course, a few moneyed patrons, they explained.
NFTs, on the other hand, open up a decentralized future for art.