In brief
The Kimchi Premium dropped significantly this morning.

Traders may have found a way to arbitrage in and out of Korea.
The price of Bitcoin has fallen to $57,370, down 2.7% in the last 24 hours. It's now falling marginally away from the $60,000 mark that it has struggled to hold.
At the same time, the Kimchi Premium—the higher price that Bitcoin trades at in Korea—has dropped significantly today. The premium was caused by high demand in Korea in combination with the difficulty of trading into and out of the country. In fact, Bitcoin's price had reached as high as $70,000 in the country—but now it's coming back in line with the rest of the world.
"It seems someone finally figured out how to arbitrage this Kimchi premium opportunity. The trading volume in [the] 30 min time frame on [Upbit], the largest Korean exchange, was bigger than Binance's," said crypto data provider CryptoQuant CEO Ki Young Ju, adding, "This drop seems related to Kimchi pullback."
Arbitrage refers to a trading method that sees traders buy an asset where it's selling at a lower price and sell it where it's selling at a higher price. In this case, that would entail buying Bitcoin outside of Korea and selling it on the Korean market. This technique helps to balance out supply and demand and bring prices closer together across different exchanges.
According to data from CryptoQuant, the premium dropped from 20% to as low as 11.6% within two hours this morning, before rebounding slightly to its current value of 14.6%. With the current premium, Bitcoin is still trading at around $66,000 in the region.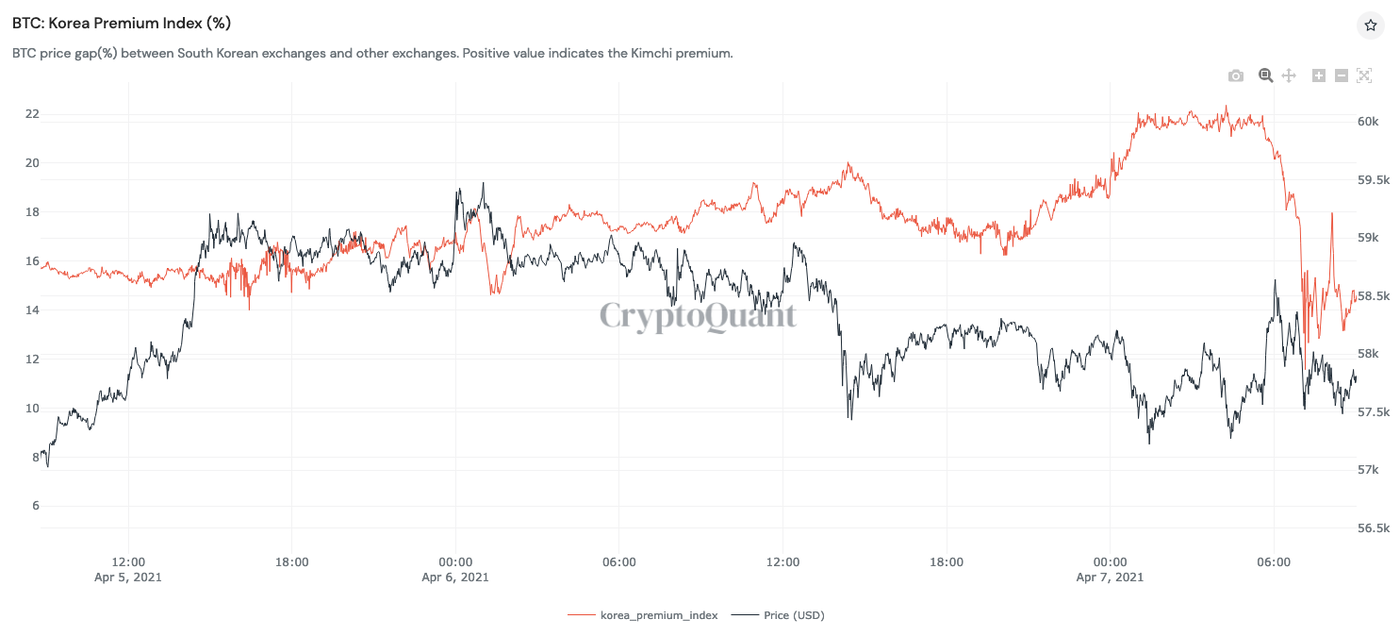 The Kimchi Premium builds up because of strict capital controls in Korea. It's very difficult to send large amounts of Korean Won outside of the country—making it hard to profit from the arbitrage opportunity and turn the money into dollars. There are also stringent reporting requirements for taking large amounts of money out of the country.
It has been exploited before, however, by FTX CEO Sam Bankman-Fried. In 2018, he used a number of intermediaries, along with some banks in Japan, to create a way of selling Bitcoin in Korea and getting the money out of the country, according to New York Magazine. He was moving up to $25 million per day.
Ju said there is evidence that something like this might be happening again. He pointed toward large inflows to Korean exchange Bithumb, suggesting that whales might be using the exchange to sell Bitcoin.
On the other hand, he acknowledged that the drop in the Kimchi Premium may be related to crypto exchange Upbit's announcement that it had reopened withdrawals and deposits. They had been suspended due to an inspection by its service provider.