Aprils Fools was almost over, but there was still a joke in store in the crypto space. Litecoin creator Charlie Lee made a fake announcement via Twitter claiming that Litecoin would be rebranded to BitcoinLite, "as Satoshi Nakamoto intended."
Lee posted a version of Bitcoin's whitepaper highlighting the letters LITE and a link to Litecoin Foundation's official website renamed BitcoinLite Foundation. The home page reads "Just Like Bitcoin. But 'Lite'er!", adding that Bitcoinlite is "4 times more scalable than Bitcoin" with higher transaction fees and a supply of only 84 million coins. It even offered users a BitcoinLite Wallet. The website contained the following message:
After several hard-fought, intense back and forth discussions within the Litecoin community, it was decided that Litecoin will undergo a rejuvenating marketing campaign — Litecoin will be rebranding itself to "BitcoinLite".
The reason behind the rebranding was a supposed opportunity to capture new investors "confused" by the different forks of BTC (Bitcoin Cash, Bitcoin SV, Bitcoin Gold). These investors think that each of these versions is the "real BTC". Therefore the "Bitcoinlite Foundation" could gain new followers that "we'd previously been missing".
The page outlines a fake roadmap that begins with the "takeover" of the Bitcoin domain and changing the information related to this cryptocurrency to BitcoinLite information. However, the publication makes some "true" observations about Litecoin and highlights some of its features in what some members of the crypto community later called a publicity stunt. The website claimed:
Community donations will be much appreciated to help achieve this task, as Litecoin unfortunately did not have an ICO launch to help pay for everything (…). It's been a wild ride getting here, but we're so glad to finally have reached this point (…) April 1st marks the beginning of a fresh, brand-new quarter and so far, we're starting it off with a kick.
Litecoin is rebranding to BitcoinLite!https://t.co/ScDeF3hf97

BitcoinLite as Satoshi Nakamoto intended.#BitcoinLITE #BitcoinLiteFAM pic.twitter.com/oEaPS0yhtV

— Charlie Lee [LTC⚡] (@SatoshiLite) April 1, 2021
LTC on the rise
After Charlie Lee's fake announcement, LTC went on a 5.3% rally, at the time of writing, and is one of the top gaining coins in the 24-hour chart after Filecoin (27%) and UNI (6.3%). LTC is trading and $203 with 14.9% gains over the last week.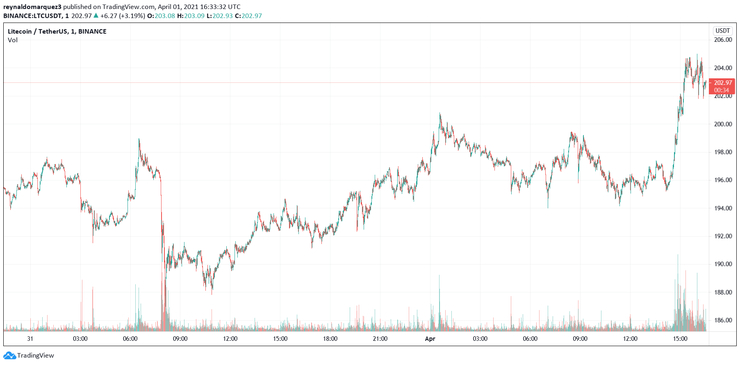 Recently, MimbleWimble via Extended Block code was completed by lead developer David Burkett. The protocol is intended to bring additional privacy and scalability features to the blockchain. However, LTC's price has not benefited from the news.