In February, electric car maker Tesla announced it had purchased $1.5bn in Bitcoin. Along with the announcement was a commitment, they would also accept BTC as payment, making it the first car manufacturer to do so.
The firm followed through with that pledge. As of yesterday, using Bitcoin to buy directly from Tesla became a reality. But a look at the terms and conditions highlights a situation that makes little sense for buyers.
Why is Buying a Tesla With Bitcoin a Bad Idea?
Given Elon Musk's interest in cryptocurrency, it was only a matter of time before Tesla would accept Bitcoin. While some say this is good for crypto, a deeper dive shows it may not be good for consumers.
The main problem is that Tesla uses dollar pricing and then converts it into a Bitcoin price payable. Considering the volatile nature of cryptocurrencies, customers could pay significantly different BTC amounts for the same thing.
"All products are priced in U.S. Dollars. If you choose to make a payment using Bitcoin, you must pay an amount of Bitcoin that is of equivalent value to the U.S. Dollar purchase price of the product that you purchase."
A further issue arises in the case of refunds and buybacks. According to the terms and conditions, Tesla can choose to refund you in either the exact Bitcoin price at the time of purchase or the dollar equivalent.
"If you are entitled to a refund of your payment or to a buyback, we reserve the right to refund to you either the exact Bitcoin Price that you provided to us at the time of purchase or an amount of US Dollars that is equivalent to the US Dollar price of the product that you purchased, at our sole and absolute discretion, taking into consideration operational efficiency."
Refunding customers in Bitcoin exposes buyers to market dips. While it's likely Tesla would refund in dollars if the market rose between purchase and refund dates.
Add to this capital gains tax obligations when buying in Bitcoin, and paying in dollars looks the better deal.
Musk Doesn't Want Dollars
Elon Musk revealed the firm plans to keep the Bitcoin earned rather than convert it to dollars.
"Tesla is using only internal & open source software & operates Bitcoin nodes directly.

Bitcoin paid to Tesla will be retained as Bitcoin, not converted to fiat currency."
As ever, his response triggers more questions than it answers. For example, does Musk believe the dollar will devalue substantially? And why is Tesla running Bitcoin nodes? Especially when there is no financial reward for doing so.
In any case, buying a Tesla with Bitcoin only works if the car is priced in Bitcoin. Considering most supply and expense ecosystems operate in dollars, pricing in Bitcoin won't happen anytime soon.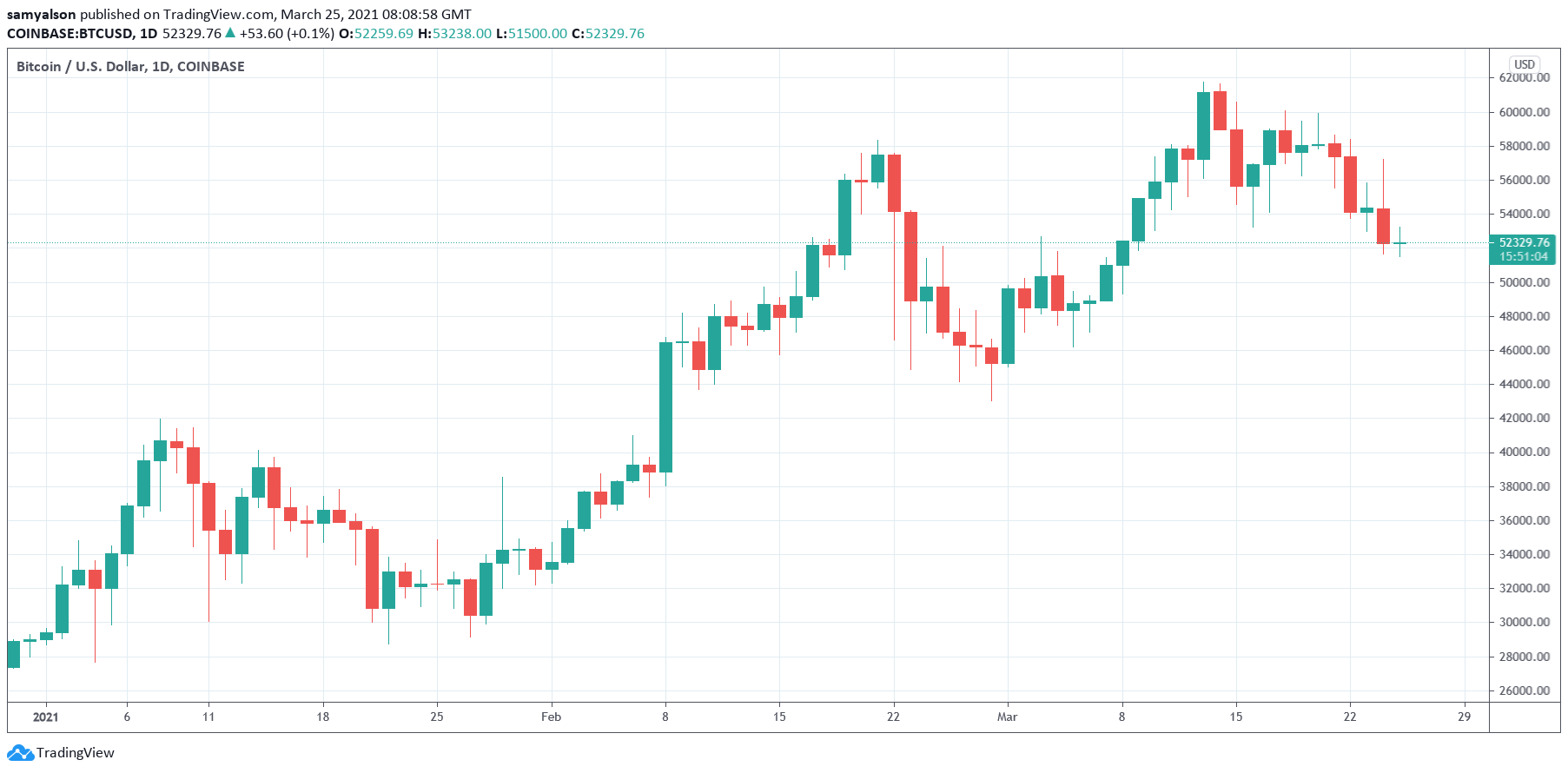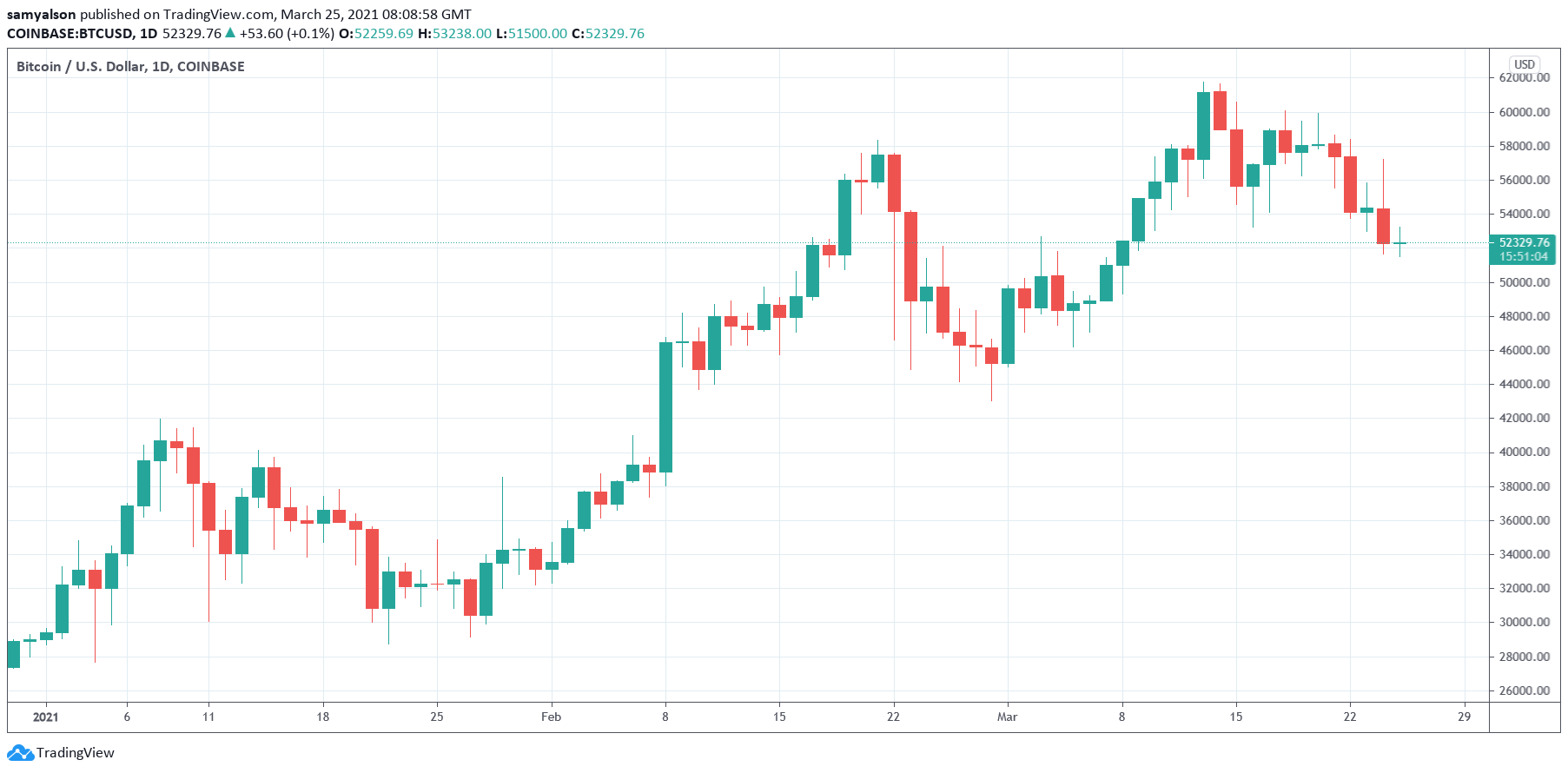 Source: BTCUSD on TradingView.com