Bitcoin price is losing bullish momentum. Although it has still managed to hold above support at $55,000, after a failed attempt to clear the $60,000 resistance, the trend has been down over the last week (-6.6%).
Jiang Zhuoer is the CEO of BTC.Top mining pool, he claimed things might continue to go south during the year. In a recent interview with Wu Blockchain citing "study models", Zhuoer predicted a change in crypto market dynamics.
Bitcoin's price has seen gains of 824.4% in one year, but Zhuoer believes that between September 2021 and June 2021, the market could move "from a bull to a bear market."
BTC.Top is one of the largest mining pools in the sector. Data from Statista indicates that this pool owned 0.75% of Bitcoin's total hashrate as of mid-February. Wu has interviewed other representatives of the blockchain industry in China and received similar predictions. The idea behind this reasoning is:
they believed that this autumn might start to turn into a bear. The reason was the economic recovery after the popularization of the vaccine and the beginning of a shift in US monetary policy. (…) after Tesla purchased 1.5 billion U.S. dollars in Bitcoin and Meitu purchased 90 million U.S. dollars in Bitcoin and Ethereum, there are no other large listed companies in North America and Asia to follow up.
A Bitcoin ETF approval in the U.S. or another company like Tesla adopting BTC could return the upside momentum. On this possibility, MicroStrategy CEO Michael Saylor said:
If you go back to March 2020, it was only the rare institution involved. In the 12 months that followed, there's been an avalanche of institutional involvement. MicroStrategy is the first publicly traded company that made a material investment, but Square followed. And Tesla followed. But they're the tip of the iceberg.
Where could Bitcoin's price go in the coming days?
In the short term, newsBTC crypto market strategist Aayush Jindal sees a chance for a fresh increase in BTC if support along the $57,000 level is held. Currently, Bitcoin trades for $57,488 with 3.3% of losses in the 24-hour chart.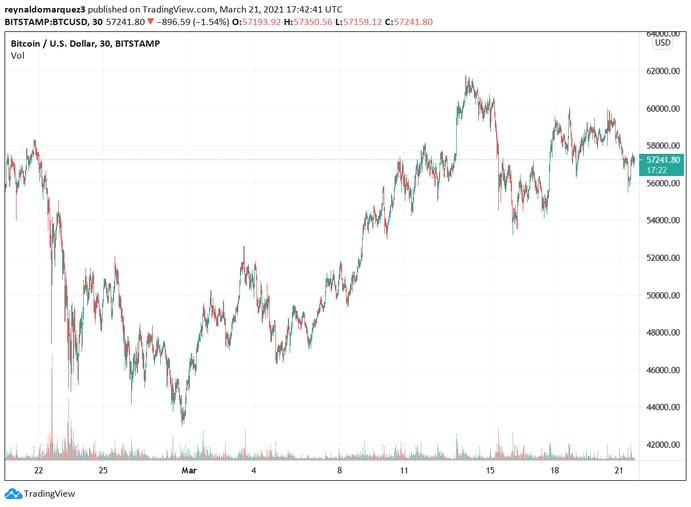 Trader Bitcoin Jack is cautious about Bitcoin price action and believes there are "many reasons" for the cryptocurrency to continue to pull back. The trader believes BTC could all the way down to $45,000, he added:
Looks pretty weak to me, bias neutral to bearish. Will be looking for locations to hedge on bounces until this turns bright again. Maybe I'm wrong but to be bullish I wanted to see 57.5 hold and push ath's. I think price wants to test demand at high 40's / low 50's