Growing up in Beijing, your correspondent was a regular at the UCCA Center for Contemporary Art. Situated in the 798 Art District, the gallery represents all kinds of niche and avant-garde art, witnessing Beijing's transformation from being the political capital of China to an international megacity. 
From March 26 to April 4, UCCA Labs will welcome its first-ever crypto art exhibition: Virtual Niche—Have you ever seen memes in the mirror? The exhibition is not the first of its kind in China, but showcases some of the most influential crypto art in the world, from both the west and east. This is the first time that crypto art and NFTs enter China's main art scene. It also represents a joint effort from two seemingly unrelated communities—the Chinese Bitcoin Community and the Polkadot community.
This week's da bing looks at the current state of NFTs in China and helps explain who the players are, their driving forces and where the movement is heading.
NFTs bubbling up in China
"I've cut out all my NFT sales for the next three months and rejected all interviews (other than yours) because I think there's such a bubble in the market, and my work has been pushed up too high," Ting Song, one of the most active crypto artists in China, told me, flatteringly. 
Song is among a number of artists who saw their NFT work rocket to the moon. Just like in the west, NFTs have penetrated every corner of the Chinese crypto community. Crypto WeChat is full of hashmask equivalents, and for those who love cats, mooncats have become a favorite topic. 
Perhaps a leading indicator of any type of bubble is our good, old friend Binance. Undaunted after getting into trouble with its knock off of EulerBeats, a music-NFT project, Binance is venturing deeper into the NFT space, and giving away free NFTs. 
Colin Wu, a crypto journalist in China, told me that he participated in a Binance NFT activity where Binance drew him a carrot and turned it into an NFT. Now that little carrot is worth 1.5 BNB, around $300.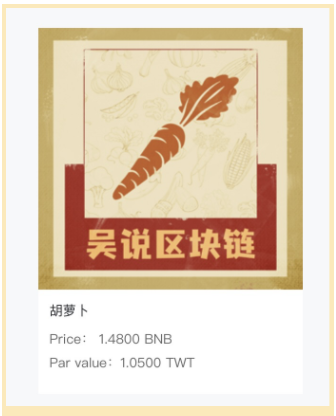 NFT exuberance in China is just as real as it is everywhere else. But no one there is paying lip service to investing in great art. The Chinese crypto community is pretty much interested in the speculative aspect of it all. They're more curious about the next platform token to purchase than the next great emerging artist.
Still early but growing 
"NFT art is still too early in China," Yin Cao, Managing Director of the Digital Renaissance Foundation, told me, "There are two reasons why we are too early. First, the Chinese art market has an extremely poor understanding of crypto art. Second, Chinese NFT artists have a lot of catchup work to do compared to its western counterparts." 
The second reason explains why the majority of the UCCA Labs exhibition will be internationally-famed artwork such as Robert Alice's "Portraits of a Mind," a series of 40 paintings composed of Bitcoins source code, and Beeple's "Everydays—The 2020 Collection." 
Still, there are plenty of Chinese crypto artists that have experience with the new medium.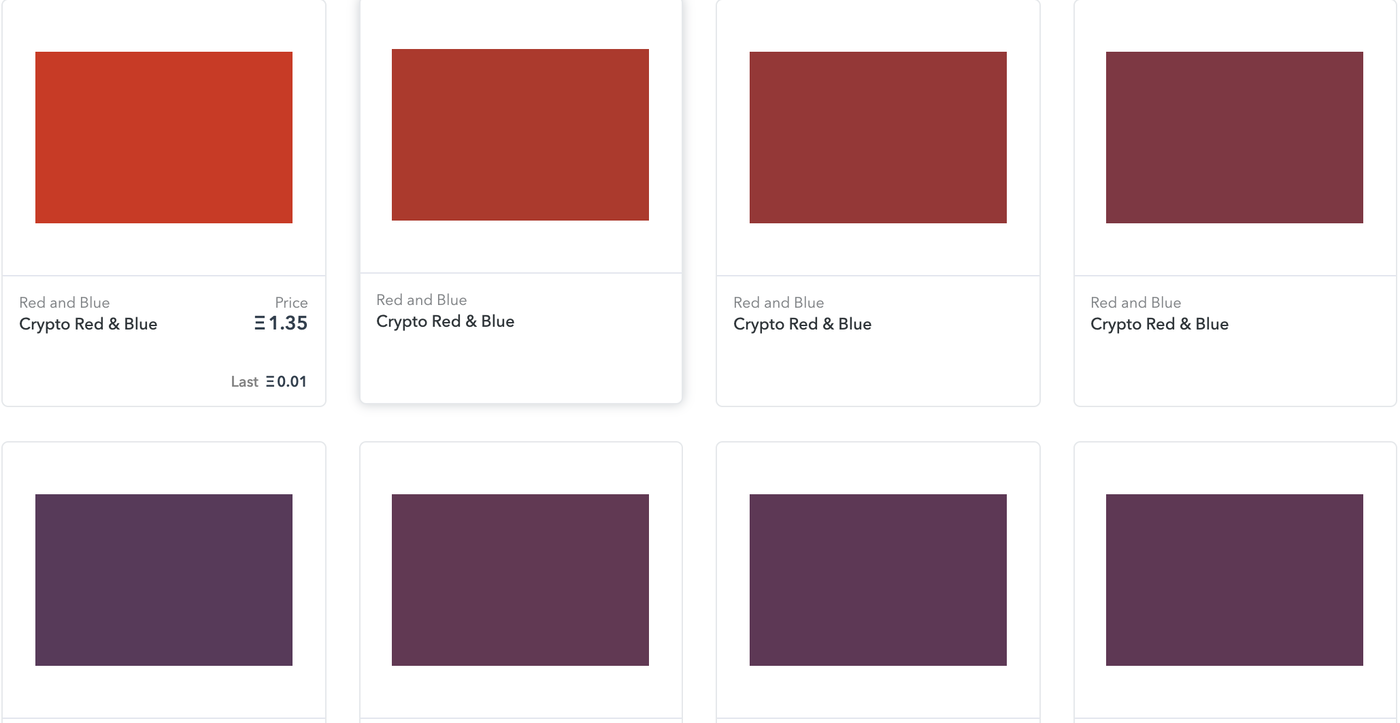 "The early Chinese crypto artists have a diverse background ranging from traditional art to cognitive science and cryptography. This is slightly different from western practitioners," Song told me. 
But more importantly, crypto art—like all art in China—has a unique value proposition, given the country's special political landscape.
Said Song: "There are two core values of Crypto art: it's an innovation that is based on open source principles, and it's largely driven by the cyberpunk culture."
In other words, for the first time, artists can plug into a permissionless network that allows them to freely express sensitive topics such as power, regulation, subculture, authority, individualism, and collective vulnerability. They are not restricted by physical space nor censorship. This might be a norm in the western world, but quite precious in China. 
Polkadot and Bitcoin communities holding hands
The UCCA Labs exhibition is curated by Bohan Sun, CEO of BlockCreateArt (BCA), Asia's first crypto art brand, and produced by Qinwen Wang, Polkadot's China community lead. As one of the earliest adopters of NFT art in China, BCA recently announced the completion of a $2 million angel round led by Fenbushi Capital, making it the biggest and most well-funded NFT ecosystem in China. 
A quick glance at the curator and producers behind the exhibition reveals that despite the fact that much of the artwork is encrypted and sold on the Ethereum platform, the project is largely led by the Chinese Polkadot community (that is, the Kusama Network, Polkadot's cousin, to be precise.)
In fact, the show features the top six winners' pieces of the BCA & Kusama Network's Digital Art Competition, a joint effort by BCA and the Kusama Network to promote digital art. 
In addition, the Bitcoin community has also given its blessing, led by an endorsement from Yuesheng Ge, the famous right-hand man of Jihan Wu, co-founder of Bitmain and Matrixport.
Gathering such a hotpot of communities and influencers together is no small feat. In the increasingly polarized crypto community, art has done the impossible job of unifying different voices. However, there is an elephant in the room:
Will Polkadot be the dominant NFT infrastructure for Chinese crypto artists? 
Perhaps this question is too political but as Flow's NBA Topshot has shown to the world, the NFT infrastructure that attracts the most attention will see its platform token moon. Wouldn't any blockchain protocol want a big piece of the NFT pie? 
One could easily argue that the future of NFTs will be multichain. After all, Flow is a public blockchain protocol, and Nitfy Getaway is completely centralized. However, the community impact of a popular NFT platform could be huge. As Polkadot continues to gain momentum in China, it's only logical to ask whether the protocol will capture much of the NFT value. 
And unsurprising, the community that has poured in the most manpower and resources in China will have a head start. We've seen Polkdadot replicate such a success from a protocol level. Perhaps it will continue the trend in the NFT space.
The turtle catching the hare 
NFT Art is fundamentally political. For Chinese artists, crypto is the perfect weapon to guarantee free expression. But such a weapon comes with risk; one might well wonder whether the Chinese government will be happy to see permissionless art on the blockchain. 
What's worse, since China officially banned crypto exchanges in 2017, it's becoming increasingly difficult to turn fiat into crypto; neither entrepreneurs nor artists want to make a Beeple-like splash of their artwork, knowing that they could be easily banned one day. 
That's why NFT art in China has a tougher route to grow compared to their western counterparts. yet, Song remains positive. "We are seeing these early adopters unite forces and educate the younger generation. I think if we do this well together, we could build a more solid foundation than western artists," Song told me.
Perhaps, just like the way China leapfrogged the western world in terms of digitalization (I'm thinking here of how Alipay revolutionized the Chinese payment system) NFTs could also leapfrog in China. Maybe not in the same format as their western cousins, but if any of the tech giants decide to get into NFTs—with Chinese characteristics, of course—1.5 billion people will be impacted. 
Do you know? 
"小目标" which means "small goal" in Chinese, is a benchmark that "someone has made it" in China. It has come to mean 100 million yuan—the equivalent of $15 million. In this bull market, everyone is asking everyone else: have you made it to your Small Goal yet?