Bitcoin (BTC) continues being the talk of the town after it hit a new all-time high (ATH) of $61,781 after a weekend where President Joe Biden approved a $1.9 trillion COVID-19 stimulus package. 
Nevertheless, the price has retracted to $57,759 at the time of writing, according to CoinMarketCap. Crypto analyst Lark Davis has noted that this pullback is being caused by Bitcoin whales' profit-taking tendencies. He explained:
"Whale addresses holding 1,000 or more Bitcoin have been selling, this does not mean the bull run is over, it just means that profit-taking is happening."
Davis acknowledged that the current retracement doesn't mean that the Bitcoin bull run is over. Analysts have noted that whenever a new ATH is hit, big holders or hodlers usually sell to cash in profits, hence pushing the price down so that they can buy at a low. 
Jan & Yann, the co-founders of leading on-chain data provider Glassnode, believe that the next leg up is gaining steam given that Bitcoin Futures open interest recently broke the record at $23 billion.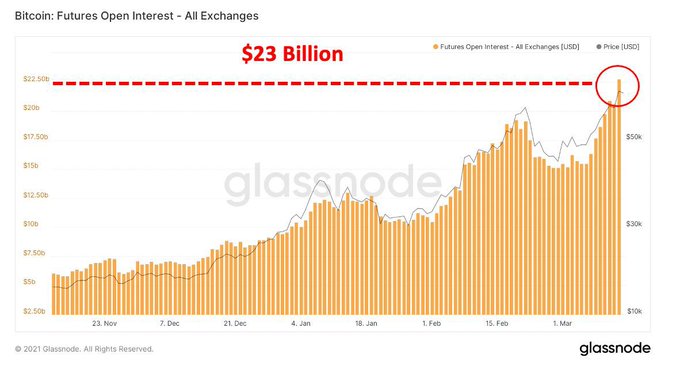 Bitcoin at $74,000 will be worth more than Google
According to digital asset firm Bloqport, once Bitcoin hits a price of $74,000, it will be more valuable than Google. 
This might happen sooner or later based on sentiments shared by Matt Maley, the equity strategist at leading institutional trading firm Miller Tabak + Co. He acknowledged that Bitcoin could rally towards $75,000 "very quickly" based on some chart patterns.
With Bitcoin having obtained a new ATH of $61,781, this is triple the record-high of $20,000 it set in December 2017, more than a year after its second halving event in July 2016. 
The third halving event took place in May 2020, and as the clock ticks, time will tell how Bitcoin's journey to the moon continues shaping up this year. 
Image source: Shutterstock