In brief
Bitcoin appears to be on a road to recovery today, flying high once again.

Tech stocks such as Square though, not so much.
It's a good day to be a longtime crypto investor, as Bitcoin begins to recover from its largest dollar-denominated price drop in history. Meanwhile, on the other side of the street, things aren't looking so good for tech stocks, which today saw nothing but red—with some, like Tesla, falling as much as 5%.
Bitcoin appears to have finally broken a downtrend that traders have held it under for the last week, ever since the crypto asset hit an all-time high price of $58,367 on Coinbase. The cryptocurrency fell as low as $43,016 at the end of February, but is now steadily climbing back up.
Bitcoin number go up, again
On Monday, Bitcoin came close to $50,000 but fell between 3% and 5% throughout the day as markets tried to digest statements from SEC chair nominee Gary Gansler, who praised cryptocurrencies during his confirmation hearing but also called for more controls and regulations.
Bitcoin nevertheless rebounded and is currently trading for just above $51,000. That 6% price jump within the last 24 hours is likely a comforting sign for long-term hodlers—and also adherents of the "stock-to-flow" prediction model, which foresees a $100,000 Bitcoin price in the not-so-distant future. (Incidentally, it's this enthusiasm, misplaced or not, that explains those "laser eyes" on Crypto Twitter profiles recently.)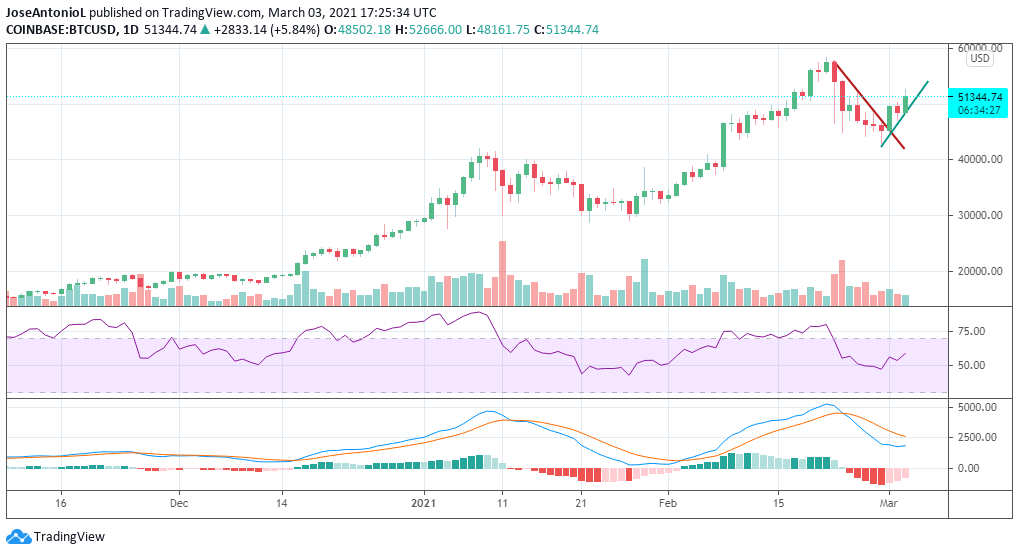 It's been almost exactly one year to the day since Bitcoin started off on its current bull run. Following the COVID-induced market crash in March 2020, Bitcoin has been on a tear ever since. Retail investors initially sparked the flame, and an influx of institutional capital has more recently added fuel to the fire. 
MicroStrategy, Square, and Tesla have helped Bitcoin smash past its 2017 all-time high price of $20,000. Michael Saylor, CEO of the cloud computing software firm MicroStrategy, has led the way through massive Bitcoin purchases over the last year, and helping to push other companies to do the same.
In early February, Elon Musk's Tesla bought $1.5 billion worth of Bitcoin, which catapulted the cryptocurrency to where it is today.
Tech stocks are losing ground
Meanwhile, tech stock hodlers are licking their wounds after an underwhelming day.
The "Tech Stocks That Move The Market"—a watchlist created by Yahoo Finance containing 18 of the most traded and promising tech stocks in the S&P500—had a 2.57% drop overall.
Every stock in this list registered losses today except for Alibaba and Yelp, which had only marginal gains of 0.79% and 1%, respectively. Tesla, for instance, fell 4.98%. Its price seems to be about to test support at $650 —a price line that held strong in December of 2020 and stopped a major correction on October 23.
The trend for Tesla appears to fly in the face of analysts at investment firm Wedbush, which last week said that Tesla stock "is now heavily tied" to Bitcoin. The idea is that as more investors seek exposure to BTC and other cryptocurrencies, some traditional financial products are starting to be considered close enough lookalikes. That includes things like shares in Grayscale's Bitcoin Trust, but also stock in companies like Tesla and MicroStrategy.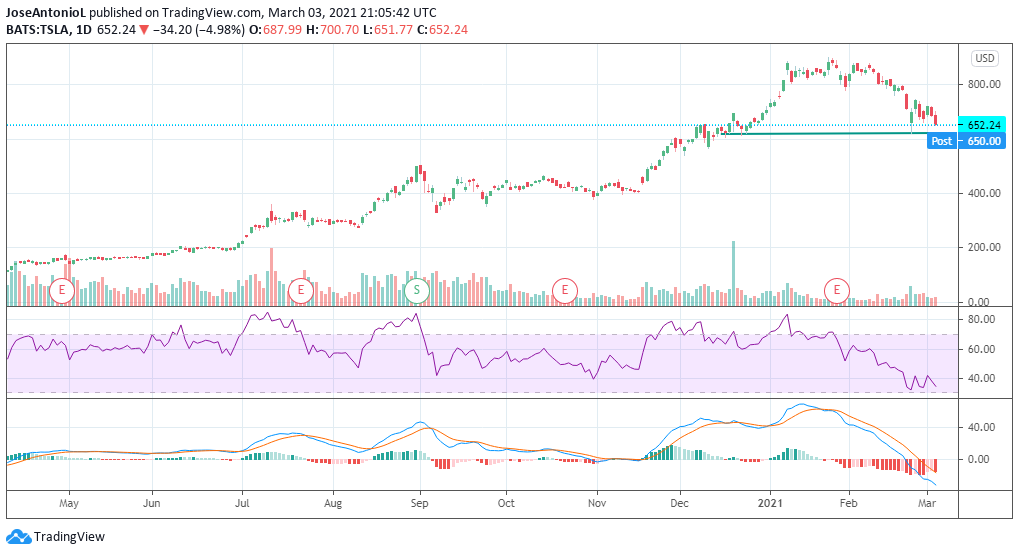 Nevertheless, MicroStrategy (MSTR) also dropped 2.26% today. Apple, Amazon, Netflix, and Google are likewise all in the red. In the grand scheme of things, however, today's market moves point to more of a market correction than anything else.
After all, Yahoo's list of tech stocks has posted gains of 28% over the last month. Bitcoin, though, still beats it, up 36% in the last 30 days.
Disclaimer
The views and opinions expressed by the author are for informational purposes only and do not constitute financial, investment, or other advice.