The crypto community is continuously keeping a keen eye on Ethereum (ETH) based on its record-breaking moves.
Over the weekend, the price of Ethereum soared to hit a new record-high topping $1460. On CoinMarketCap, it touched a high of $1467, though it has pulled back to $1,320 at the time of writing.
New data by Santiment reveals that the uptrend over the weekend made Ethereum increase by more than 17.4%. The on-chain data provider explained:
"After an explosive +17.4% weekend for Ethereum, prices have cooled down over the past day, dropping by -9.3% since its new AllTimeHigh. Our latest linked study explores metrics, like exchange inflow spikes, that revealed this drop would be coming!"
Santiment acknowledged that this correction was expected as exchange inflows had increased. This information correlates with the fact that addresses holding more than one ETH reached a monthly high of 1,120,692.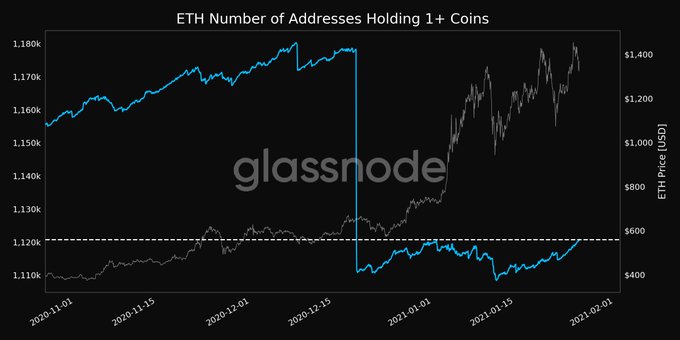 Ethereum's monthly transaction fees record momentous growth
Without a doubt, the Ethereum network has been experiencing overwhelming activity, as evidenced by its price surge to an ATH of more than $1,460. Token Terminal has delved deeper into the massive growth of transaction fees on the ETH blockchain. The crypto metrics provider noted:
"During the past 30 days, users of the Ethereum blockchain have paid over $268,970,267 in transaction fees (+205.99% growth month-over-month)."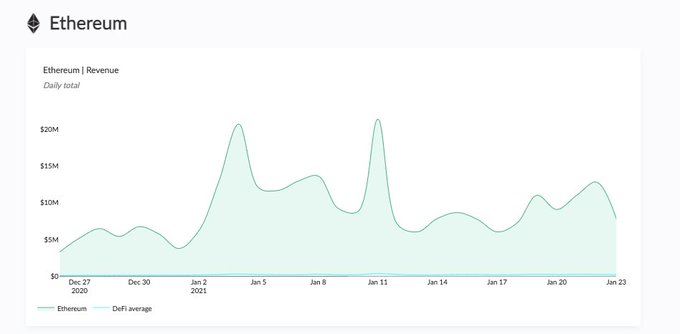 The engine behind Ethereum's current bull run is a booming decentralized finance (DeFi) sector and the launch of ETH 2.0 earlier last month, which introduced the proof-of-stake consensus mechanism. The total value locked (TVL) in DeFi currently stands at $26 billion.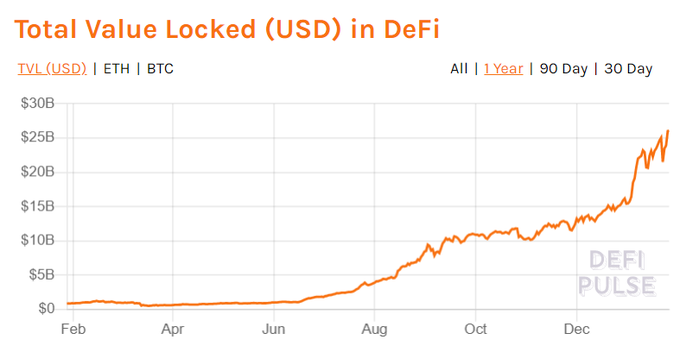 Mira Christianto, a researcher at Messari Crypto, added:
"DeFi is the most important innovation in crypto. The next wave will be Fixed Income Protocols Credit markets are 3x equity markets. Interest rates are the largest derivs markets DeFi will penetrate fixed-rate lending and i/r derivatives but there are no clear winners yet."
DeFi and ETH 2.0 are expected to continue attracting more participants to the Ethereum network, which will like trigger a surge in ETH's price. 
Image source: Shutterstock