Bitcoin (BTC) and Ethereum (ETH) have been shedding light on what the crypto space has to offer to the world. They have both enjoyed remarkable bull runs, which have led to record-breaking milestones.
For instance, over the weekend, the price of Ethereum soared to hit a new record-high topping $1460. On CoinMarketCap, it touched a high of $1467, but it has pulled back to $1,396 at the time of writing. 
Santiment has delved deeper into the impressive bull runs that the two leading cryptocurrencies have enjoyed. The on-chain data provider explained:
"Both Bitcoin and Ethereum have made respective runs of dominance over one another here in January. We've just noted that each projects' Github development activity rate is fluctuating closely to the respective price of BTC and ETH."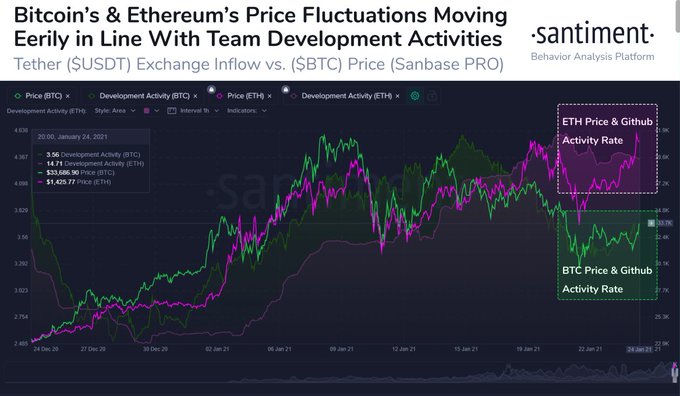 BTC is currently in a consolidation state because its price has retraced to $32,994 after hitting a high of $41,500 earlier this month. Nevertheless, its dominant bull run has been the talk of the town in recent weeks after it breached the all-time high (ATH) of $20,000 in mid-December 2020. This price level was the psychological level it had been trying to break after setting it more than three years ago in December 2017. 
Industry experts believe that the $40,000 level has become the new critical point, which the top cryptocurrency has to surge past for its upward momentum to be regained. JPMorgan strategists have, however, pointed out that this bounce-back to better bull run days might be in jeopardy as Grayscale Bitcoin Investments of around $20 billion have slowed down. 
Ethereum soars to new heights
On the other hand, the sky's the limit for Ethereum as more inflows continue trickling into the network.
For instance, ETH whales recently showcased their overwhelming spending spree as addresses with at least 10,000 coins hit an ATH of 1,225. Crypto analyst Michael van de Poppe expects Ethereum to go ballistic by the end of the year because it has been looking bullish with the BTC pair. 
Image source: Shutterstock