Without a doubt, Ethereum (ETH) has made it to the hall of fame in the crypto space based on its present achievements. The second cryptocurrency has been making waves because together with Bitcoin (BTC), they have been at the forefront in pushing the crypto market to a market capitalization of $1 trillion. 
A ranking company by the name of CompaniesMarketCap sees ETH's market capitalization of around $133.7 billion as the icing on the cake as it puts it at the 9th position among top global banks in terms of market valuation. The data provider noted:
"Ethereum ranks 9th when compared to the world's largest banks in terms of market cap."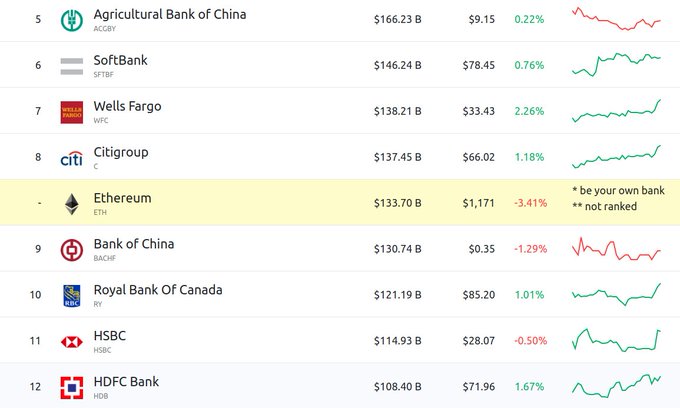 ETH's market capitalization has since increased to $136.64 billion after surging by 62.26% in the past week, according to CoinMarketCap. Its price is hovering around the $1,200 level, and this is a stone throw away from an all-time high (ATH) of $1,400. 
Ethereum's bull run is just the very beginning
Alex Saunders, the CEO of NuggetNews, believes that there is more that Ethereum has to offer. If his predictions are accurate, this could see ETH rank even higher among leading global banks. He acknowledged:
"ETH could pull one of the biggest moves ever seen in crypto markets tonight, surpassing its Jan 2018 high of $1500 on Coinbase. Trump being de-platformed is a huge catalyst for censorship resistance. Add it to a long list of very bullish ETH catalysts."
His observations are echoed by veteran Wall Street trader Raoul Pal who believes that Ethereum's price could go to the moon and reach $20,000, based on Metcalfe's Law. 
ETH is continuously making notable milestones as Google searches for "Ethereum" have hit an all-time high (ATH) surpassing those of Bitcoin. It, therefore, shows that its interest is increasing overwhelming as more investors continue trickling in. Data by on-chain firm CryptoQuant.com recently disclosed that 2% of Ethereum's total supply is locked up in ETH 2.0 deposit contract, and this may be a factor contributing to its price going through the roof. 
Image source: Shutterstock