Wild price swings have seen Bitcoin (BTC) breach the $40,000 for the first time in its twelve-year history.
Currently, the largest cryptocurrency by market capitalization has retracted to $38,647 at press time. This bull run has seen BTC skyrocket by nearly 952% since it plummeted to around $3,800 in March last year, as the grappling effects of the coronavirus (Covid-19) continue to wreak havoc globally.
Market insights provider Unfolded has, however, noted that caution should not be thrown to the wind because currently, BTC's levels are euphoric, and a downward push may be inevitable. The data analyst noted:
"Bitcoin is approaching euphoria/greed levels."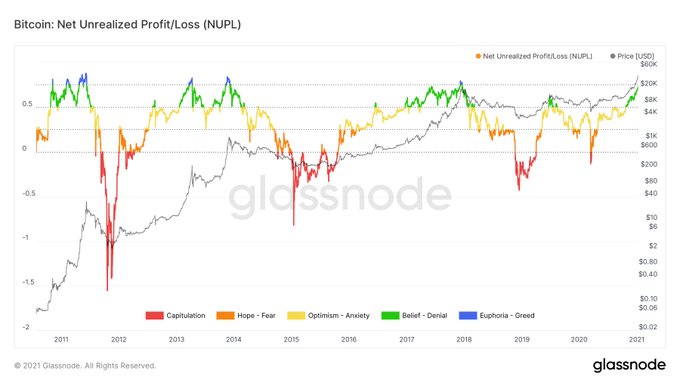 The analysis shows that a price correction is imminent, as echoed by Panxora Group CEO Gavin Smith, who noted that it is not possible for BTC's price action to move in a straight line. He said:  
"While further growth is inevitable, investors should not expect this to move in a straight line. The reality is that bitcoin is far from being a magic money tree, nor is it free from downward price swings. In fact, we can expect dips as sharp as 25% at times as investors periodically withdraw profits."
BTC addresses with more than 1,000 coins hit ATH
The current bull run has seen Bitcoin soar to levels not seen before as more participants jump on the BTC bandwagon. For instance, on-chain analytic firm Glassnode has said:
"Number of Bitcoin addresses holding 1k+ coins just reached an ATH of 2,376."
Despite the looming price correction that Bitcoin may undergo, crypto analyst Michael van de Poppe believes that the present bull cycle will be larger than expected. He stated:
"The entire bull cycle we're experiencing now will be way larger than anyone is expecting it to end too. Just like the $20,000 peak high was way higher than everyone expected in 2016/2017 to be the top on Bitcoin. That's how markets work."
His sentiments come a day after the economist and crypto trader Alex Kruger revealed that Bitcoin is likely to never trade below $20,000 again as market corrections are expected to happen, which will mean that sharp price corrections will happen. 
Image source: Shutterstock